HYCO LAKE – For locals, Hyco Lake is many things. A place of memories, a place to live, to play, to take the boat or kayak out on a Saturday or Sunday, or a place to visit friends and family who live there. For some, it is a place of income. For everyone, it can serve as a place to relax, connect and retreat.
There is a property on Hyco Lake — "Hyco Hangout" — that serves many purposes for many people. Drew Helm, who "hosts" the home on Airbnb and VRBO, said his Midwestern parents bought the house last year with the goal of ultimately making it their retirement home.
"We were able to justify the early purchase by covering the expenses through renting it out on Airbnb and VRBO," (Vacation Rentals by Owner) Helm said. The entire family, including Helm's two sisters, have enjoyed a lakeside getaway in North Carolina for the past four years, he explained, "and finally decided it was time to buy a home" in the Tar Heel state.
He said Hyco Lake "fit perfectly" into those plans, "since it is only a 45-minute drive" from where Helm, his wife and three children live in Durham. He and his wife handle renting the property, and employ a couple who live at the lake to maintain and clean the property.
"They have been awesome with helping us take care of anything we may need done with the house," Helm said of the couple.
He said his parents use the Hyco home "as a place to stay when they visit" four or five times a year "and once they retire, they will use it during the off season for a couple of weeks to a couple of months at a time," alternating between Hyco and the Midwest.
When asked about his favorite feature of Hyco Hangout, Helm said the layout of the home is quite unique.
"The previous owner built the home from their own custom floor plan," he said. "What makes it unique is the fact that there are essentially two different homes on the property that are connected by the carport, though we call it a breezeway and use it as an extra seating area. This allows for guests to be able to accommodate a much larger and more diverse set of groups."
The "main house," Helm said, features a fully stocked kitchen, a large screened porch, a living room, a master suite on the main floor, and two bedrooms and a bathroom upstairs. "In the second house (we call it the Hut) there are two sets of bunk beds, a day bed, a pullout couch, a full bathroom, and a foosball table," he said. "We find this set-up to work great for two families with kids to come out and enjoy. The parents take the main house and send all of the kids into the Hut."
In all, Helm explained, the house can sleep over 15 people and features "over 50 places to sit and relax and enjoy the view."
Helm added that the Hyco Hangout lot is one of the flattest at the lake. "This is enjoyable, since it allows for more diverse types of yard games, and makes it less strenuous when going down to the lake," he said. "We live in one of the calmer parts of the lake, in a little cove, which creates a relaxing environment with very little boat or jet ski traffic. It also allows for safer swimming." Helm added that the water by the dock has a beach area that is shallow and gradual, allowing younger children to enjoy the water.
When the Helm family bought their Hyco house, the Hut was unfinished. Within the first two weeks of owning the home, his family finished the approximately 600 square feet of space. They added insulation, walls, a roof, and a mini-split air conditioning and heating unit. The Helms are currently hoping to install a kitchenette as well, "to provide for future guests this summer," he said.
Helm said there is another approximately 700 square feet of unfinished space on the second floor of the Hut and over the carport/breezeway. "Hopefully, we will have this space finished by next summer," he said.
When asked about memories he and his family already have of their Hyco home, Helm said,
"Even though we have only owned the home for a little less than a year, we have been able to make many fond memories. Last year, we invited all of our friends up from Durham to have a large barbecue in the fall. It was shocking how well the house was able to hold over 20 children and adults. Additionally, my whole family came out over Christmas, and we were able to start making new traditions within the house."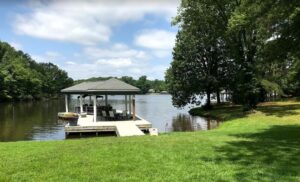 He said late summer and early fall are his family's favorite times of year at the lake. During that time, said Helm, "the weather is perfect to do a bunch of outdoor/water activities but it is also the time of year that the sun sets right at the end of our dock, which makes for some very relaxing evenings."
When he and his family aren't enjoying those sunsets or activities at The Hyco Hangout, Helm said they "try to provide everything that any guest would ever need when they are visiting." Guests can expect to find towels, kitchenware, trash bags, coffee grounds, tea, bug spray, sunscreen, shampoo, and other necessities when they rent the home. The hosts also provide inflatable water toys, yard toys, and two kayaks.
One guest, in her review of the property, mentioned the fact that guests don't have to bring much to fully enjoy The Hyco Hangout. She wrote, "It was amazing! Beautiful views, comfortable beds, clean home, floats, boats, fishing, and relaxing. You can just go and have fun… We brought our own kayaks only to find they had those as well. We brought floats and they had those too."
The guest concluded, "We hope to return again. The sunsets are gorgeous on the lake. What a beautiful home!"
Helm said the most unique thing the property offers is the ability to rent a 15-person Pontoon boat for an additional fee. "From what I can tell, we are the first and only rental on the lake to offer this as an amenity," he said. "With the boat, we provide life jackets, ropes, tubes, skis, and a wakeboard," Helm explained. "While it cannot get as fast as a speed boat, it can still provide additional hours of fun in the sun and a chance to see even more of Hyco Lake."
While his family planned for different types of guests and rental requests, Helm said, "One thing that we were not at all anticipating is the number of people who find our home online and ask about using it as a wedding venue."
He said he had not yet seen pictures, but he was told that a couple got married at the end of the dock with over 75 people in attendance. Helm added, "It's definitely sweet to know that we were able to provide the venue for a couple on their special day."
Helm is proud of the fact that his family was able to use their vacation/rental home to help others last fall, when Hurricane Florence lashed the North Carolina coast. He said, "We had a few people reach out to ask if they could use our place as an evacuee. We can't imagine what they were experiencing and how scary it would be to need to leave home without knowing what they would find when they returned. Thankfully, we were not booked that weekend, so we were able to give a family a nice cheap place to gather and ride out the storm. They said it was a huge blessing since it gave them (and especially their kids) things to do to keep their mind off what was happening."
Like the hurricane evacuees, Helm said most who rent his Hyco home are within a five to 10-hour drive of the area. But, he added, "We have had a few guests come up from the Caribbean."
When asked about the benefits of owning property at Hyco Lake, Helm said his family appreciates "the convenience from our home in Durham. It gives us a chance to have fun at a lake without needing to travel more than 45 minutes or an hour. That means we can easily make it a day trip and not need to do all of the extra planning involved with staying somewhere overnight, which, with three little kids, can be a lot of extra work. Beyond that," he added, "it has been really fun getting to know and exploring the surrounding area."
His family has enjoyed getting to know the neighbors, "as well as all of the fun local places to eat," Helm said. After his parents retire and spend more time here, he said the entire family looks forward to experiencing even more of what life at the lake and in Person and Caswell counties has to offer.
Visit Airbnb.com or VRBO.com and search for "Connect and Retreat at Hyco Hangout" to reserve a spot or find out more about this unique property.
Phyliss Boatwright is a journalist who for years reported Person County news in The Courier-Times. She has published two books and several short stories. Her book review show, Turn the Page, can be heard on WKRX, 96.7. For the past seven years, she has taught journalism and served as public information officer at Roxboro Community School. She can be reached via email at [email protected].