Fifteen-year-old Kaitlyn Reaves has shown an affinity for art since elementary school, and was encouraged to pursue this passion by parents Daryl and Lesley. Over the years, Kaitlyn tried her hand at different art forms such as charcoal drawing, but at her mother's suggestion, she decided to pursue painting barn quilt squares.
When asked why she stuck with this medium, as opposed to something like acrylic painting, pottery, or photography she giggled and replied, "Mom said I could make some money at it."
Kaitlyn went on to explain the history of barn quilt squares, and how they had nothing to do with actual quilts. They are painted wooden squares as small as 12×12 inches and as large as 36×36 inches that people do sometimes hang on barns where one would traditionally hang a barn quilt. They are also painted in patterns that might be found on quilts.
Every Barn Quilt is Made to Order
Every barn quilt square Kaitlyn makes is made-to-order. She receives a lot of requests for American flags, farming themes such as horses and tractors, and abstract shapes and colors. Company signs and logos are starting to be a popular request as well. Kaitlyn uses exterior paint on all of her art so that customers have the option to hang the barn quilt squares either inside or outside.
Kaitlyn has been painting barn quilt squares for less than a year but the COVID-19 lockdown has, ironically, allowed her the time to master the art form as well as get her business off the ground. In the short time she has been selling the squares, Kaitlyn's business has flourished. When asked about her secret marketing strategy, Kaitlyn's answers were non-traditional. Whereas most teens today are attached to technology, Kaitlyn spends most of her free time, except for painting, either playing volleyball or fishing.
Although her mother takes some orders through her Facebook page, Kaitlyn does not have a page, a website, or an Etsy store to sell her barn quilt squares from. Instead, she utilizes the old-fashioned word-of-mouth approach to sell her art.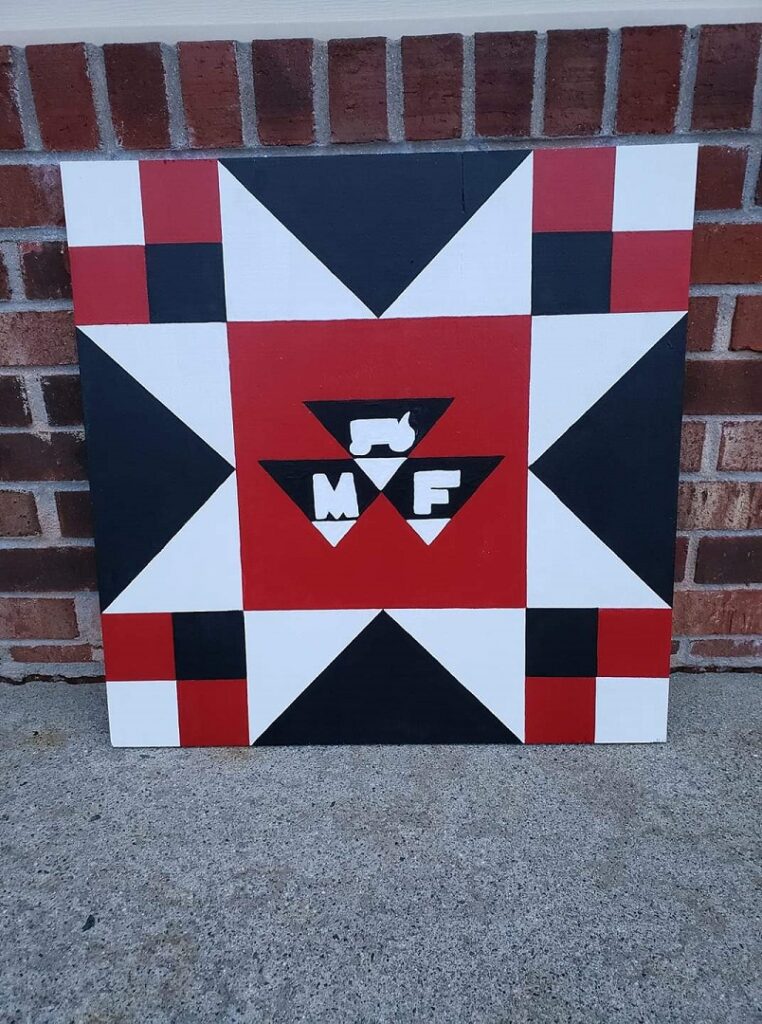 The Word 'Prodigy' Came To Mind
One might think this business model could not compete in the 2020 market with social media and the Internet. But when I received her dad's email with pictures of Kaitlyn's art attached, the word "prodigy" came to mind. Her work is absolutely stunning. The quality of Kaitlyn's art, coupled with orders hand-tailored to anything a customer could dream up, all packaged with a reasonable price tag, is a recipe for success.
They teach you in business 101 that you can have the best sales pitch and the flashiest website, but if your product stinks it won't matter. Conversely, if you have a great product it will sell itself, which is exactly what Kaitlyn has on her hands. When asked what the future holds for her, she said she would like to someday have a career where art is involved on some level. The sky seems to be the limit for this young woman.
To place orders customers can reach out to Lesley Reaves at: [email protected]
Welcome Boards $30
12″x12″=$25
18″x18″=$30
24″x24″=$60
36″x36″=$75
John Theo Jr. is relatively new to South Boston but not new to writing. He has authored several books and penned many articles. Hyco Lake Magazine is thankful to share his perspective on our community. Please welcome John and get to know him better by going to JohnTheo.com, visit him at Cozy Cave Self Storage & More at 306 Webster Street, South Boston, Va. 24592 or give him a call at (434) 579-2856!