'Building Relationships' and Shopping Bargains
By Phyliss Boatwright
Photos by Mackenzie Clayton, RCS Sophomore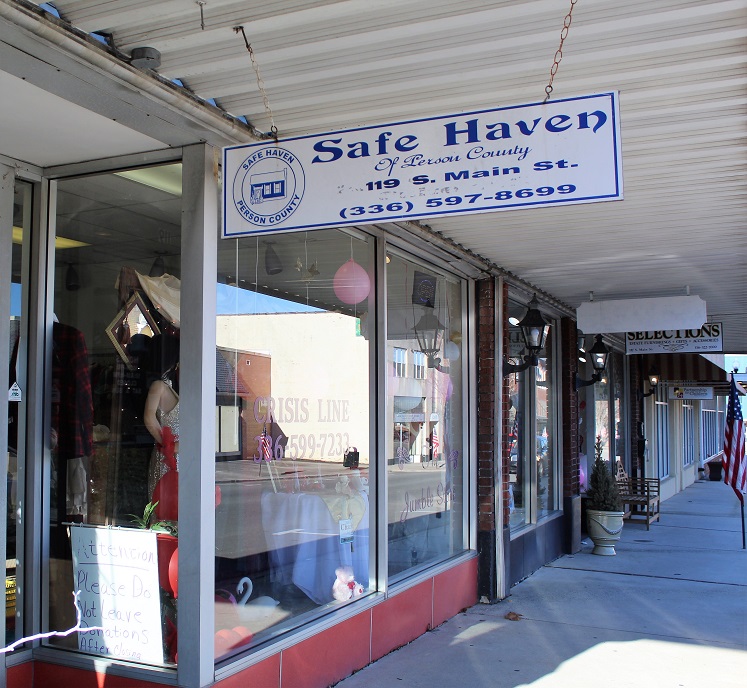 Shopping at the Jumble Store on Roxboro's Main Street offers several advantages. Customers can find great bargains on a new outfit, a good book, a car seat for the baby or grandchild, a new chair for the home, or pick up a piece of jewelry or a nic nac. In fact, it's a bit like a mini Walmart, but much, much better in many, many ways.
Entering the Jumble Store and being greeted like an old friend by Manager Janice Bright and her staff makes this establishment feel more like coming home than shopping in a retail venue.
"Our customers and donors are what really keep us going," Bright said recently. She may not always have the one specific thing a customer is looking for on a particular day, she explained, but the stock is constantly changing, according to the season and donations. And, Bright said, she will do whatever she can to make her customers and donors happy.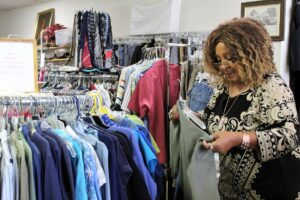 "We may not always have the space" for certain donations, particularly those out of season, Bright said. "But if we don't have space, we try to direct donors to the Christian Help Center or other faith-based stores. It's a circle, and we all try to help each other."
Gertie Ragland, who assists Bright in running the Jumble Store, said, "Being here is such a blessing. I get to help people. I love seeing their smiles when they know they will be taken care of. It's a good feeling to get up in the morning and know you're going to go help people; and when you lay your head down on your pillow at night, you feel good, knowing you've done something that helps."
The store is open to customers, of course, but it serves a couple other even more important purposes. All proceeds from Jumble Store sales benefit Safe Haven of Person County, and the domestic violence shelter the organization has provided since 2002. Those temporarily housed in the shelter can choose clothing, furniture, and other needed supplies from the store – at no cost – when they leave the shelter to begin a new life.
Safe Haven Executive Director Annette Hampton said, in the 15 years she has been a part of the organization, over 300 women, men and children have benefited from both the shelter and the store. Proceeds from the store's sales also help fill in gaps during years when funding from grants and other sources are lean, Hampton explained.
"We are definitely thankful," Hampton said, for the added income from the Jumble Store, and especially for the donors and donations that make it possible to both generate funding and to help those in need.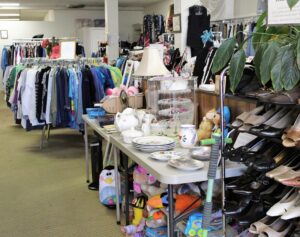 All Jumble Store items are labeled with price tags, but prices are negotiable, Hampton explained. "A lot of people come in looking for a bargain," she said, and Bright and staff work to make them happy. As often happens, when the elderly or those with low incomes are in need of clothing or items for their home, the store will negotiate to make the goods affordable and available.
About the bargain hunters, Hampton said, "People come in and find great treasures. Often, people I meet on the street say they got what they're wearing at the store. Sometimes, in a meeting, I'll give someone a compliment on their clothes, and they'll say, 'I got it at your store.'"
That goes for special occasion clothing as well. Prom season will be here soon, and Hampton said she expects the store will start receiving donations of prom attire soon. Often, people shop for specific events like prom, or Halloween, or special events in uptown Roxboro, she added. A look around the spacious store lets visitors know that all sorts of bargains on all sorts of items await.
On a recent cold January day, the warm, welcoming shop's shelves and racks included toys and baby items; like-new car seats; dress and casual shoes for men and women; purses and tote bags; an array of soccer cleats; dresses, slacks, polos, khaki pants, jeans, blazers, sweaters, pajamas; lamps; books; occasional chairs and tables; jewelry; home decorations; dishes and vases, and much more.
"You're missing the best deal of your life if you're not shopping here," Hampton cautioned.
While speaking with an interviewer near the back of the store, Hampton heard laughter and conversation toward the front. "I love that people make themselves at home here," she said with a smile. "Friends meet here, and connections are made. I love that part of it. Building relationships is rewarding."
Trevie Adams, chair of the Safe Haven Board of Directors, acknowledges the importance of relationships in the community and within the organization itself. Adams said she and the entire Board feel "very fortunate to have" Hampton and her staff at Safe Haven and the Jumble Store.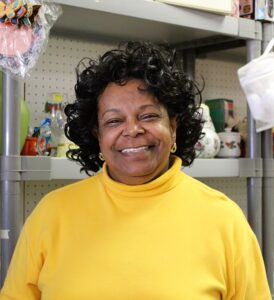 Store hours are Monday through Friday, from 10 a.m. to 4 p.m. The number to reach the store is 336-597-1526. Donors can call ahead and make an appointment for drop-offs or just walk in. Clyde Bright, Janice's husband, is around much of the time to lend a helping hand and a ready smile. He just might tell donors an interesting story or two in the midst of working, as well.
Safe Haven's offices are near the Jumble Store, just around the corner on Abbitt Street. The crisis line is open 24 hours a day. Victims of domestic violence may call 336-599-7233 to speak with a counselor or advocate. Safe Haven offers emergency shelter, court advocacy, counseling and community referrals.
Phyliss Boatwright is a journalist who for years reported Person County news in The Courier-Times. She has published two books and several short stories. Her book review show, Turn the Page, can be heard on WKRX, 96.7. For the past seven years, she has taught journalism and served as public information officer at Roxboro Community School. She can be reached via email at [email protected].