Start Where You Are,
Use What You've Got
By Phyliss Boatwright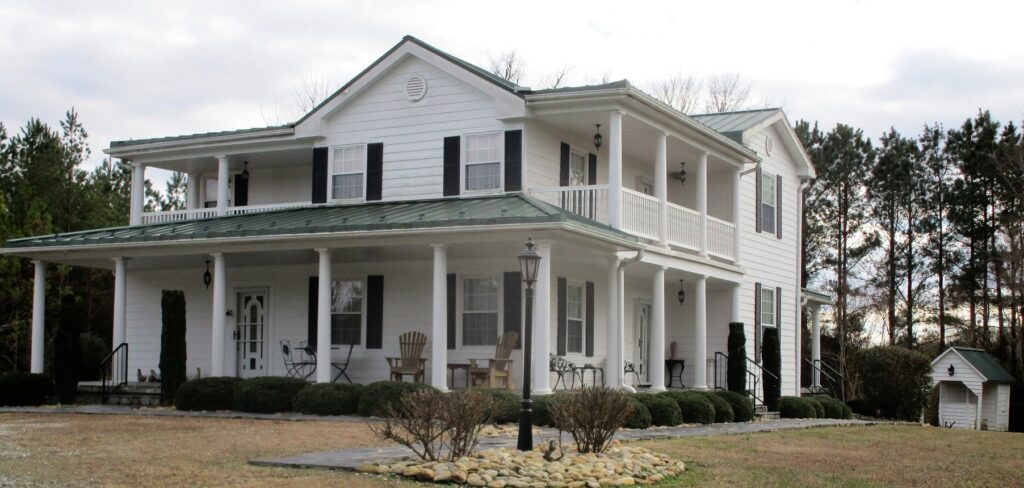 The name "Elmwood" conjures images of charm and graciousness to visitors of Dr. Michael Rudder's ancestral Leasburg home. Seeing this former plantation envelopes one in that charm and graciousness, and in a diverse history as well. While navigating the long, narrow, tree-lined driveway, a visitor's heart rate slows, but the first glimpse of the beautiful two-story white house situated on a small rise, surrounded by magnolia, pine, oak and pecan trees, is breathtaking.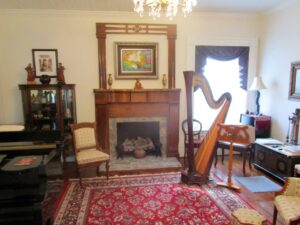 Walking into the home via the side entrance, across a covered slate porch, into a bright yet cozy kitchen is a treat in itself. Being met in the yard and graciously welcomed by the home's owner marks the beginning of a journey back and forth through time, different cultures, and different countries. Rudder offers visitors a lively, interesting account of Elmwood's history while peppering in a few facts about his own, quite interesting life, and both past and contemporary Person County.
He explains that the land was once inhabited by Indians, and that arrowheads, stone tools and other artifacts of Native American life were, for years, found on the property. A well house, one of the first buildings erected on the property, still stands as a reminder of bygone times. It provided water for the "ordinary," or tavern, which was the first home of Kendall Van Hook, a member of the Dutch family who migrated from New York to make their home in Leasburg. The structure was intended to serve as the home of Van Hook and his wife, but the debutante and bride-to-be backed out of the union. Van Hook subsequently remained a bachelor until his death.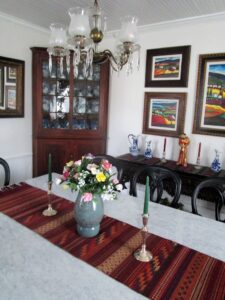 In 1879, Rudder's great grandparents, James Winstead and Eunice Bradsher Jacobs Winstead, purchased the house and 231 acres from Stephen Morton, who inherited Elmwood after Van Hook's death. The ordinary served as a kitchen and entertainment room for the Winstead family until the 1980s, when it was removed. Rudder said some members of his family still mourn the loss of that part of the home. The Winsteads, in the late 20th century, attached a four-room house to the ordinary. Another, two-room house, which now serves as the dining room downstairs and master bedroom upstairs, was also connected to the main house by Rudder's great-grandparents in the late 1870s. He says, "It's likely that the two-room house dates at least as far back in time as the four-room house. Until the renovation/restoration project in 2004, we had thought that my great-grandparents had built the addition of the foyer and two-room structure, but in fact, they had joined these two houses with the foyer connecting them."
James and Eunice Winstead raised seven children at Elmwood, and grew tobacco, corn and wheat, as well as vegetables and meat for their own consumption. James Winstead died in 1890, leaving his wife with the children and a lot of land, but little money. She was frugal and business-minded, however, and not only held on to the original property, but acquired more. Upon her death, she left each of her offspring, and a former slave girl, at least 140 acres each.
When her youngest son Harvey was 12, Eunice remarried, to Clemmon McGilbert Wagstaff, her first husband's uncle. Both of her husbands had served in the Confederate army. She survived Wagstaff, who died in the 1920s. In 1925, Harvey Winstead brought his bride, Mary Emma Watts, to his childhood home. It was they who named the property "Elmwood," because at the time, elm trees were plentiful there.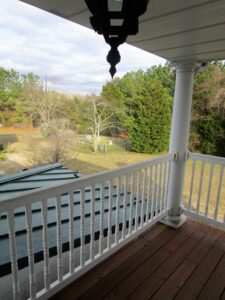 Mary also performed renovations and redecorating that made the drafty, dark, poorly furnished house more comfortable and attractive. Working with a tight budget, she filled the cracks between logs with old fabric. She and Harvey eventually sealed the walls and added windows to allow more light into the home. She lived by a phrase she learned from her Sunday school teacher at Leasburg Methodist Church – "Start where you are and use what you've got." When her uncle gave her a five-dollar gold piece, Mary bought a pecan tree and planted it to the west of the home. Nearly a century later, that tree still adorns the property.
"Mammy" Eunice lived with Harvey and his wife until her death, at age 95, in 1949.  She, her first husband, and several members of the Winstead clan, are buried in a small, wrought iron-enclosed cemetery behind the house. Just beyond that cemetery is a spot where the slaves of previous owners are buried. Rudder is currently working to erect a bell tower there, to honor the contributions and lives of the slaves. The bell tower will feature panels engraved with quotes by the Reverend Dr. Martin Luther King Jr., Harriett Tubman, and Nelson Mandela. Rudder hopes to have the project completed by February 2020, in order to hold a dedication ceremony and memorial to the slaves buried on his property in observance of Black History Month.
Rudder purchased the house and land from his aunt in the mid-1990s, and his parents looked after Elmwood for him until he retired from the Foreign Service and returned home. In 2004, Rudder hired contractor Herbert Moore to renovate the house that had served as the Winstead home. Modern bathrooms and that welcoming kitchen were added. Walking through the end product, listening to Rudder's enthusiastic commentary, is a pleasant, interesting, and educational experience.
The larger part of the home's floors are traditional hardwood, and the two rooms of the smaller house, which was attached to the larger house in the 1870s, are floored with wider, darkly stained wooden planks. Tongue-and-groove ceilings and wainscoting add even more character to a dining room that features a marble-topped table Rudder bought in Indonesia while living and working there. The contents of the home, in fact, reflect the countries in which the owner has lived, including Italy, Egypt, Indonesia, Costa Rica, Morroco, Tunisia, Saudi Arabia, Brazil, Mexico and France.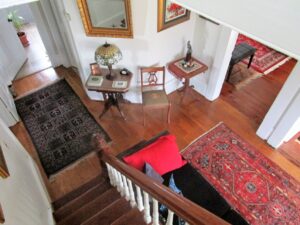 A portrait of "Mammy" Winstead adorns a wall in the room in which she died. The home also features a photograph of Rudder's parents that marks their 60th wedding anniversary. Another wall displays a photograph of the owner with opera star Luciano Pavarotti taken while Rudder was studying in Italy. The painting, "Flower Vendor in Paris," by Victor Gilbert, was featured on Antiques Road Show. Rudder said he "lived with the painting" in an apartment building in Egypt while living there, and eventually purchased and made it a part of his Person County home.
Rudder loves to share his home, not just with individual visitors, but with crowds who attend his annual open house and fundraising events for the Person County Museum of History. He is the current president of the Museum Board of Directors, and on the Saturday before Christmas each year, Rudder hosts a holiday open house beginning at 3 p.m. "All are invited," he says. Last December, he also hosted the annual docents' luncheon for the Museum.
On April 11, 2019 from 5:30 to 7 p.m., the Museum will host a historic food and beverage tasting at Elmwood. Among the offerings will be persimmon beer made by a local history buff. Admission will be $5 for Museum members and $10 for non-members.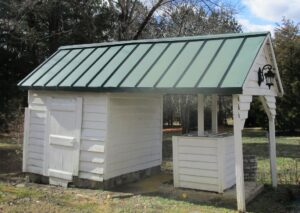 Michael Rudder was born and raised in Person County, on Rolling Hills Road, just a few miles from Elmwood. He earned his undergraduate degree from the University of North Carolina at Chapel Hill, and did graduate study at Columbia University before receiving his doctorate in linguistics from Georgetown University. He retired from the Foreign Service in 2012 and returned to Person County and Elmwood on January 1, 2013. His mother, Frances Winstead Rudder, was born at Elmwood, as were all of her siblings. Now 91, she still lives in the home she shared with her husband for 50 years.
Phyliss Boatwright is a journalist who for years reported Person County news in The Courier-Times. She has published two books and several short stories. Her book review show, Turn the Page, can be heard on WKRX, 96.7. For the past seven years, she has taught journalism and served as public information officer at Roxboro Community School. She can be reached via email at phylissboatwright@gmail.com.