CENTERVILLE, VA- Good's Lawn and Garden Center is a multi-generation, family-owned business located at 4007 Halifax Road in Centerville. It began in 1963 as James L. Good's Lawn Service out of James's home in South Boston.
The landscaping company soon evolved into a storefront located on Route 360 and was rebranded as Good's Lawn and Garden Center, and sold garden seed, shrubs, bedding plants, flower bulbs and pretty much anything for garden and landscaping needs. In 1974, Good's relocated to Airport Road and eventually settled into the current location on Halifax Road in 1990. For several decades, there was very little competition and Good's was the go-to garden center in Halifax County.
Sons Jerrel and Steve grew up in the business, and it was Jerrel's interest in small engines that helped guide the business toward power equipment sales when it was time to evolve yet again. In the 1980s, small business-destroying behemoths descended upon South Boston with names like Walmart, Lowe's, and Tractor Supply Company.
Surviving The Decades
During this time, Good's started carrying power equipment such as tractors; residential and commercial lawn mowers; wood and gas stoves, and generators. This provided Good's a smooth transition into the 21st century while allowing it to retain the small business platform.
At 82, James Good still gets up and goes to work each day, but it is his son Steve who runs the majority of the business. How this small, family-owned store could survive all those decades being surrounded by giants of commerce who sold similar merchandise would make a perfect case study for Harvard Business School's MBA program. I recently sat with Steve and was surprised by his answer.
"Those stores are not competition," Steve said, referring to Lowe's and Tractor Supply Company specifically. "We handle a higher quality product." Steve went on to say Good's is a "niche market that carries quality products."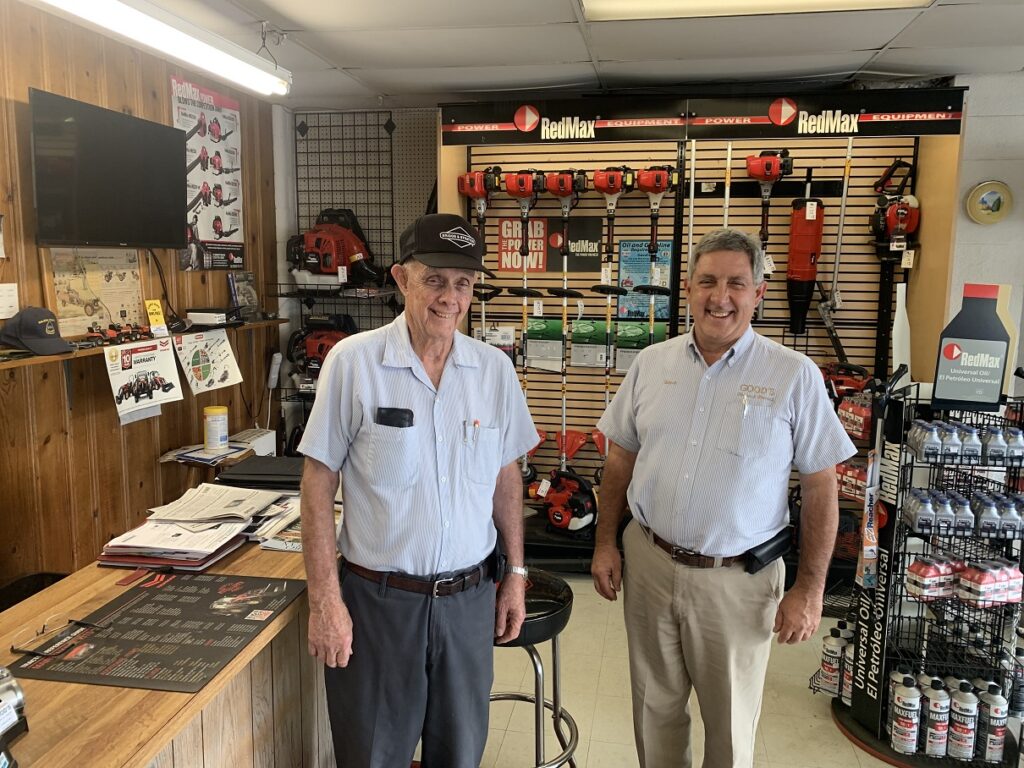 Nothing Like It 'Under The Hood'
Steve wasn't putting the other stores down, but stating the fact that much of what Good's carries may look like what is available in other stores, but in reality, it is nothing like it "under the hood," so to speak. Good's residential lawn mowers are a quality brand known as Simplicity.
Their commercial line is Ferris and their tractors are made by Yanmar. One secret Steve shared was that Yanmar has made a lot of the John Deere engines over the years. So, when customers buy one of Good's tractors, they get the quality of a John Deere, but don't have to pay thousands of dollars extra for the green paint and yellow name. Another important niche Good's offers is small engine repairs, lawn mower tune-ups, and onsite installation of wood and gas stoves, gas logs, and standby generators — a service none of the big companies offer.
When asked what his top selling products are, Steve said, "It's seasonal. In winter it's the hearth products. Spring and summer, it's lawn and garden equipment."
Moving Forward
Add Covid and freak ice storms to Halifax County this past year and Good's generators were top sellers as well. Other than Steve and James, Good's Lawn and Garden employs only two additional staff. Mike Hursh is in charge of the shop and all engine repairs, and Paul Huisman is the office manager.
Sadly, this year marks the 10-year anniversary of the passing of Steve's brother Jerrel from a head-on car collision. Jerrel's legacy lives on with Good's current business model, however. Little did Jerrel know, back in the '80s, how pivotal his interest in small engines would be to the survival of his family's business in 2021. Good's proves that in the end, it's not the strong who survive, it's those who are able to adapt. Over the next year, the business will be rebranded one more time as Good's Power and Hearth.
Like most businesses in Halifax County, reputation is ultimately the final ingredient to maintaining a longstanding business, and the name Good's is as good as it gets.

4007 Halifax Road
South Boston, VA 24592
(434) 575-7373
GoodsPowerAndHearth.com
John Theo Jr. is relatively new to South Boston but not new to writing. He has authored several books and penned many articles. Hyco Lake Magazine is thankful to share his perspective on our community. Please welcome John and get to know him better by going to JohnTheo.com, visit him at Cozy Cave Self Storage & More.

Cozy Cave Storage
306 Webster Street
South Boston, VA 24592
(434) 579-2856
[email protected]