By: Tamia Lipscomb, University of North Carolina at Charlotte Student

Looking beyond the last month of my freshman year at the University of North Carolina at Charlotte, I knew my summer would be packed with lots to do. A few months ago, I reached out and secured an internship with the Person County Government. Learning I would be working with Economic Development and Person County Inspections for this summer, I was very excited. I am a double major in Political Science and Psychology but I am not sure which career path I would like to follow. Knowing that I would gain experience working in a professional setting, and creating a social-professional network with our local community leaders left me anxious to start. When I began in May, I had no idea what it would be like to work with economic development and I was a little intimidated. Now that I am halfway through the summer, I am completely comfortable and I understand the vital role economic development plays in fostering our community by attracting businesses, creating new jobs, and creating pride in Person County.
Sense of Pride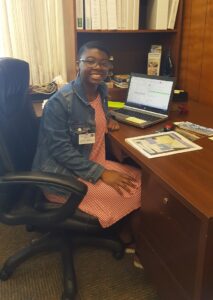 Working in Economic Development has instilled a sense of pride in me for helping others. Economic Development helps the Person County Community by encouraging new businesses and companies to build in our county. This brings potential for new jobs, new homes, and new attractions. I have learned how much it takes in the process of development and the many roles other groups also play. We often work with the Roxboro Area Chamber of Commerce, Roxboro Development Group, Person County Tourism, and our local Planning/Zoning and Inspections departments. All these groups work together to help our rural community prosper. I have gotten the chance to attend a few meetings involving these leaders and I am impressed at how hard everyone works together toward common goals.
Appreciate My Rural Community
As a native of Person County, I graduated from Person High School in 2018. My first year living in Charlotte taught me a lot but one of the most important things I learned is to appreciate home. Living in a rural community my whole life, then moving to the largest city in North Carolina was a big transition. When asked which place I like better, I cannot give a direct answer because, honestly, I love both places. Person County is peaceful and relaxing. Person County is my home. Charlotte is a great city with lots of attractions and it is a great place for young adults to live. Living there can be a little overwhelming but living on the campus of UNC Charlotte gives small town vibes. You start to notice familiar faces every day and it is a community of people who eat, work, and volunteer at the same places. Much like Person County where I tend to see the same people around town, especially in Walmart.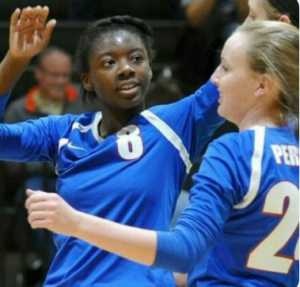 I remember my senior year of High School at Person. It was the 2017-2018 volleyball season and my team went undefeated the entire season until the playoffs where we lost in regionals, one game away from potentially being 3A State Champs. Each night we played the gym was packed and we were all over the newspaper and we just felt so much love from our community that year. That is one of the advantages of living in a rural area like Person County, where it seems that everyone knows everyone.
Economic Development Commission Director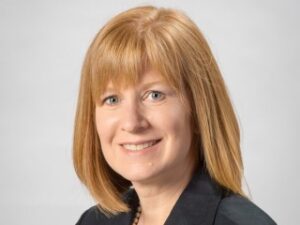 The Director of Economic Development, Mrs. Sherry Wilborn, is a pleasure to work for and she is a great role model. I watch as she always carries herself in a professional and confident manner. Mrs. Wilborn has taught me a lot as I help her prepare for different types of events. She always introduces me to others in the room so I am comfortable and she explains the main goals we are trying to accomplish. No matter what question someone may ask her, she always seems prepared with answers, I hope to develop that skill as I continue on my journey. One of the main things I have learned so far is Federal Economic Opportunity Zones. We hosted a workshop on the subject, with a speaker who shared information to a great turn-out. I learned there are land zones that have tax incentives for investors who choose to build there.
Giving Thanks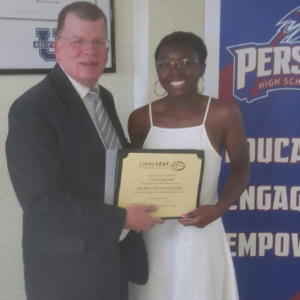 I am so thankful for the opportunity to have this internship and to be working with Economic Development and Building Inspections. I was able to have this opportunity because of the NC Golden Leaf Scholars Program. My senior year of high school, I applied for and was awarded the NC Golden Leaf scholarship. After receiving the news, I was told of an opportunity to apply for their scholars program and I was accepted. Golden Leaf Scholars help shape young leaders as we continue our education and grow as community leaders by providing us opportunities to attend leadership conferences, have monthly leadership calls from coaches, and network ourselves thru internships in NC rural communities. I have learned so much about working in an office, professionalism, and how various departments and groups of leaders in our local government work together. I have also developed a few skills that I can use inside and outside of an office setting.
Return to a Rural Community
After graduating college at the University of North Carolina at Charlotte, I plan to further my education and pursue my Master's degree and explore career opportunities. I would like to eventually work in a rural community or in a career that benefits rural communities much like my home, Person County.
The Person County Economic Development Commission is located at 304 S Morgan St # 221, Roxboro, NC 27573. The director may be reached at (336) 597-1752 or visit their website PersonCountyEDC.com.
With each issue of Hyco Lake Magazine we publish stories written by high school and college students. Our goal is to give the young people of the Hyco Lake Region a voice as well as encourage them to read our community-based publication. And we pay them for stories!  Visit this link for more information HycoLakeMagazine.com/article