Click here to read the first chapter in this series!
Story and photos by Paul Liggitt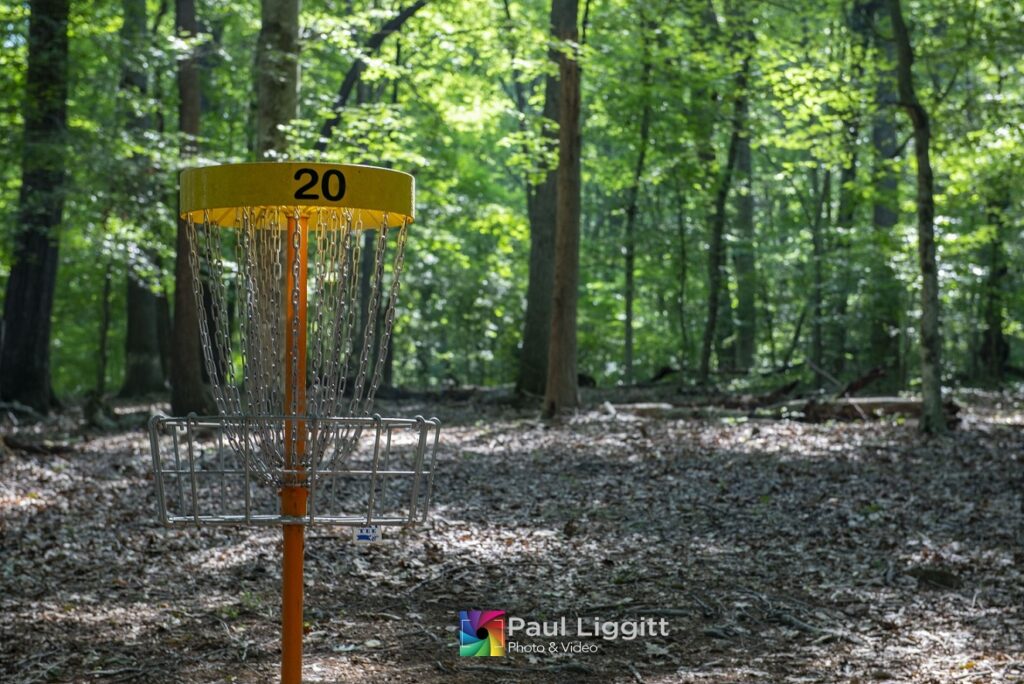 It is said that people tend to remember moments and experiences but not dates. So, it is with my first experience playing Disc Golf at The Rockness Monster course in Person County, NC. This article is part of a series about Disc Golf and will detail a little more about the course, my experience, and some of the highs and lows. I literally mean highs and lows at this course!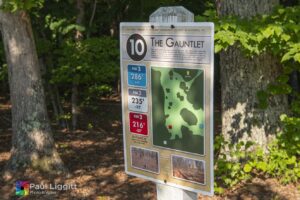 Rockness Monster is located adjacent to the Piedmont Community College campus in Roxboro NC. It is free to the public and open 8am to 8pm Monday through Saturday and 1-4 on Sunday. It is a permanent course with a practice basket, a course layout sign plus additional signs on each hole that mark that hole's layout. The signs are really helpful in this heavily wooded course. Go to the Piedmont Community College campus and navigate around to the back of the college by building "S" in parking lot "3". There is plenty of parking and you will see the sign for the course and the "friendly" head of Nessie inviting you to venture in. Don't be fooled, however, by the pleasantness of the entryway, this course is not for the faint of heart, but it is worth it.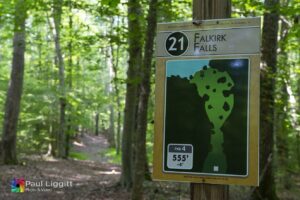 Rockness was my first experience playing disc golf so I didn't know what to expect when my adult son asked me to join him for a round. We met up, made a few practice throws, and were off. We played in the fall when the trees were bare and that was a good thing. It was easier to find my errant throws and I didn't have to worry about the leaves knocking down my already short and off target efforts. Just walking through the course in the past few days while researching this article, gave me a completely different look at the course. If you have never played disc golf or have never played Rockness Monster, I would recommend that you arrive early and do a walkthrough of the course, if at all possible. There are enough blind tee shots to justify the walkthrough and to get a feel for how to play your shots, the obstacles, and where the baskets are. Also, if you go during the spring and summer months, you might want to take some bug spray if you are susceptible to that sort of thing. You may not need sunscreen since there is a heavy canopy in this forest.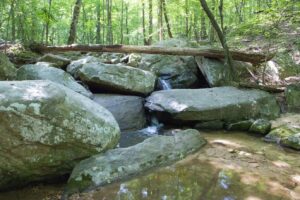 The hole layouts are helpful as you get into the course. They tell the distance to the basket and indicate generally where the different tee platforms are. There are also some markings on the trees. I am not sure however if those markings indicate where Nessie or Bigfoot has been sighted, blood was shed, or where CPR had to be administered. This course has A LOT OF ELEVATION in it, so there will be no scampering. More like plodding. But hey, plodding is good, especially if you need to plan your next shot.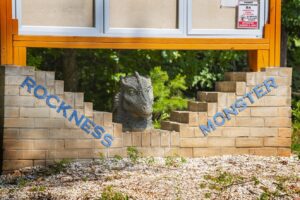 Seriously there are several holes (baskets) that are located as much as 75 to 100 feet up or down from the tee platform. The course is built on both sides of a creek and the banks going down to it or up from it are what give the course character and affects your oxygen intake. I remember one hole that I played with my son that had a basket set on a small island where the creek had flowed on either side. It was very picturesque but a challenge to control your distance on the throw to the basket. You may have to wade a bit to recover your disc if you don't throw it just right. Another hole that started from an elevated tee platform went down towards the creek and did pretty much a hairpin-like turn to the left where the basket was. I happened to luck out on the drive and the curve of my tee shot landed only about 15 feet from the basket. I wish I could say that I birdied the hole but sadly, no. It did give me bragging rights for one of the best drives though. There is a more comprehensive description of the first 18 holes at www.dgcoursereview.com if you want to look up "Rockness Monster". Click on the "Hole Info" tab and you can see when the hole is going down, up, or both.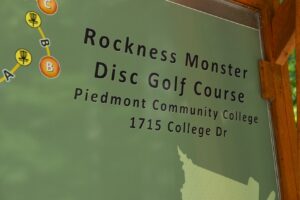 The course has 27 holes and a distance of 7807 ft. to 9145 ft. depending on what platform you choose to tee off. It has a par 85 from the red tees, 86 from the white tees, 97 from the blue, and 91 from the orange. The tee pads are granite composition and are a substantial size and a good foundation for launching your perfect drive towards the target, even in damp or wet conditions. Most of the tee pads have benches, not so much for those waiting to play but for resting. During the Fall, when I played, you could see many of the baskets which made it much easier to pick a target. Notice I didn't say hit a target but hey, give me a break, this was my first time playing. The folks that work on the course have done a great job keeping a pathway clear to the baskets.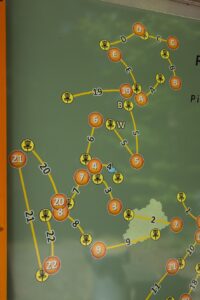 Because the course is located in a forest and by a creek, wind, tree rot, flooding, and roots are all factors to keeping things playable. During my recent research I came across a downed tree across one section of the trail. It was still playable but it could have just as easily blocked the path. TWO THUMBS UP and GOOD JOB to all the workers that are keeping up the course. Due to the elevation changes it would be better to take a backpack for your discs rather than a cart, unless of course your cart has "offroad" knobby tires, a motorized assist, a GPS disc tracking system, and a cooler of your favorite beverage. I would also leave your flip flops in the car and wear comfortable shoes that you might wear hiking. I have walked and carried my Ball Golf golf bag on many courses over the years and gotten plenty of exercise. This course is no different.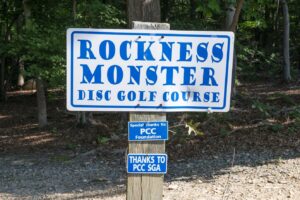 All in all the time spent with my son, the sore elbow and shoulder, the unexpected workout on the hills, the peaceful sounds of rustling trees and babbling brooks were the memories I took away from my experience at Rockness Monster. They were all worth it! Oh, and did I mention my great drive to just 15 feet from a basket?? So, if you are looking for a disc golf adventure close to downtown Roxboro and want to experience a basket in a wee glen or up on a formidable rock formation, Rockness Monster is your course. Just be patient when you let it fly and hope that Nessie's rock and tree minions don't rear their heads and toy with your disc. Just enjoy it, after all IT IS JUST A GAME.
https://www.piedmontcc.edu/discgolf | https://www.youtube.com/watch?v=LPKPYdETx4M


We welcome Paul back after a short hiatus. Over the next several issues you will be able to get his take on each of the disc golf courses in the Hyco lake Region. As well, he will be taking more of these spectacular photos! Paul Liggitt Photography, (336) 322-1167, www.plphoto.com