Story and photos by Paul Liggitt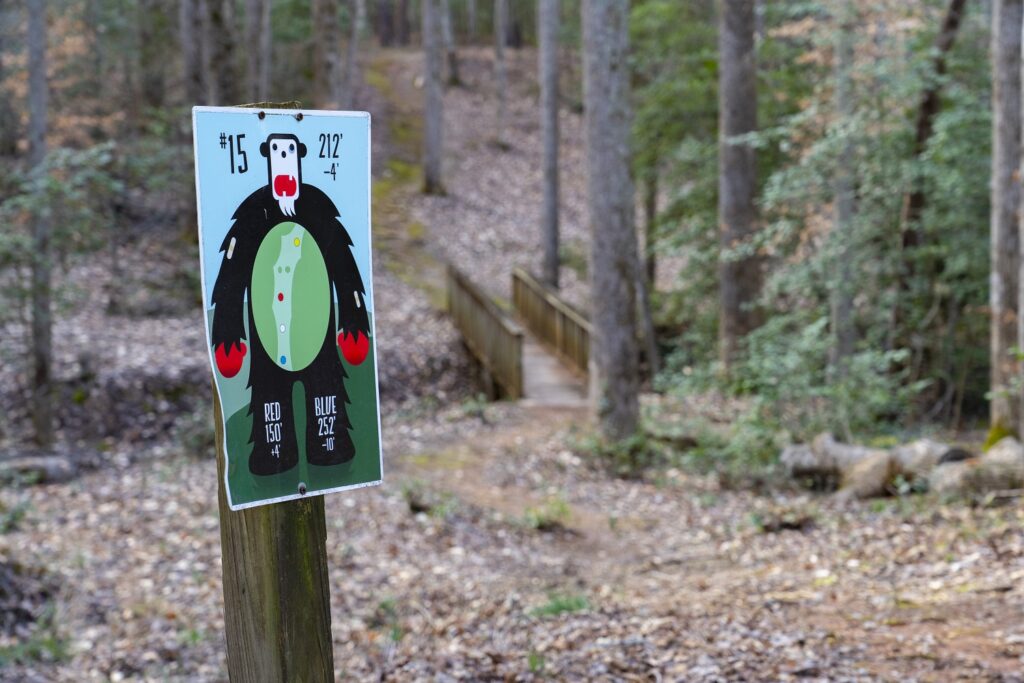 Roxboro is a northern Piedmont town whose history was shaped by textile and tobacco commerce. In more recent years it has become a destination for big city dwellers from Durham, Raleigh, and Chapel Hill who want a quieter lakeside getaway.
Many have made Hyco Lake and Mayo Lake their weekend happy place to enjoy water sports, family activities, and just "chillin," or whatever the trending expression is for relaxing and having fun. In the summer, it may be great to be on the water when the temperature is over 80 degrees, but what do you do in the spring and cooler months if you want to continue to visit your lakeside Shangri-La? Fortunately, there are other venues in your backyard that can provide some communion with nature, an itsy bit of exercise, and if you don't take yourself too seriously, some great family fun.
Oh, and did I mention the price? HOW ABOUT FREE? Some of you may have already skipped down to those words in all caps but don't worry, there will be no bargain hunt shaming here. Now that I have your attention, I am talking about the disc golf courses just outside of Roxboro, The Kraken at Hyco Lake and Sasquatch at Mayo Lake.
I personally think that disc golf in the spring months is better, or should I say easier? The weather is cooler, bugs are not a factor, and best of all, leaves are still off the trees or just starting to emerge. They say in ball golf that trees are 90 percent air. That's really a myth, it's more like 25 percent. Without leaves on the trees you stand a better chance of sneaking an errant shot through to the basket or to your intermediate target.
Leafy trees are definitely a greater factor at the PCC course, Rockness Monster, compared to the Hyco and Mayo Lake courses. The wooded portions of the Kraken and most of Sasquatch are set in pine groves with minimal leaves. That said, disc golf in the less-leafy months or in piney forests is still a "walk in the park." Yes, that's as good as it gets for humor.
The Kraken at Hyco Lake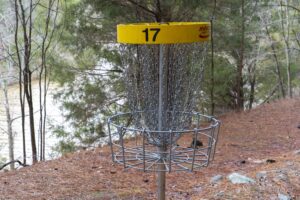 The Kraken at Hyco Lake is an 18-hole course with open holes featuring lake and campsite views on the front nine, and more challenging wooded holes on the back nine. Challenging, yes, but still very playable. I picked up a full color map of the course at the ranger station that helped identify the tees. Each hole has an attractive layout sign with a suggested flight line and distances.
Although you are next to Hyco Lake there are only three holes that require a risk/reward decision for a drive over water. Holes 13, 14, and 15 are where you may have a "Kraken" experience if you are not careful. You need to be completely confident in your throw and aware of the breeze coming off the lake.
As an aside, most discs do not float. No pressure! There are several manufacturers, including Innova, that do make floating discs, like the R-Pro Wahoo. Visit https://www.innovadiscs.com/new-release/r-pro-wahoo-released/ for more information. This is not a paid endorsement so just do a little research on the Internet and see what is available locally so you can give it a test toss. It's best to go with your most consistent disc and most conservative throw to get over the hazard, or have a pal with a boat floating nearby. You can also choose a shorter line of flight to an intermediate target if you are more of a landlubber. This will minimize the time spent over water.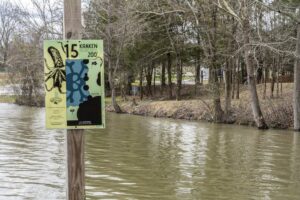 The course is designed for the best experience to be from the white tees for the beginner to intermediate player. Yardage from the whites is rated at 4,560 feet while the blue tees increase your distances by about 33 percent, to 6,120 feet. Please, no comments from math geeks about the percentage of increase and the stated distance!! The key word is about.
There is a small, convenient parking area near the first and 10th tees, just to the left of the park entrance, well away from the boat launch area. If you only have time for nine holes, you can play either the front nine or back nine from there.
You can treat the front nine as a sort of warm up. Because it is so open, it allows you a chance to put a little muscle in your drives with minimal consequence. You can also tell from your early throws if you have what it takes to clear the water hazards on the back nine. Albeit more open, the front nine does have more up and down with some nice views of the lake and campgrounds, but bring your sunscreen on a hot sunny day.
The back nine weaves around a walking trail, so golfers should be alert for walkers and walkers should watch out for flying discs. I found the terrain to be an easy trek and believe a backpack or disc cart could be managed as well. However, I have one suggestion — wear athletic footwear that will give you some traction because there are no built-up tee boxes. That could be soccer cleats, or soft golf spikes, or any footwear that can grab the turf and provide stability on pine needles or grass.
The course is a good mix of holes with some amenities, is scenic, and certainly has a few challenges. As the days get longer, it is a perfect time to gather on the weekend for some disc golf, burgers, and S'mores.
The Sasquatch at Mayo Lake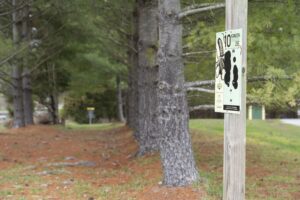 The Sasquatch course is located north of the city of Roxboro, off Hwy. 49 at Mayo Park. Like the other Person County courses, there is a minimum of 18 holes. Sasquatch also boasts a few holes that require a drive over water but there are alternate routes you can take that aren't as daunting.
Sasquatch is much hillier than The Kraken and is heavily populated with pine trees on most holes. However, access to the baskets is clear and well-marked. The course is longer too, with the distance from the white tees at 6,119 feet and 7,376 feet from the blue tees. The tee boxes are built up and have a good surface for traction, even after rainy weather. The open holes follow some power line clearings and are a small respite from the tight, curvy throws you need for most of the wooded holes. There are a few truly blind tee shots but those holes are not so long that you couldn't make a short walk to the top of the hill to get your bearings.
That takes care of the details on the course, now for the fun parts. The Sasquatch statue at hole number one is a great place for a "Kodak" moment. Wow, do folks even know what that is anymore? Maybe I should just say "photo op.". There is a nice-looking course map there as well and it's also available online at: http://www.personcounty.net/home/showdocument?id=11157.
The theme continues on the hole markers with cute Bigfoot illustrations and funny sayings to keep you entertained. The first hole is straight and open but it plays a little with your head. Although you can see the basket, a watery inlet seems really close, just beyond it. You're not quite sure about distance for fear of putting your first drive in the water. As you get closer you realize there is plenty of room before you splash.
After the first hole, you have to gird up your loins to go over water on holes two and three. After the number three basket, there is an alternate nine-hole course with letters A-I. So, there are actually 27 holes you can play if you have the time and energy. The alternate nine holes weave their way through the woods near some of the cabins, while the regular course loops around near the amphitheater, the playground, and the boat ramp before returning to the ranger station.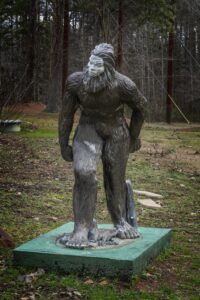 The baskets on the wooded hole locations are nestled in reachable clearings so the skill level is beginning to intermediate. The woods are also not too dense to find an errant throw and play a recovery shot. It's a good walk through the woods, but more than that, it showcases the different features of the park, by design, I am sure.
If you have not visited Mayo Park you should, even if you don't play disc golf. I personally have a fond memory of camping with my youngest son and checking out a canoe on Saturday morning for a paddle around the lake. Oh, and did I mention S'mores? I think I already did.
Person County has done a great job incorporating disc golf courses in the parks surrounding the two lakes. So, if you're a lake dweller, a day tripper for water sports, an overnight camper, or just someone who wants to hear the natural or supernatural sounds of big feet rustling in the pine straw, or massive tentacles splashing in the water struggling to catch an errant disc, add The Kraken at Hyco Lake or Sasquatch at Mayo Park to your destinations this season. Even if you don't bring discs it will be time well spent.
More detailed information on hole distances and other factoids can be found on the Kraken at Hyco Lake https://www.dgcoursereview.com/course.php?id=7301&mode=ci and Sasquatch at Mayo Park https://www.dgcoursereview.com/course.php?id=5794&mode=ci
Over the next several issues you will be able to get Paul's take on each of the disc golf courses in the Hyco Lake Region (Person County, NC | Halifax County, VA | Caswell County, NC | Danville, VA). As well, he will be taking more of these spectacular photos! Paul Liggitt Photography, (336) 322-1167, www.plphoto.com