Heyday Inboards NC CWSA Wakesurf Championship Tour 2019
By Robyn Kinsey Mooring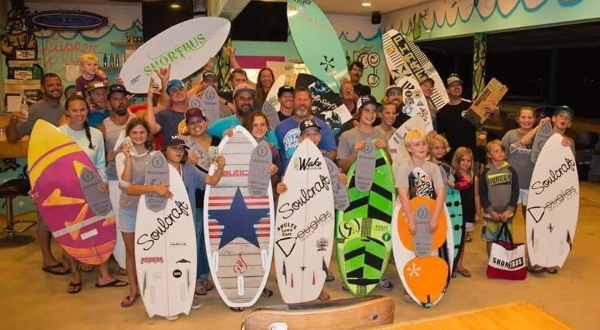 Whether you know how to wakesurf or just want to spend a day on the lake, you'll want to mark September 21, 2019 on your calendars now. That's when the 4th annual Heyday Inboards NC CWSA Wakesurf Championship Tour 2019 is coming to Hyco Lake for a weekend you don't want to miss. While you'll get to see riders from around the world perform at the highest level and compete for prizes, you'll also be able to enjoy taking part in a FREE event that offers something for the entire family while highlighting all that the lake has to offer.
What is the Heyday Inboards NC CWSA Wakesurf Championship?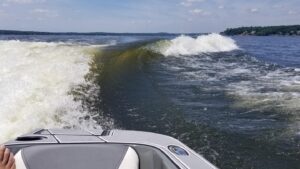 For those not familiar with the world of wakesurfing, CWSA stands for the Competitive Wake Surf Association (www.competitivewakesurfing.com), and wakesurfing itself is a water sport in which a rider trails behind a boat, riding the boat's wake without being directly pulled by the boat. This year's event will take place on Saturday, September 21 from 7:00 a.m. – 5:00 p.m. and is one of two East Coast tournaments on the world points tour. There were about 60 riders last year and at least 70 are expected this year.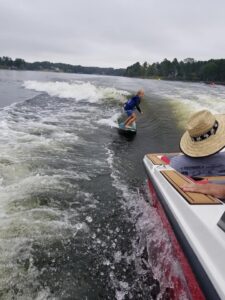 Owner of Heyday Inboards NC Brandon Patrick says that while the event offers a great opportunity for riders to win prizes and earn points that help them advance for the world finals, he primarily started the tournament "to get a lot a of new people on the water to learn about the sport and to offer an opportunity to bring the entire Hyco Lake community together."
Brandon and his team do that by providing a free, family-friendly event featuring jump houses, water mats on the water, music, entertainment, giveaways throughout the day, food for sale and of course, a chance to hang out with professional and semi-professional riders. "They're there on the shore just hanging out with all the people," says Brandon. "You can literally walk right up to them, take pictures with them, shake their hands, get autographs, talk and ask questions."
Learn to Wakesurf or Wakeboard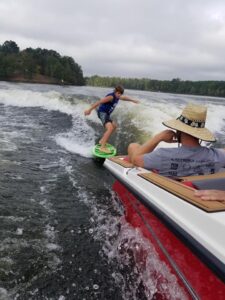 If you're interested in learning how to wakesurf or wakeboard, the event offers something for you as well. Some of the wakesurf riders will be giving paid lessons the day before on Friday, September 20. Simply contact Brandon at ncmarinesales@gmail.com, and he will get back to you with pricing information and to schedule a time. There will also be a free wakeboarding clinic running throughout the day during the event on Saturday where you can learn how to wakeboard and do tricks as well as see how one of the newest Heyday boats performs.
According to Brandon, that's one of the benefits of hosting the event for his company. "It lets us showcase the new Heyday lineup in front of avid riders, boat owners and spectators of all ages, and it allows us to get feedback on performance, looks and quality of the lineup from the people that ride and buy the products daily."
A Premiere Event for Competitors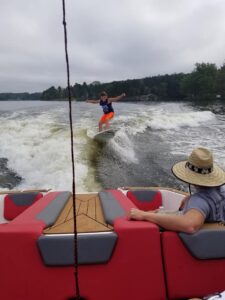 While it's all about fun for everyone watching, there will be some serious and not so serious competition going on, on the water. The tournament, like the CWSA itself, offers five skill levels in which riders can compete: Juniors, Masters, Amateur, Outlaw and Professional. From juniors, where the riders get points for reaching down and touching the water; to the semi-pro outlaws "throwing tricks;" to the professionals showing everyone how it's done, Brandon says the spectators and other riders themselves will get a chance to experience wakesurfing at its best.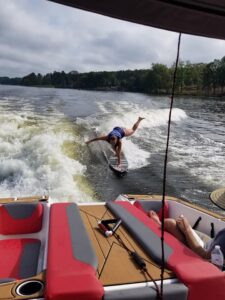 Another fact that Brandon is extremely proud of is that his tournament offers quality prizes for competitors at all levels, not just the pros. The Pro Men's and Women's divisions in both surf and skim will be competing for significant payouts, while all of the other classes will be working toward winning surf boards, traction pads, fat sacs, board bags, hats, surf ropes, prize bags, gift cards and a trophy built by Seadek Marine.
Local Economic Impact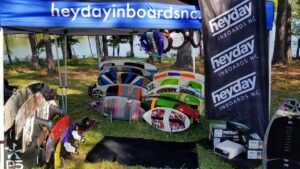 The riders and spectators aren't the only ones benefiting from the tournament being held at Hyco Lake. The local economy comes out a winner as well. Brandon uses local vendors as much as possible for the event itself, and since it starts early on Saturday morning, competitors usually come in the night before. They stay at area hotels and campgrounds and have plenty of time to eat locally. Then, because the awards ceremony is held Saturday evening, most stay a second night and get some time in on the water on Sunday before they leave. Area homeowners can even benefit. If you have a home that you're willing to rent out for the weekend, feel free to contact Brandon at ncmarinesales@gmail.com and let him know.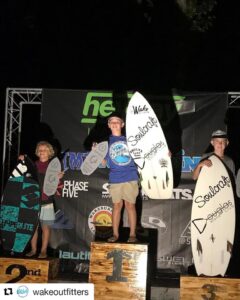 While this year's competition is hosted by Heyday Inboards NC, NC Marine, Your Mobile Technician LLC and Brunswick Boats, other sponsors include West & Woodall, Seadek, Phase 5, Wakesurf Gear Co., Flyhigh Fat Sac, Wakesurf NC, Shortbus Board Co., STZLife Apparel and Hyco Lake Magazine.
For more information and all the latest news about this year's tournament, visit the Heyday Inboards NC Wakesurf Championship Facebook page. The event will be held at 1117 Estate Road, Semora, NC


Robyn Mooring is a Durham-based writer and PR/Communications professional, wife and mother of two teenage sons. She especially loves writing about health and wellness and anything that gets people active. She can be reached at Robyn@robynmooring.com.