Creating Beauty from Earth, Imagination and Fire
Story by Chris Faircloth
Cole, Craig, Owen, Auman, Loy, Busbee, Craven, Chrisco, Lisk. To North Carolina pottery lovers and collectors, these names are the holy grail of a tradition born of necessity and beauty that spans generations in our state. For over two centuries, North Carolina has been home to some of the most spectacular, innovative and creative pottery in the country, which makes pottery an integral part of our state's heritage and history.
Curry Wilkinson, a native of southern Alamance County, has grown up with a deep, almost spiritual appreciation of this tradition, and has spent the past three years honing his craft full-time as an apprentice to potter Joseph Sand of Randleman.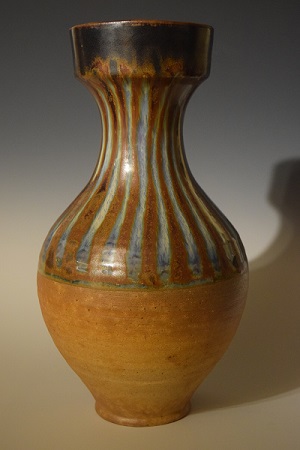 "I have wanted to make pottery on a full-time basis ever since I first saw my middle school art teacher create a piece of pottery out of a lump of clay on a wheel," said Wilkinson. "I had the opportunity to take pottery classes in middle and high school. In the summer of 2008 I had the opportunity to attend a weeklong workshop in Penland, NC with potter Mark Shapiro that focused on wood firing and decoration, and I was hooked," he said.
Wilkinson graduated from The University of North Carolina Greensboro and worked full-time in the business sector for several years, but knew this was not what he wanted to spend the rest of his life doing. He tried to find a way to work on his pottery and develop his technique and style while working forty hours a week, but found it difficult to devote enough time to his craft. Fortunately for Wilkinson, a well-established apprenticeship program designed for artists who want to pursue their passion of becoming professional potters, was available. Modeled after the traditional English system and brought to our area years ago by master potter Mark Hewitt of Pittsboro, this program has provided the opportunity for dozens of apprentices to start pottery businesses of their own.
Joseph Sand was an apprentice of Mark Hewitt who established his own business in Randleman after his apprenticeship with Hewitt. After several successful years, he continued the tradition and hired Curry as an apprentice. Curry started throwing pottery full-time at Joseph Sand Pottery in October of 2014.
"I was 25 when I decided that I wanted to be a full-time potter and make the leap to follow my passion," said Wilkinson. "Joseph offered me the opportunity of an apprenticeship, which is like getting an advanced degree in fine arts without incurring massive amounts of debt. I was able to work on my art full-time, and Joseph provided me with a place to live and a small stipend," he explained. "I have honed my style and technique, have learned how to run a pottery business, and have begun to get my name and work out to the public and to galleries," he added.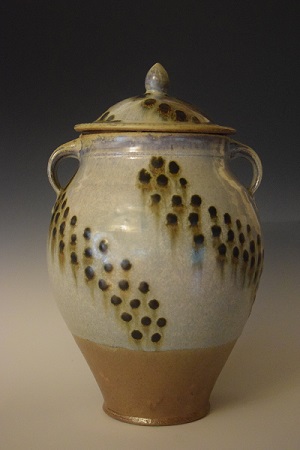 Wilkinson's transition from apprentice to professional potter has been a journey he is proud of. He has spent thousands of hours turning pots, glazing pots, chopping wood for and loading and unloading the massive kiln that is a wood-fired potter's bread and butter. He has also, with the help of his girlfriend Sarah, started developing the business side of his company by creating an online media presence.
"Historically, wood fired kiln openings brought communities together," said Wilkinson. "Kiln openings now have that same effect, as the potter spends three months creating between 1,500 and 2,000 pieces that are fired in the kiln. At least five people are needed to stoke the kiln for three straight days and cool it down incrementally. Once the pots are unloaded, grinded and washed-one piece of pottery is typically handled about 12 times from start to finish- the potter is ready for his opening," said Wilkinson.
The time-honored tradition of turning our clay-rich soil into functional and decorative vessels began with the American Indians. This tradition continued with early European settlers who realized they could use the skills they learned in their native countries to work this clay. These potters made utilitarian wares for food storage and preparation, but did not consider pottery an industry or an art.
Thanks to the Arts and Crafts movement in the 1920's, which revived interest in all things rural and handmade, potters in North Carolina thrived. The Seagrove area potters played a considerable role in the revival of North Carolina traditional pottery and in the introduction of pottery as an aesthetic, decorative art.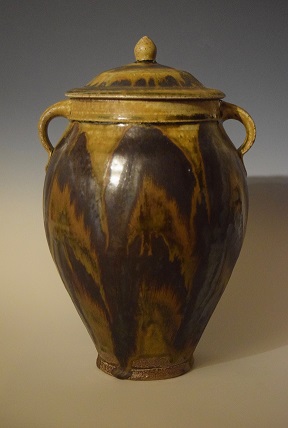 Wilkinson's hard work as an apprentice has provided him with the foundation that has enabled him to begin to develop his own voice as a potter. As he begins to implement what he has learned over the last three years and start a kiln of his own, he is carrying on the long-standing apprentice tradition and is honoring the North Carolina pottery history he holds dear.
According to Wilkinson, we are living in an area rich with world-class artisans who create and sell their work on a regular basis. Seasonal studio tours and kiln openings provide the opportunity to meet the potters and to acquire pieces of all styles, colors and sizes. Many of our local artisans are extremely well known and their work is highly collectable and part of many private and public collections. People throughout the state and the country embrace traditional North Carolina pottery pieces and integrate them into their lives and homes.
"As an apprentice, I didn't have to think about what I made," said Wilkinson. "The challenge as I begin my journey towards building my own kiln is to take the skills I've learned and to create my own pieces and to find my own voice as an artist. It is exciting, daunting, uncertain, but mostly exciting!" he added.
Wilkinson is planning on setting up his own kiln later this year in the southern part of Alamance County. He plans to have his first kiln opening in the fall of 2018.
"My goal now is to find a piece of property at the end of a dirt road and to build a business of my own," said Wilkinson. "The people who come to kiln openings to talk with me about my art and to purchase my pottery are more than customers, which is what I love about this business," said Wilkinson. "They become friends, and three times a year at openings they can share my life and passion for this art form," he said. "I never got that kind of satisfaction when I was working in the business world," he added.
Curry Wilkinson Pottery
(336) 653-5676
[email protected]
http://www.currywilkinsonpottery.com/
On Facebook