If you've spent much time in uptown South Boston, Roxboro, Yanceyville, or Danville over the past few years, you've probably been by or into a nutrition store, where you can purchase tasty meal replacement shakes and energy drinks, along with other nutrition products.
In South Boston, LeAnne Pulliam offers those drinks to customers at Cheers SoBo on Main Street. The store has been open a little less than a year, but it already has a loyal following, according to its owner.
LeAnne said the best thing about her business is "interacting with the customers daily and becoming a part of their lives." She credits her employees with helping her build strong community relationships.
"All of my Cheers employees are incredible," she said. "The community loves them just as much as I do. I am thankful to have such incredible employees."
LeAnne and her employees serve up a variety of nutrient-dense meal replacement shakes and clean energy drinks. The products, she explained, are supplied by Herbalife Nutrition, a company that has been in business for 41 years and "holds the market share on the number one meal replacement shake."
The Cheers SoBo owner told me her favorite shake is Strawberry Cheesecake and her favorite energy drink is Strawberry Lemonade. She and her staff also offer such delights as Butter Pecan Shake, Pineapple Rita, Frosted Animal Cookie, Cherry Chai, Orange Banana Cream, and Tropical Strawberry, to name a few. LeAnne said the greatest benefit of using the products is "the incredible energy and overall wellness you feel when using them consistently."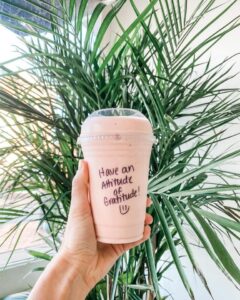 And, it's not just the body that benefits from a visit to Cheers SoBo. Shake and drink cups offer inspiring handwritten messages to customers. The store's Facebook page, @CheersSoBo, also offers inspirational messages and tips for living a healthy life.
LeAnne said her daily philosophy is "to serve others well by showing them the true love of Jesus through myself and my business." She added that the most rewarding thing about operating Cheers SoBo is "impacting the community of Halifax County and creating incredible friendships along the way."
The community has welcomed her small business, she said. "Other small businesses in the community, along with the town of South Boston, have been very welcoming and supportive of Cheers," she said. "I am grateful for each and every person who walks through our doors."
According to the Herbalife website, www.Herbalife.com, the company is "a global leader in nutrition with over 40 years of experience in developing best-in-class meal replacement shakes and dietary supplements. Our products are designed to help you achieve your goals, but what makes us unique is our ever-growing community. Our network of Herbalife Nutrition Independent Distributors spans across the globe and is here to support you on your journey to better nutrition."
225 Main Street
South Boston, Va.
(434) 572-7560



Monday through Friday from 7 a.m. until 4 p.m.
Saturdays from 9 a.m. until 1 p.m.