Caswell Council for the Arts
On the quiet streets of downtown Yanceyville on a cold winter afternoon, there is a stillness in the air that says it is time to turn inward, to return to a place of inspiration, and prepare for the rebirth of Spring. But not all is quiet and still. In a building of concrete with large front windows which once housed an old post office, there is now an art gallery and the home office of the Caswell Council for the Arts. Here, Executive Director Denise Burnette and Marketing Coordinator Paula Bassnett work diligently preparing for a whirlwind of Spring events that are soon to arrive.
"The arts are alive in Caswell County," said Burnette. "While we are busy preparing for a year of art exhibits, performances, classes, festivals, and more, we keep asking ourselves the same questions over and over again. How do we reach people and let them know that we are here? How do we find the artists, the creators, the lovers of art, and let them know that we want to be a hub for the arts in our community?"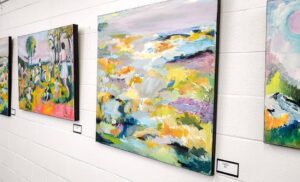 The answer is not a simple one. The Council has been around for over 40 years, and still there are many people who do not know what the Arts Council is or what it does. The organization was created in 1977 under the leadership of Lee Fowlkes who, for 36 years, led it in its mission to support and promote the arts. During this time, the organization created a tradition of arts events, many of which survive today, including an annual Juried Art Show; Student Art Show; Theater Performances for young audiences and gallery exhibits. An annual Spring Market Rummage Sale, held March 21-25, kicks off the season and helps to raise much needed funds for the many events.
Southern Roots Festival
In addition to these long-standing events, the Council is always looking for new ways to reach out to the community through the arts. One such event is the Southern Roots Festival, which showcases the arts, music, and creative traditions at the root of Southern Culture. The event will take place on May 16 at the Historic Warren's Store in Prospect Hill, and will feature live music; an artist and crafters market; creative activities; southern food; wine and craft beer; antiques, and tours of the store.
"I discovered this beautiful historic store a few years ago, and immediately felt that it should be a place for people to come together through the arts," said Burnette. "It seemed the perfect place for a festival, and the Southern Roots theme felt like something we could create here in Caswell County that would showcase our deep roots — one of our strengths. We had a great response to the first festival, so we are excited to bring it back again this year."
While the Council is excited to showcase the roots of the community, don't be fooled into thinking that the members are stuck in the past. "We appreciate all varieties of art; both traditional and modern. The beauty of art is that it is unique to the person who is expressing it. We want to showcase the creativity of our region, and the uniqueness of the artists who live here," said Burnette.
Pix: A Digital Arts Show

In April of 2020, the Arts Council will present "Pix: A Digital Arts Show" at the Lee Fowlkes Gallery. This show is open to digital artists in the community, and will also feature a variety of talented artists from the Piedmont Community College Digital Arts Program. An opening reception will be held on April 2, from 6 to 8 p.m. Submissions for the show are currently being accepted.
Young Artists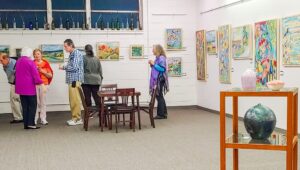 In the spirit of inspiring young artists, on April 29, the Council will present its annual student art show for all K-12 students living in Caswell County. The show will be held from 6:30 to 8 p.m. at the Caswell Civic Center. This juried show highlights the work of local students, and rewards them with certificates, ribbons and cash prizes.
Cultural Connections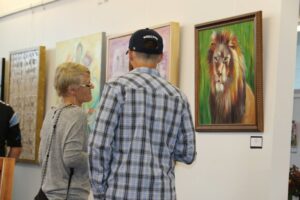 In early June, the Lee Fowlkes Gallery will feature "Cultural Connections," an exhibit featuring the works of visiting artists Pinkie Strother and Storia Davis. Strother's unique dioramas and paintings tell the story of an African American child growing up in rural Maryland in the height of the Civil Rights Era. Her work has been exhibited at the North Carolina Museum of History and the 2017 Annual Martin Luther King Jr. Celebration in Charlotte. Her work was chosen to represent the United States in the highly competitive 2016 International Art OMI Residency. An opening reception will be held on June 5, from 6 to 8 p.m. so that guests can meet both of these talented artists and view their work.
Membership is Our Lifeline
The whirlwind of Spring events will finally begin to slow after the Arts Council's annual membership meeting is held on June 12 at 6:30 p.m. at the Lee Fowlkes Gallery. As a membership organization, the arts council receives much of its support through membership donations, which range anywhere from $15 to $500 annually. As a non-profit organization, a board of directors comprised of members is the main governing body, overseeing the work of the organization and helping to provide support and guidance to the Executive Director, staff and volunteers.
Membership is open to everyone, not only Caswell County Residents, and is a valuable way to connect with others who share an interest in the arts. "I wish I could reach out to everyone with a love of the arts living in this area and convince them to become a member," Burnette declared emphatically. "Not only is their support valuable to us, but even more so, it would be a way for us to know who they are and what they would like to see here in Caswell County. The more that we can connect, the more we can make a difference."
The Caswell Council for the Arts can be reached online at www.caswellarts.org, on Facebook at Caswell Council for the Arts, via email at [email protected], and via phone at (336) 694-4474. The Lee Fowlkes Gallery, which houses the Arts Council gallery and office, is located at 43 W. Main Street in Yanceyville, and is open Tuesday – Friday, 10 a.m. – 2 p.m. and during special events.