After more than 20 years serving Person County homeowners, Carpet One Floor & Home owners Sheila Clayton and Brian Horner passed the torch. On April 1, 2022, Kelly and Stacey Davis embraced their new roles as co-owners of the business. Stacey and Kelly said they are eager to take the business into the future by building upon the legacy created by Sheila and Brian.
Carpet One is a co-op, or a family-owned, independent business with the collective buying power of the largest flooring group in North America.
Under Sheila and Brian's direction, Carpet One Floor & Home has been rated Best in Person County in The Courier-Times annual contest every year since 2018. It received the 2015 Roxboro Area Chamber of Commerce's Small Business of the Year Award. In 2017, it was also recognized by Piedmont Community College for Excellence in Business for its contributions to the local community and beyond.
Brian said, "The business has helped us form so many good friends and relationships. Our employees are like our family. We thank our community for all the support they have shown us."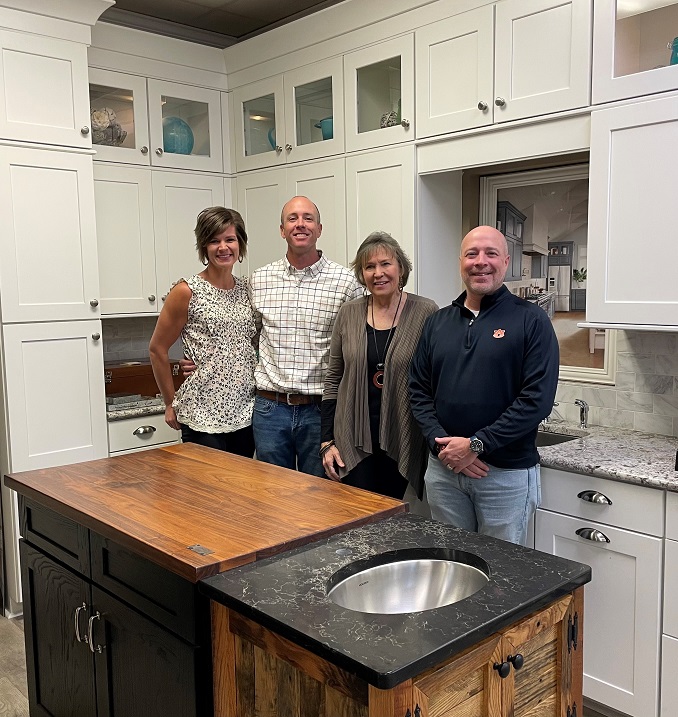 After owning the business for the past two decades, Sheila and Brian said they are eager to begin the next chapter in their lives. Sheila said, "We have absolute trust and faith that Kelly and Stacey will lead the company to even greater levels of success. This next generation of leadership is strong and amazing. As we reflect on our journey, the emotions are overwhelming, but we know the business is in good hands."
Kelly and Stacey said they are delighted and humbled by this unexpected opportunity. Married for 16 years, they have two children, Eli and Reese. Kelly, a telecommunications project manager, and Stacey, a literacy teacher and owner of Jazzercise of Roxboro, both found themselves working from home in March 2020, as the Covid-19 pandemic changed lives forever.
When schools and gyms reopened, Stacey returned to in-person work but Kelly remained working remotely from home. While grateful for a steady job that provided well for his family, Kelly said he soon realized that being isolated at home was perhaps preventing him from having the impact on others to which he felt called. After several heart-to-heart talks, the Davises said they decided to pray for God to show them where he would have them, either continuing in their positions at the time or making a change.
Now, the Davises laugh about the Sunday that Sheila approached them at church and said, "I have something to talk to you both about and I want to come over today." As Sheila explained that she was eager to retire, she expressed her desire for Carpet One to remain a locally owned business, led by a family with the same heart for the community that Sheila and Brian shared. Stacey said Sheila did most of the talking at that Sunday afternoon living room meeting while Kelly and Stacey looked on, wide-eyed, with a few nervous laughs. When the conversation was over, the Davises said they could only promise to discuss and pray over the offer.
Just moments after the meeting, Kelly and Stacey agreed the proposal sounded positively crazy – and positively worth their time to consider. "Why? Because God," said Stacey. They had both learned not to ask, "God, show me the way," and expect the path to be exactly how they personally intended.
The couple said they prayed and talked. That led to meetings and research and family discussions. After guidance from trusted mentors, Kelly and Stacey decided to take the leap. Stacey said, in many moments since then, countless situations have reaffirmed to them that this is the correct path for their family.
The Davises said, since April 2022, and assuming their newest role as the owners of Carpet One, they have balanced work and life with "all the other good stuff" like serving alongside their church family; attending school events, wrestling matches, Little League games and dance recitals; cooking out with family, and their favorite activity of spending weekends on Hyco Lake.
Kelly and Stacey said they are humbled that Person County has accepted them in their new roles. The enthusiastic support of their hometown community has been a blessing, they said, and they are enjoying assisting old friends and making new ones along the way as they help homeowners realize their dreams.
Looking forward, Kelly said, "Stacey and I are excited about the future of Carpet One and the many opportunities we will have to serve Person County and its surrounding communities."
The Davises are grateful that Sheila and Brian entrusted them with the business they built, said Stacey. She added, "We hope to honor Sheila and Brian and make them proud to know they, too, made the best decision for their families for this next chapter."