By Phyliss Boatwright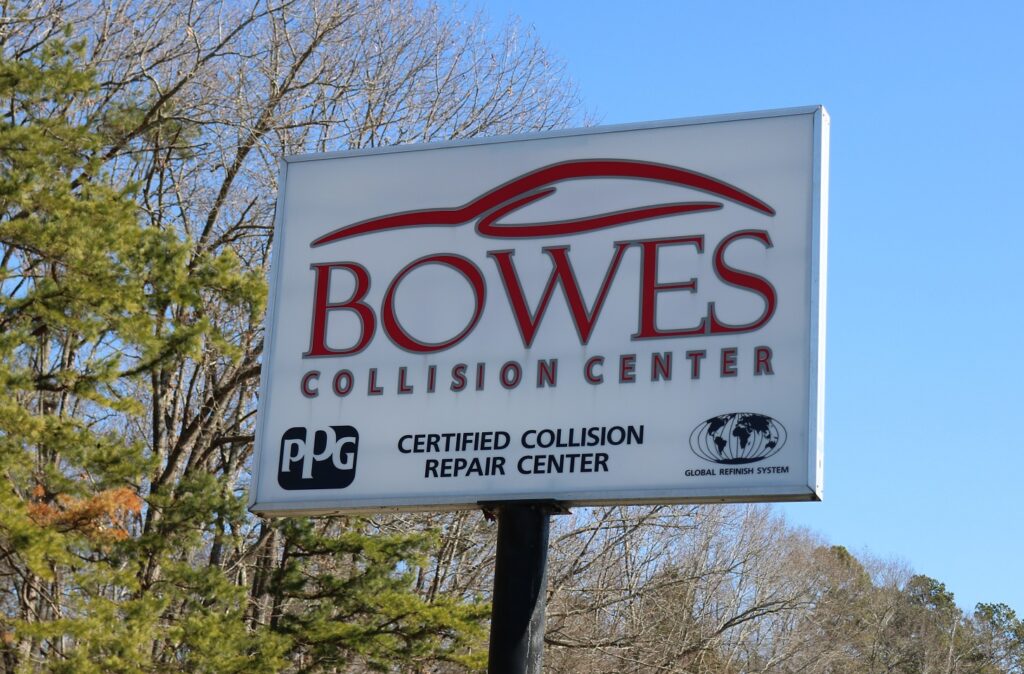 For 12 years, I drove a white 2002 Chevrolet Trailblazer. I loved that car. Of all the cars I've had in the nearly five decades I've been driving, that Trailblazer was my favorite. And it was also the only vehicle I've ever owned that had to be repaired three times — in the exact same spot.
The car was just the right size for my life at the time. I had a 90-pound pit bull-lab mix and a border collie who both loved to ride. I did a lot of driving for my job at the newspaper, and the car got good gas mileage. My mother was alive for the first few years I had the car, so I did a fair amount of driving to South Carolina, and my Trailblazer was safe and comfortable. In 2005, I drove to my hometown of Jefferson, S.C., picked up five of my women friends and enough luggage to last us all through a five-day cruise, and drove us to the train station in Columbia. My husband and I added on and renovated our house while I had the car, and, with the rear seat folded down, it was good for hauling small furniture and materials we needed.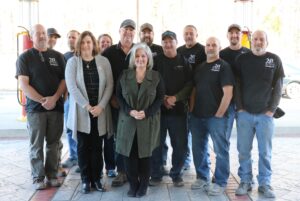 It was just a great car all around. But it was also doomed to a certain extent. I guess I doomed it myself because I bought it on my father's birthday — Feb. 3. Daddy seriously abused many cars and pickup trucks during his lifetime of farming and building houses. While I was growing up, he also managed to purchase several "lemons" over which he cursed repeatedly. I should have known not to buy a car on his birthday.
Luckily, though, every time disaster struck my beloved vehicle, I could take it to the perfect "hospital" in Roxboro and have the best car doctor make it all better.
Bowes Collision Center, Inc. became my automobile 911.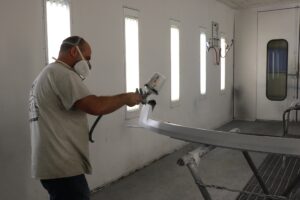 The first time my car got hurt, I was on my way home to visit my mother. I was just a few miles from Chesterfield, my home county seat. As I was driving along Hwy. 265, listening to music and looking forward to seeing Mama, I noticed a pickup in front of me that was loaded with plywood. It appeared to be tied down, but I hung back just in case. And I'm so glad I did. The extra reaction time allowed me to take evasive action after seeing a piece of plywood suddenly flying through the air, headed straight toward me. The wood ended up hitting the right front fender of my car, damaging it and the bumper. The guy driving the truck saw what had happened, and came back to where I had pulled over. We exchanged insurance information, and I saw that the vehicle was OK to drive, so I went on to my visit — after calling my insurance agent.
When I got back to Person County, the first call I made was to Donald Bowes at Bowes Collision. (Back then, it was Bowes and Cecil.) I've known Donald and Amy Bowes for many years. In fact, when I first went to work at the local newspaper, Donald was doing freelance photography there, in addition to his duties as car doctor.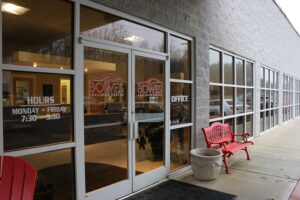 When I took my wounded baby in, Donald wasted no time diagnosing and prescribing a method of treatment. He also dealt with the insurance company and made the whole ordeal as painless as possible. In just a few days, my baby was restored to her former glory.
A couple years later, I was driving home one dark fall night after covering a Person County Board of Education meeting for the newspaper and a deer popped up out of nowhere on US 501 and slammed into my Trailblazer. In the exact spot the plywood had hit a few years earlier. The next day, once again, I called my insurance company and then Donald. And again, Bowes Collision worked its cosmetic surgery magic.
And then, just a couple years later, a newspaper colleague and I were covering the Friday evening graduation ceremony at Piedmont Community College. I parked in one row and he parked in the opposite row. In our rush to get back to the office and file the story and photos before the deadline for Saturday's paper, my colleague backed out at the same time I was pulling out, and he hit me — in the exact same spot that had been hit and repaired twice before.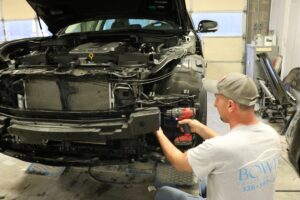 My colleague felt terrible, apologized over and over, and assured me that, if his insurance didn't, he would pay for the damage himself. The thought going through my mind, though, was, "I cannot believe this car has been hit three times in the exact same spot."
When I took the car back to Bowes Collision — again — and Donald came out to look at the damage, I said, "Well, I think you know how to fix this." With his usual good nature, Donald chuckled and said he had indeed had practice with this particular vehicle.
I drove the car for a few more years after the third surgery at Bowes Collision auto hospital, and the worst thing to happen to it was a small scratch on the back bumper after I smacked the neighbor's fence while backing out of the driveway at my sister's beach house. I didn't bother getting that small blemish fixed.
When minor mechanical things started going wrong, at close to 200,000 miles, I finally decided it was time to trade. And I won't lie, I cried when I drove off the lot and left my baby behind. I still miss that car, and every time I see a white, early 2000s-model Trailblazer, I get misty-eyed. It truly was the best car ever. I'm thankful that, although it was hit several times, the damage was always fairly minor, and I was never hurt. That flying plywood episode could have been much worse. I'm also thankful that I had a professional, competent, friendly, locally-owned "hospital" to take the car to each time it was hurt.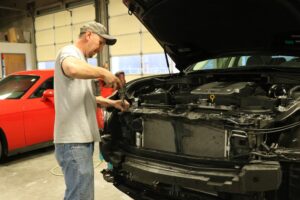 This local company that has been important to me, and many others, for many years was founded with the help of community support. And its owners are grateful — 21 years later — for that support.
Bowes Collision Center, Inc. opened in August of 1999, as Bowes and Cecil Collision and Paint Center. Many of the first people employed still work there today. Donald and Amy Bowes now employ 12 people full-time and two part-time. Their son, William, works part-time as well.
The employees are the main ingredient behind the success of the business, according to Donald and Amy. "If not for our employees, we wouldn't be here," Donald says.
When I asked about his busiest time of year, Donald said fall, because of deer. During fall, he explained, he averages getting between 40 and 50 vehicles a week that have had a too-close encounter with deer. Parking lot bump-ups, like the one I had, are also common automobile "ailments" the Bowes team heals.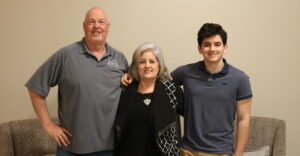 When he decided to go into business for himself, Donald Bowes already had three decades of experience in auto body repair. He worked at Bumpass Motors in Roxboro for 28 years, and at University Ford in Durham for two years before starting his own business with Ken Cecil. Donald and Ken worked together at University Ford during the day, and worked for Howard Solomon of Roxboro at night. Eventually, Howard told Donald and Ken, "Let's build a shop of our own." And it was done — next door to C.M. Solomon and Sons Grading off Hurdle Mills Road, just outside Roxboro. Donald and Amy said Howard and his wife, Susan Solomon, "have been wonderful" since the business was formed.
The business philosophy is simple at Bowes Collision: "treat every customer the same; trust and take care of employees; try not to use aftermarket parts, even when the insurance company suggests using them, and support other local businesses and the community."
Phyliss Boatwright is a journalist who for years reported Person County news in The Courier-Times. She has published two books and several short stories. Her book review show, Turn the Page, can be heard on WKRX, 96.7. For the past seven years, she has taught journalism and served as public information officer at Roxboro Community School. She can be reached via email at [email protected].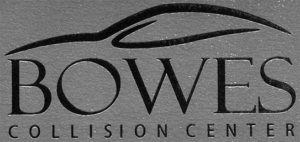 Bowes Collision Center
2695 Hurdle Mills Road
Roxboro, NC 27574
(336) 597-3441
Monday through Friday, From 7:30 a.m. to 5:30 p.m.