By Beckie Grim and Faye Collie
The Bethel Hill Charter School PTO Annual BBQ and Auction fundraiser is an evening of family fun for the entire community. In its 38th year, the BHCS BBQ has grown to become a wildly successful community event.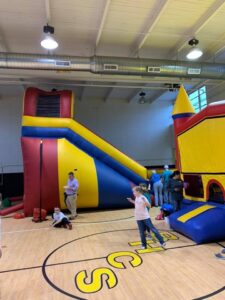 The first BBQ was held in 1982 by teachers hoping to raise money for workbooks. They raised about $4,000. The live auction was added the following year, and in recent years, the event has been attended by over 1,500 people and raised over $20,000 annually. Proceeds from the BBQ and Auction are used by the PTO to sponsor educational enrichment materials and technology upgrades for BHCS Students.
The BHCS BBQ and Auction is organized each year by the Parent Teacher Organization, (PTO) and over 200 parents and members of the community volunteer their time and materials to make the event a success. Community volunteers are often alumni who return year after year to show their BHCS pride. Items for the auction are donated by generous community businesses. Last year's auction included a basketball signed by the University of North Carolina men's basketball team. The auction is led by a professional auctioneer and is an event not to be missed.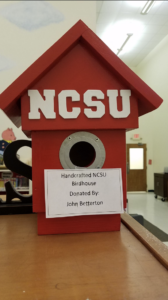 Children's activities and live entertainment are also an important part of the evening. This year, children's activities will include multiple bouncy houses; professional face painting; snow cones; the ever-popular cake walk and much more. For adults who are young at heart, face painting and the cake walk are for all ages.
The star of the supper plates is of course North Carolina-style chopped pork barbecue, smoked to perfection, with homemade, finger-licking good sauce. Another highlight of this year's plate will be coleslaw handmade using Mrs. Marie Martin's secret recipe. Fans of Mrs. Martin's cooking should be sure to get tickets.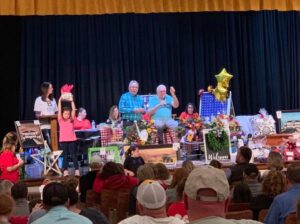 This year's BBQ and Auction will be held Friday, April 24. Drive-up takeout orders will be available at 3:30 p.m. Dine-in supper will begin at 4:30 p.m., and the live auction will begin at 7 p.m. Each year, the auction features an exciting raffle with prizes up to $500 in value. Supper plate tickets are $7 and can be purchased in advance from any BHCS student or by calling (336) 599-2823. Limited same-day tickets will be available. Barbecue lovers hoping to buy meat and sides by the pound should stick around for the auction, where they will be sold at the front of the house.
Bethel Hill Charter School

401 Bethel Hill School Rd
Roxboro, NC 27574
(336) 599-2823
http://www.bethelhill.net/