Almost four years ago, at the tender age of 60, I had ankle surgery that led to a major lifestyle change.
A bad tendon and inflammation caused enough pain to make me seek help. When the doctor said I had a stability problem that could lead to a fall, I conceded to surgery. It was outpatient, so I was in and out within a few hours. The recovery was a whole other thing, though. To put it mildly, it was the most traumatizing thing I've ever experienced. And that includes back surgery.
Five weeks in a cast that was approximately three feet wide and weighed approximately 50 pounds — or so it seemed — caused me to cry and curse and drive my husband crazy.
I was told not to put weight on my ankle for the entire time I had the cast. Getting up and down steps on one foot was no easy task. (I had never thought about the fact that there are at least four steps at every entrance to my house.) To maneuver the steps, I ended up scooting on my bottom while my husband wrangled the cast. So, most of the time, I didn't even try. I just stayed inside, looking out at the beautiful summer weather, feeling pretty sorry for myself. After three weeks in a second cast, I had to wear one of those gosh-awful boots for several weeks, which led to even more self-pity.
Before surgery, I had gained an extra 30 pounds — again. Since my 30s, I had regularly put on and taken off 30 to 50 pounds — largely because I hated to exercise. I grew up on a farm, lifting bales of hay and wrangling 30-pound tom turkeys and "toting out" watermelons from hot, sandy July fields and doing any other physical labor my father could dream up. That kept me from gaining weight as a child and teen. I guess metabolism helped during my 20s and 30s.
But the past 30 years have been a constant struggle. When I suddenly found myself with just one good foot to try to support extra poundage, I got angry with myself. And then, I made a vow that, as soon as I recovered enough, I was going to lose the weight, get healthy, and stay that way.
It took about a year to get to the point of being confident enough to look for an exercise program.
My 2019 new year's resolution was to find a safe way to gradually gain the strength and confidence needed to seriously work out, lose weight and keep it off, so I researched. In the past, I took Jazzercise and aerobics classes and joined gyms. I just couldn't make myself keep going. So, this time, I decided I needed a personal trainer who would focus on the fact that I was over 60, with a bum back and ankle, and teach me what I needed to do without hurting myself so that I would maintain healthy habits. I researched several trainers and gyms before choosing Beyond Barriers Personal Training. And it has been a perfect fit.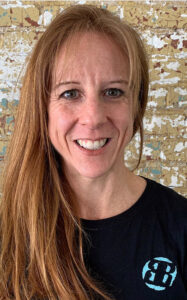 When I first called, Sara Neal worked me in for a one-on-one session. She assessed me and asked questions to get to know me. We started working, slowly at first, and always with Sara gently pushing and encouraging me. Soon, without me realizing it, she started pushing me a little harder every week — and telling me how much stronger I was getting. I didn't realize it for a while, but when Sara pointed out one evening that I could hold a plank much longer — and hold it steadily — I understood that yes, I really was getting stronger and healthier. And more confident.
When I first went to Beyond Barriers, I told Sara I knew I couldn't stop getting older, but I wanted to prevent becoming feeble. She told me that being able to get up off the floor by yourself is a big contributing factor to longevity.
Sara explained, "As we age, we naturally lose muscle mass — about a half pound per year for women, starting at age 35 — and our connective tissue becomes denser and less elastic. These changes lead to limited mobility, and activities of daily living become more difficult. Exercise is the only way to maintain and build muscle mass while keeping your joints, tendons, and ligaments mobile. There is a direct correlation between an inability to get up and down from the floor and mortality. Fortunately, that skill and others can be regained through strength training."
She also said, "At Beyond Barriers, we have seen so many of our clients experience relief from chronic health problems as a result of committing to an exercise program." This includes colitis, osteoporosis, high blood pressure, cholesterol, back pain, incontinence, and anxiety.
Exercise has countless benefits for people of all ages, according to both Sara and Beyond Barriers owner Tricia Arriagada. "Disease prevention is just one of many reasons to exercise, especially as we age," Sara said. "Strength training increases metabolism and changes body composition; helping to maintain a healthy weight. People who have a healthy body mass are at less risk for high blood pressure, coronary artery disease, cancer, and many more diseases. Studies have shown that exercise increases insulin resistance; preventing or reducing symptoms of Type 2 diabetes. Strength training with a focus on core stability improves balance and prevents falls, which can be catastrophic for seniors."
After working for a few months with Sara, and seeing much improvement in my mobility, strength and flexibility, I was ready for small group training sessions, which are cheaper than private sessions. I really enjoyed the small group sessions in the studio, and met some incredible people, many of whom were facing greater challenges than mine.
Then came the pandemic, and gyms and studios were closed. Beyond Barriers quickly and seamlessly moved from the studio to online training via Zoom, however.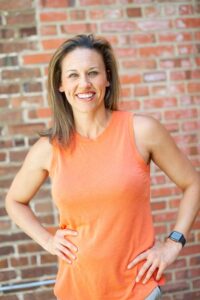 Tricia said, "When the pandemic hit, we knew that endangering our clients' health and well-being was not an option. However, abandoning them was also NOT an option. We quickly explored our new possibilities, and developed a protocol for live, face-to-face, online personal training. We made individual equipment kits for all of our clients who needed them and delivered the weights to everyone. Our clients have been thrilled with the result. Online training has so many benefits," she said. Clients love the time-savings of no commute. Working out in the comfort of home, reduced need for childcare, the ability to schedule sessions at any time, and the option of never missing a workout due to travel are all advantages of remote training, Sara and Tricia said.
The online options allowed the studio to reach outside the immediate area as well. A few months ago, my niece, Rhonda, who lives in South Carolina, told me she needed to up her fitness routine and asked me to ask Sara if she would work with Rhonda.
After a few personal online sessions, Rhonda joined my small group via Zoom. It is so much fun to work out with her!
Sara now seems like part of the family, and I know she has her clients' best interest at heart. She and Beyond Barriers will forever be special to me, for teaching me that there really are no barriers to improving one's health and well-being — except the ones we place in front of ourselves.
When a potential client first contacts Beyond Barriers, they have an initial session to discuss goals and needs and health and fitness history, and the trainer conducts a brief movement assessment. This session is always free with no obligation to commit to any service.
Sara explained, "Once we collect this data, we begin to design a program that meets that person's specific and individual needs. Together, we create a plan for what type of sessions, (individual, semi-private, or small group) frequency, and which trainer has the skill sets to best help this person."
Before starting Beyond Barriers Personal Training, Tricia was co-owner of a small fitness and massage business. While there, she began her journey working with clients who faced incredible barriers, both physical and environmental, that seemed impossible. Tricia saw clients make remarkable progress and wanted to do more. In 2011, she created Beyond Barriers Personal Training, a name inspired by her clients, in the hope of meeting more needs.
Tricia said, "It doesn't matter how inexperienced an individual is or if they have health problems, Beyond Barriers is there to provide guidance. There is always hope with diet and exercise."
Beyond Barriers offers clients support and encouragement from five trainers — all experienced and kind and compassionate. Tricia said the "objective is to design customized programs that cater to the individual's wants and needs" through personal and small group training. Beyond Barriers also provides corporate training and has provided wellness programs for businesses in Hillsborough for over seven years.


919-205-4099
www.beyondbarrierspt.com