By Phillip Gillis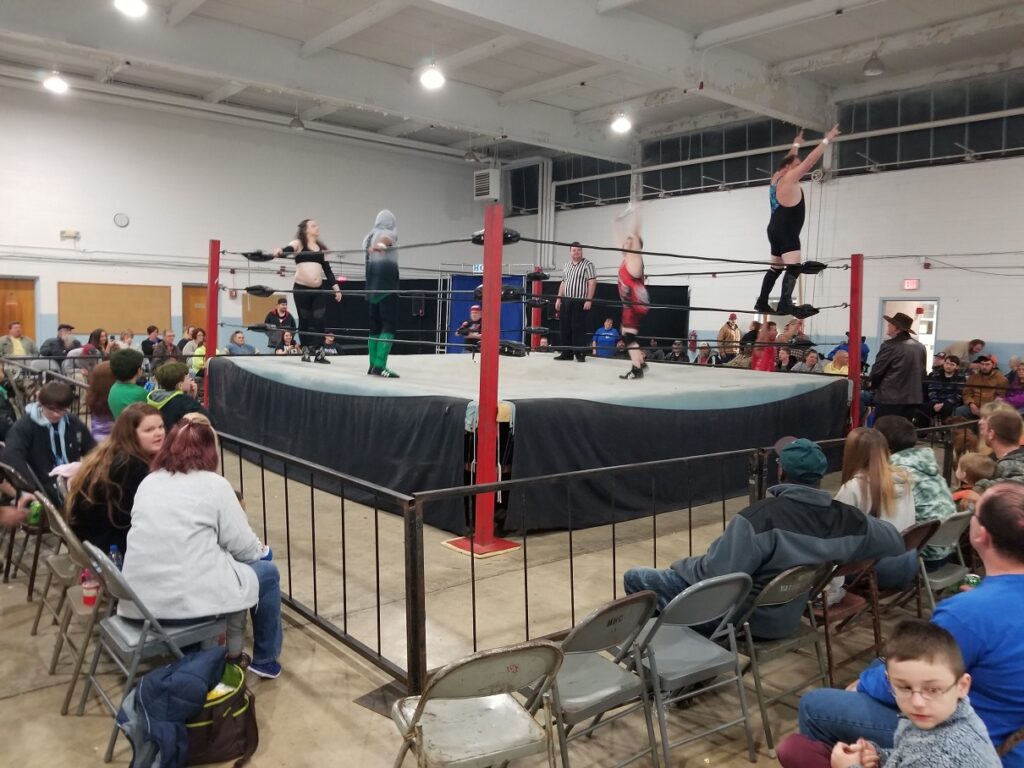 I love walking into the Roxboro National Guard Armory because it looks the same as it did when I came to these wrestling shows as a child. It is a massive, open room with white walls-a light blue border at the bottom and a line of windows at the top that can best be described as what you saw at most elementary schools growing up. The smell of hotdogs and nachos with cheese drifts through the open window near the entrance. In the middle of the Armory, two men are standing in the "squared circle" tightening the ring up with wrenches in the corners. Often, they are trainees, but that's not always the case.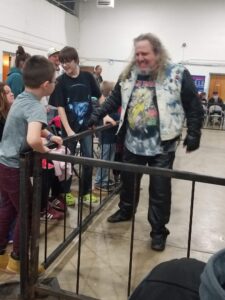 A few hundred metal folding chairs filled with friends and some of the neatest people in Roxboro surround the actual wrestling area. I recognize these folks from most of the recent shows, but I also recall some of them from when I was thirteen and fourteen. There is the loud guy who sits near the main entrance and gestures wildly the ENTIRE show. When he gets really hyped, he grabs the barricade between him and the wrestlers and bangs it up and down. My buddy Tommy is usually there, standing with his arms crossed.
Near the garage door, the back is always full and has ten or twelve people who sat in that section since as long as I can remember watching wrestling. They clown. They laugh. They get "it."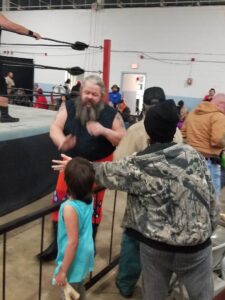 Across the arena near the restrooms is generally where my crew sits. Oh yeah. I forgot to mention that my two children, Darby who is eleven and Jack who is seven, are with me and this is Jack Jack's first wrestling show. I tried to bring them when I wrestled here a few years ago, but Jack was small and didn't understand what was happening and Darby freaked out over the noise. Needless to say, they were just a little nervous. In the past, I would go to these events with a crowd of my friends. We called ourselves "The Flock."
The last side is usually where the people from out of town and the workers' families sit. The curtain which separates the backroom for the wrestlers and the rest of us is closest to this side. The flashing, multicolored lights above it are complemented by speakers blaring 80's rock.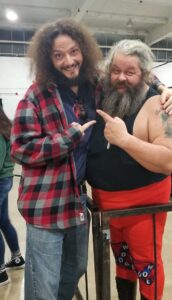 Before I go any further, I need to let you in on the worst kept secret in the history of Roxboro… I'm a semi-retired, sometimes professional wrestler named SideShowPhil. Why am I semi-retired you ask? Well see, you never actually retire from wrestling. You might get out of it for a year or two, but then you go to a show, an old buddy gives you a shout out during a match, it gets you thinking, and there it goes! The next thing you know, you are bumping on the mat and running the ropes.
I also guess now would be as good of a time as any to explain the differences between wrestling, "TV rasslin," and "indy rasslin." Wrestling is what you do in middle school, high school, and even college. I hear there is even an Olympic sport for it. "TV rasslin" is what old-timers like me call the WWF or WCW or even ECW. Young people now call it the WWE. I personally love Ring Of Honor and New Japan Pro Wrestling when it comes to TV rassling. Now the third type is where my heart is-indy or independent rassling. It is the show that comes to your hometown and rents an armory, a Boys and Girls Club, or just about any empty building that can hold a ring and a hundred people. For the record, I'm an Indy Wrestler. Now back to the story…
"Please rise for the national anthem," the PA announces.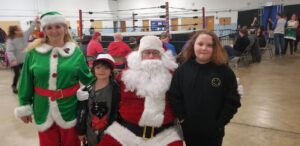 Jack, Darby, and I scurry to our seats. We are supposed to meet my friends, Tanillya and Andrew, and their two sons, but I don't see them. Before I get into the first match, I guess I need to explain how gimmicks work. There are two kinds of gimmicks in professional wrestling. The first is the merchandise that various vendors around the armory sell promoting the wrestlers; however, the most important gimmick is a wrestler's gimmick. This is the persona or character a professional wrestler is in the ring. My gimmick was a crazy guy named SideShowPhil who dressed in black and talked to a doll that he used as a foreign object.
The first match has a skinny, young guy with tattoos and black leather pants versus… a guy in a red, Christmas dress named Roxy. I used to be close to a guy who wrestled in a dress for many years, but that is another story for another day. I'm not quite sure if this guy is supposed to be the face (the good guy), the heel (the bad guy), or one of those wrestlers that blur the middle. This match is hilarious with comedy spot after comedy spot. The guy really plays the gimmick right, and the Roxboro crowd is absolutely bewildered. At one point, Jack looks at me and asks, "Is that a boy?" I guess the gimmick worked. A moonsault from the man in the dress ends the match (as it should).
At this point the crowd is hot, which is what you want at an indy show. A hot crowd is a lively crowd. They scream. They have handwritten signs. They play off the wrestlers. What you don't want is a dead crowd.
The people sitting in front of us, a mom, dad, a small girl, and her two older brothers, are having a blast. They were getting warmed up as the first match goes on. The mom turns around and says, "I'm sorry they are so wild. This is the first time we've ever come to one of these shows."
I said, "Ummm. I think that's what you are supposed to do."
With that, the little girl folded a metal chair and held it over her head ready for an unsuspecting wrestler who dared come too close to her.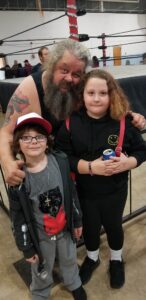 The second and third matches include a couple of older wrestlers and the guy JackJack declares as "the best wrestler on the show." Every time he hits a move or climbs the ropes, Jack loses his mind, jumps up on his metal folding chair, and screams at the top of his lungs. I'm not sure where he got that from…
This is the point where all five of the children in our section, my two children and their three neighbors, completely lose it. They go berserk! They howl! They flail at the wrestlers! They yell! The two boys in front of us mimic moves. Darby shakes her finger aggressively at a couple of them. The little girl attempts to pass a couple of wrestlers her folded chair. JackJack goes completely feral! They are hilarious.
And then comes the big promo!
One of the guys who helped train me in professional wrestling is a guy named Rob "The Bull" McBride. He also wrestles under the gimmick of "The Boogie Woogie Man" which was passed to him by the original "Boogie Woogie Man," Jimmy Valiant when he retired. Rob is absolutely one of the best guys in wrestling. He is a big guy, with a massive beard and an even bigger personality. In my nineteen years in "the business," he is absolutely one of my favorites.
Along with Rob is a guy called Tank Lawson. My last match was in the Roxboro Armory against Tank. I won when I hit him with the SideShowDoll in the throat as he tried to suplex me from the outside to the inside of the ring.
Across the Armory, I see Tanillya, Andrew, and their boys walk in. I wave them over and start explaining who the guys are. The gist of the promo is that Rob and Tank are teaming with Darby's favorite wrestler named The Problem Child, a guy who wears an AC/DC shirt, against three other guys in a six-man tag in the Main Event. Their opponents are the tag champs in some vicious red face paint and an extra partner. I'm not saying I know one of the guys in the facepaint, but I might have wrestled him once or twice, and he was formerly known as a master of karate.
After a good exchange, getting the crowd hot, Rob looks over at me and says, "SideShow, can you lace 'em up and help me out? These guys just wanna talk." And I start thinking about a future show. See what I mean? You can't escape it.
Intermission involves wrestlers selling signed photographs, gimmicks, people grabbing food, pictures, and… Santa Claus! Have I mentioned I love indy shows? My children beat me out of twenty dollars for a necklace with a cross that Jack has to get signed, and a bracelet made out of what looks like a motorcycle chain for Darby. The couple in front of us lose at least fifteen dollars in pictures for signatures, three of which are from the mysterious man in a dress.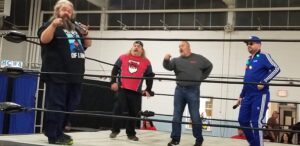 The fourth match involves two guys but completely blew up when the guy in the dress does a run in. Tanillya and her crew missed his first appearance. Tanillya squints at him. Looks at me. Squints at him. Looks at me again. Squint. Looks. Finally, words escape her mouth.
"Is… that… a… a… a…"
"Yep"
"In a…"
"Yep."
Are you sure?"
"YEP!"
"Oh my God!"
Our section goes crazy again! Andrew makes sure to document the occasion on Facebook Live.
Then the sound man announces over the PA, "Ladies and Gentlemen, it is now time for your Main Event of the evening!"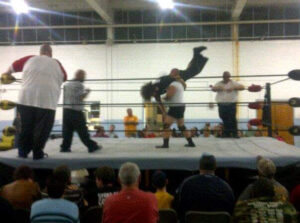 The tag champs in red paint come out first with their partner wearing masks on top of the facepaint. They snub the crowd and insult them on their lap around the ring. Then comes Rob, Tank, and Mr. AC/DC. The match starts off with Tank running his mouth and playing to the crowd. Now Tank is the face, but loves jawing with the front row by the garage door. The match has some good back and forth between the teams and ends with a massive brawl at the end and a "no finish." If you want to see it, find Andrew on Facebook (Newday Daye). It is posted up with his DJ videos.
The show wraps up, they hype the next show on January 26, and people start to file out. We hang around for a bit to speak to Rob and grab a picture. Tanillya's family and my children agree it was a great show, and we should do it again next time.
I guess what I'm getting at is, if you find yourself in need of something to do on a Saturday night and see a poster at La Piazza or Black Creek Brewery with some random guys in facepaint, you should make your way to the Armory. The next HCWA show is Saturday, February 23rd. Take it from a "professional." It is well worth it!
Phillip Gillis is a teacher, writer, wanderer, semi-retired professional wrestler, and father of two beautiful children. He is also a proud native of Allensville, NC and grew up in in a hardware store, C&G Supply Center.