Southern Virginia Higher Education Center Prepares Students for VA-NC Tech Belt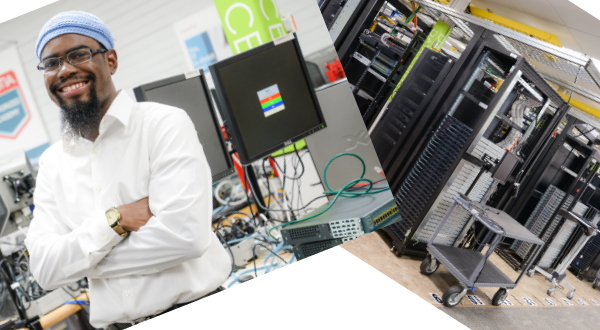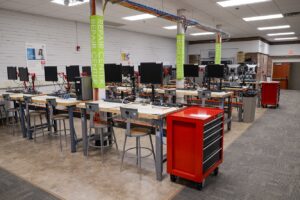 It's no secret that technology careers are in demand and offer individuals good pay in a growing industry. What may be surprising is that Virginia and North Carolina are shaping up to be the east coast's Silicon Valley.
One of Microsoft's largest data centers is located in Boydton, Va., less than 40 minutes from downtown South Boston. The data center not only provides opportunities for Microsoft data center technicians, but also cabling technicians and related positions with several Microsoft contractors.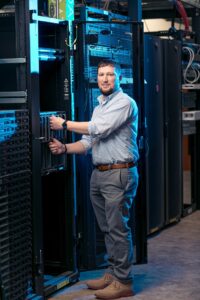 Not to be left behind, tech giants Google and Apple made spring 2021 announcements of significant investments in North Carolina. In March 2021, Google announced a new cloud engineering hub in Durham. Eventually, the office will support more than 1,000 jobs and grow into one of Google Cloud's top five engineering hubs in the United States.
In April 2021, Apple announced that it will spend $1 billion to open a 3,000-employee campus in the Raleigh area.
The tech industry needs workers, and there's no reason why the hardworking, innovative people of southern Virginia can't fill these positions. The Southern Virginia Higher Education Center (SVHEC) in South Boston believes the key is providing students and career switchers with a clear career pathway to obtain the skills, certifications, and degrees needed to work in this budding east coast tech belt.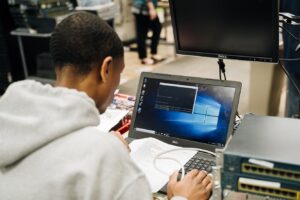 Starting in high school, SVHEC offers 11th and 12th graders from Halifax, Charlotte and Mecklenburg counties hands-on IT training through the Career Tech Academy. Students learn in-demand skills like hardware repair, cable termination and testing, and server configuration which prepares them for entry level employment after graduation, or provides a foundation for more advanced training.
For adults, SVHEC's IT Academy offers several hands-on IT training options including IT Fundamentals, A+/Server+, Network+, and Security +. Students in the A+/Server+ class embark on a four-month journey that quickly provides the training needed for employment as an entry-level data center technician, cabling technician, or IT professional for a school, hospital, or industrial setting.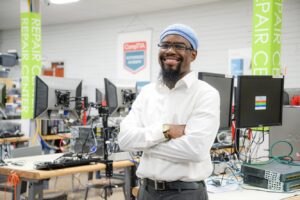 The IT Academy put a tech career within reach for program completer Abdullah Bell. He completed several IT Academy courses, earning CompTIA A+, Server+, and Security + certifications. After working as an apprentice engineer at the Global Center for Automobile Performance Simulation, Bell was hired as a data center technician at the Microsoft Boydton data center. There, he put his IT training to use, learned new skills and obtained more certifications. Today, Bell is a Microsoft Support Engineer in the Charlotte, N.C. area. He credits the IT Academy with giving him a start and said, "What I enjoy most about my job is that every day involves learning and solving unique challenges that can often transfer to other parts of the IT industry."
For individuals aspiring to roles as computer scientists or network engineers, a bachelor's degree or higher will be required. SVHEC also has this covered through a new Tech Talent initiative with Old Dominion University. This new initiative will help students chart an educational path leading to a bachelor's degree and career in computer science, information technology (IT) and cybersecurity.
If you aspire to a tech career, SVHEC will help you get there.
820 Bruce Street
South Boston, VA 24592
Toll-Free (800) 283-0098
(434) 572-5440
SVHEC.org