By Norwood Walker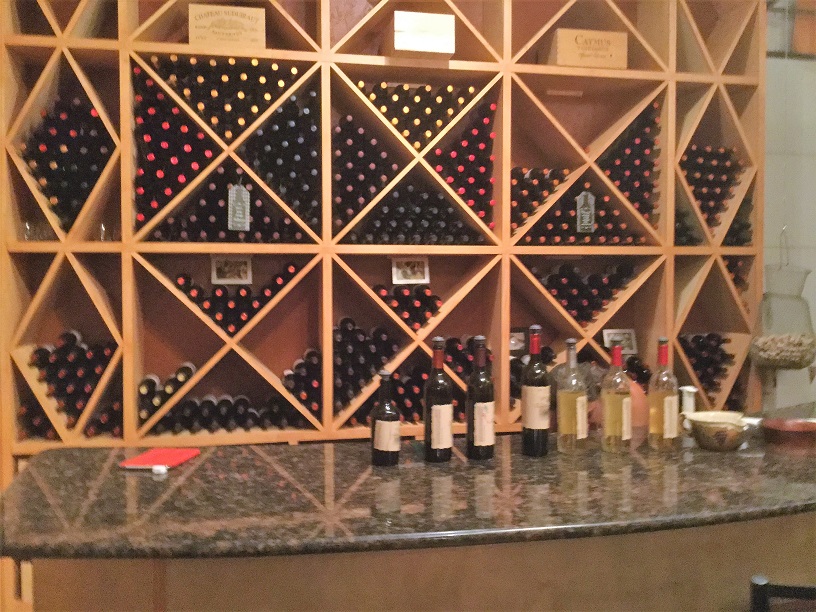 Location, location, location may be the mantra of real estate, but it also can apply to wineries and vineyards.  Such is the case with Hunting Creek Vineyards located in the beautiful rolling hills of piedmont Virginia.  A bit off the beaten track at 2000 Addie Williams Trail, Clover, it is definitely worth a visit and a tasting or two.
Hunting Creek began in April 2002 with the planting of 100 Merlot, 100 Petit Verdot, and 100 Viognier vines. Seven years later in November 2009 the tasting room was opened.  "From ground to glass" is the all-encompassing expression for the thoughts and practices of wine-makers Milt and Sandy McPherson whose vocations have influenced and abetted their avocation.  Milt's background is in chemistry and medicine and Sandy is a critical care nurse.  They apply the skills and compassion learned here to their vineyard, winery, and customers.
Remaining a small winery, all the steps in growing and wine making are done by Milt and Sandy along with the help of 4 part time employees. Shawn has been a part of the team for 7 years after hitching a ride from Sandy one day.  Angela has worked across all areas of the business for 8 years off and on, and she still joins them for special events.  Pam hosts the tasting room on Saturdays, and Josie, the newest member of the team, is updating the social media presence and helping to create new events. Their blended family of four children have also participated in their "dream".  Jeremy Ligon, their youngest son who is a winemaker in Northern Virginia, helps to evaluate their wines and to craft their Indulgence blend.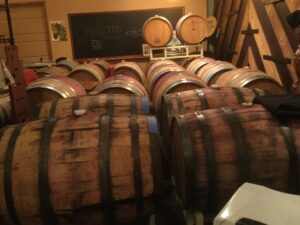 Hunting Creek consists of 5 acres of vineyards where Merlot, Petit Verdot, Malbec, and Voignier are grown.  Believing in local growers and community, they have partnered with Front Porch Vineyards and Pinehaven Vineyards to purchase locally grown quality grapes to expand their wine selections. In April of this year three new white wines were added to the collection: Confession, Innocence, and Forbidden. These are added to the list that includes Pure Luck, a white wine with a apricot, pear, and citrus bouquet; Temptation, a 100% Merlot aged in light oak; Decadence, which lives up to its name with a blend of Petit Verdot fermented with Viogniers skins obtaining a more floral bouquet; Repentance, light red wine made from Cabernet Franc and sweetened naturally with Merlot concentrate; Seduction, a velvety soft, rich, dessert wine that was aged in bourbon barrels for 20 months; Dare, a novelty jalapeño wine that can be sipped, added to a Bloody Mary or used in countless recipes.
Two other wines round out the current selections available. Indulgence is the signature wine of Hunting Creek. This is a blend of Merlot (49%), Malbec (26%) and Petit Verdot (25%) making an elegant, smooth wine with a nice finish. Each year the blend varies depending on the amount and quality of the grapes grown. Tasters enjoy comparing different vintages of the Indulgence and noticing the unique characteristics that change from year to year. Envy is an exclusive reserve wine available to their Envy Club members only. This bold wine is made from Hunting Creek's finest Petit Verdot grapes harvested from 12-year-old vines and aged in French Oak for 20 months. Over the next 5-10 years, this lush red wine will continue to soften and exude its full character.  All of these handcrafted wines are available at very affordable prices, a key element in the dream behind this winery.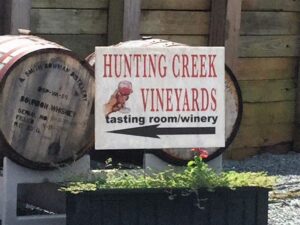 Hunting Creek is currently offering complimentary tastings at present and are pouring seven wines.  Events take place during the year including a gala for wine club members in March, an event in October including live music, food, and pumpkin painting.  The first three Saturdays in December they will be hosting their Build a Basket event where people can purchase items to have gift baskets made while sipping wine in a festive holiday atmosphere in beautiful country. What a way to take care of a Christmas gift or two and treat yourself.
A new tasting room and events center is currently under construction and will allow them to host larger events and become even more of a weddings/special events venue.  This "from the ground to the glass" winery will definitely lift your holiday spirit with their exceptional wine, their passion for the wine and their customers.  Friends you haven't yet met are here waiting for you.  That is the spirit of the holidays.
Hunting Creek Vineyards is located 2000 Addie Williams Trail, Clover, VA, 24534, (434) 454-9219. Find more information on line at www.hcvwines.com.