SOUTH BOSTON- Just off Route 360 in South Boston sits one of the landmarks that make Halifax County unique. While not Daytona or Talladega, South Boston Speedway is our own little slice of asphalt wonderland. This is a grassroots track, a four-tenths mile raceway with 12-degree turns that has entertained locals as well as regional fans for generations.
Sixty-five years ago, Dave Blount, Louis Spencer, and E.B. Wilkins purchased the 500-acre property where the speedway is now located. At its inception, South Boston Speedway was a quarter mile oval dirt track. The first race was held on Aug. 10, 1957. Over the decades, South Boston Speedway has slowly evolved into the asphalt raceway that exists today.
The years since that first race have seen a lot of talent roll over the blacktop, including racers Junior Johnson, Richard Petty, Wendell Scott, Jeff Burton, Ward Burton, Elliott Sadler, Stacy Compton, and the Bodine brothers (Todd, Geoff, and Brett).
South Boston History
Since 1973, the South Boston Speedway has hosted a wide range of racing styles, from Late Model Stock Cars to Sprint Cars and Four Cylinder Division. A recent addition was a highly successful 2022 Drifting competition. However, this speedway is primarily known for racing Late Model Stock Cars. Created in the late 1970s for budget-friendly weekly racing on smaller tracks in the Carolinas and Virginia, this series originally utilized "stock parts" which allowed drivers to race weekly while not "breaking the bank." However, like NASCAR itself, Late Model Stock Car Racing matured into a more expensive class which we see today.
Advertisers make it possible for us to provide these publications for FREE!

Advertisers make it possible for us to provide these publications for FREE!

Advertisers make it possible for us to provide these publications for FREE!

In 2004, Pocono Raceway purchased the South Boston Speedway and was run by CEO Nick Igdalsky and General Manager Cathy Rice. The team helped bring the track into the 21st century with renovations, as well as marketing and community outreach. After a wonderful career, Cathy retired in 2021 and handed off the reins to the next generation.
Husband and wife team Chase and Carly Brashears have now taken over the GM and marketing roles. Having worked at NASCAR locations and tracks like Daytona, New Smyrna and Concord, the Brashears bring nearly two decades of combined experience to the table. Chase even spent three years behind the wheel of a race car.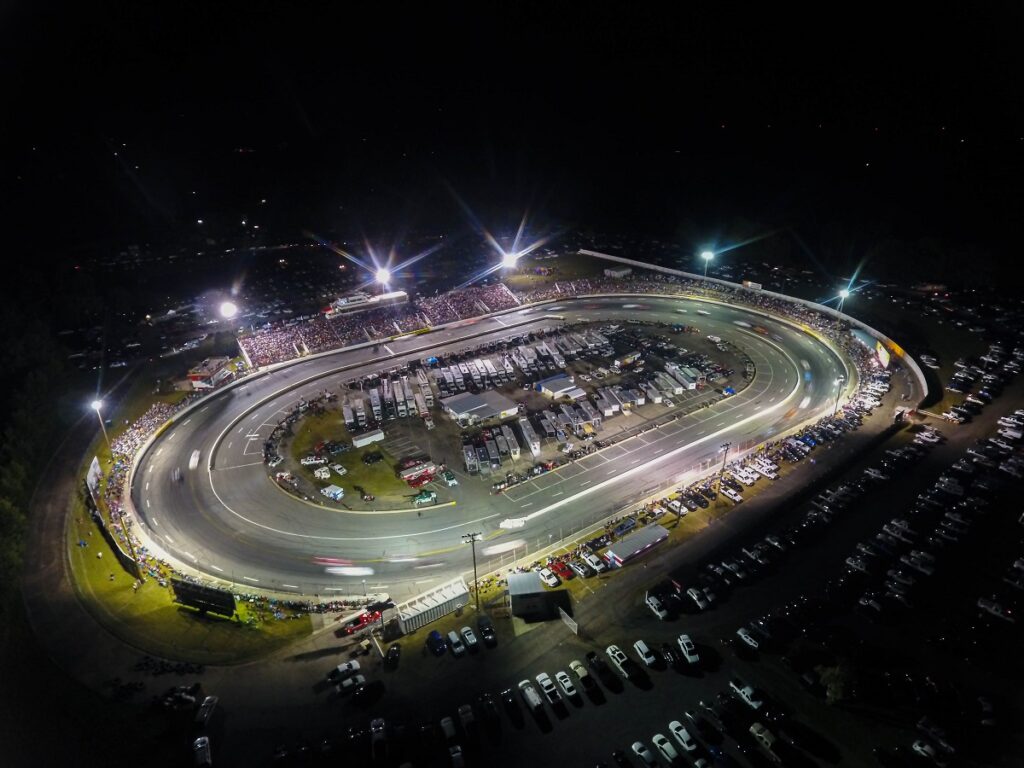 Arriving At A Tough Time
The Brashears arrived at a tough time. The track had virtually no season in 2020 due to the pandemic, but the Brashears oversaw the speedway's full recovery in 2021. The couple seem to have the energy needed to pull the raceway from the inertia the pandemic created. In many ways the South Boston Speedway is a metaphor for Halifax County. It shows the resilience of the community when it comes to economic hardships, whether it's Covid or the blow to the textile industry, which we are still recovering from in some ways. Our "little racetrack that could" has persevered through it all.
South Boston Speedway has always had the reputation of being one of the country's top grassroots short tracks. There was a time in the late 1990s and 2000s when the NASCAR Xfinity Series (then the Busch Series) and NASCAR Camping World Truck Series (then the Craftsman Truck Series) visited the speedway, but then came a lull. However, on June 25, 2022, South Boston Speedway re-enters the arena of "televised racing" once again with the SRX series on CBS.
The SRX is in its second season. It's a televised short track six-race series throughout June and July and is held on the top short tracks throughout the country. It is marketed by SRX as, "Racing with all the guts of a 750 horsepower V8 engine. This is racing the way it was meant to be. This is what fans want. No complex point systems. No prima donnas."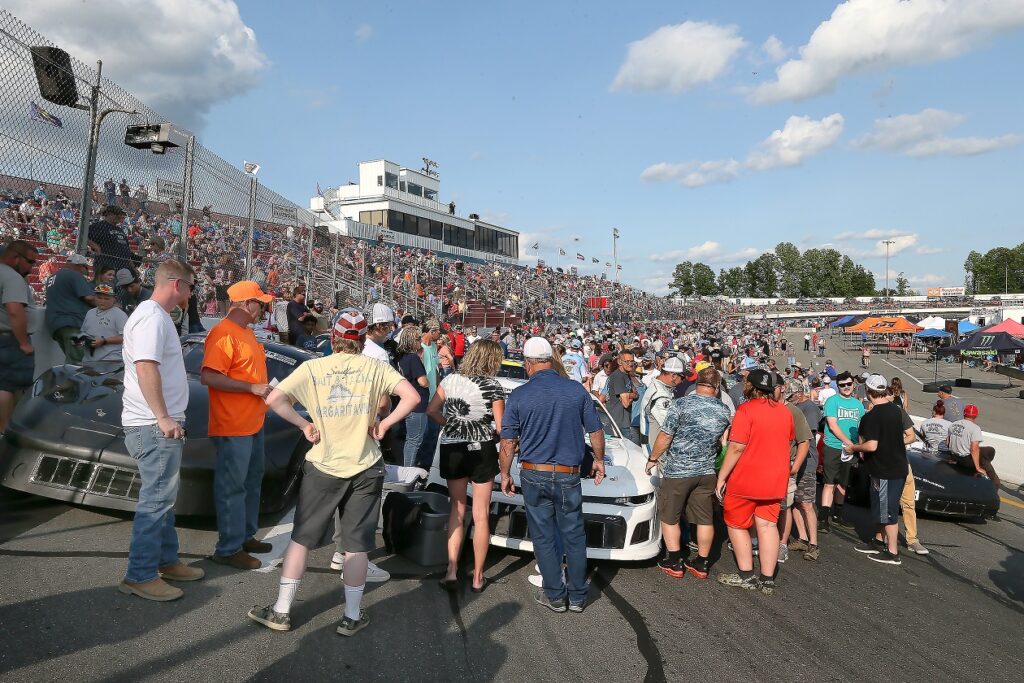 Talking About SoBo
When asked how South Boston landed a sweet deal on the SRX television schedule, Chase replied, "It was a combination of them (SRX) searching us out and us seeking them."
The Brashears bring with them not just two decades of combined NASCAR experience, but two decades of NASCAR connections. Chase and Carly's arrival just happened to coincide with the SRX television deal, and Chase was being humble in his response. This television deal may not have happened had the Brashears not been here.
I asked if the SRX series is similar to Late Model Racing we see at SoBo. "It's similar to the IROC series," Chase said. "These are spec-built cars called manufacturer agnostic. They all use the same engine and parts. The only difference in any of the race cars is the color of the car and driver's seat."
A Random Draw at South Boston Speedway
Before each race, the drivers have a random draw for their car and the crew. There is nothing to give any one driver an edge over another driver. It all comes down to the talent of the driver. The playing field has been leveled. The 2022 season entails four asphalt tracks and two dirt tracks. Drivers with names like Tony Stewart, Marco Andretti, and Michael Waltrip are just a few of the big draws participating in this exciting new class of racing.
"This is a mix of both retired and active drivers. It's a chance for drivers to get back to grassroots racing," Chase explained.
In fact, two-time NASCAR Weekly Series National Champion and six-time South Boston Speedway Track Champion Peyton Sellers has been announced as the "local ringer" for the SRX race.
Despite the hardships of the past few years, 2022 brings new opportunities at the raceway. Along with additions like the drifting event and SRX series, Chase and Carly have overseen an expansion of the facilities as well as an upgrade in technology. As the saying goes, the future is uncertain, but having the next generation stewards like the Brashears managing South Boston Speedway is nearly a guarantee. From the looks of it, they will keep this shining gem among the nation's top grassroots short tracks in a position for audiences to enjoy for generations to come.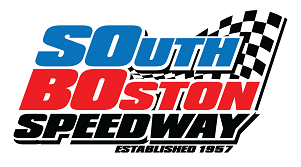 1188 James D. Hagood Hwy
South Boston, VA 24592
(877) 440-1540
SouthBostonSpeedway.com




John Theo Jr. is relatively new to South Boston but not new to writing. He has authored several books and penned many articles. Hyco Lake Magazine is thankful to share his perspective on our community. Please welcome John and get to know him better by visiting him at Cozy Cave Self Storage or going to JohnTheo.com where all his books are sold.
306 Webster Street
South Boston, VA 24592
(434) 579-2856
cozycavestorage@gmail.com
Photos for this story provided by Abbott's Farm, Garden, and Gun