ROXBORO, NC- The 2019 Volume 3 issue of Hyco Lake Magazine was due to arrive any day and it just so happened that I noticed Russell's Limited was closed for more than a week. This was concerning because I had heard NOTHING! So, big deal, another business when under… But we had just written a story about this business that had been in the same location for 65 years! There was a sign on the window… Opening Friday… So I asked around… Nothing… All I could do is wait to see what was going on.
So Friday I walked in… To my surprise I was greeted with an apology, "We are so sorry but we could not say a word!"
As it turns out, they had hired a firm to give them a make over and all I can say is WOW! Our story is still VERY relevant but you're gonna have to check this place out for yourself!
Russell's Limited Is A Fixture
A fixture in Uptown Roxboro has, for years, been Russell's Limited. The women's clothing boutique, located at 225 North Main Street, has been in business and, for six decades, remained a family-owned enterprise.
Russell's offers shoppers unique apparel, jewelry and accessories. And the store itself is unique in many ways as well, from the old wagon wheels now serving as clothing racks, to the folk art on the walls, to the women who own and operate it.
Zalene "Zee" Burnette and Jan Satterfield said their mother, Jo Newell and their brother, Russell Newell Jr. first opened the store in January 1957. At that time, Zee's and Jan's father, Russell Newell Sr., already owned Newell's Jewelry Store, nearby on Depot Street. In order to avoid confusion, the family chose the name Russell's for the new venture. The sisters explained recently that it would not have been made good business sense to have two stores in town named Newells'.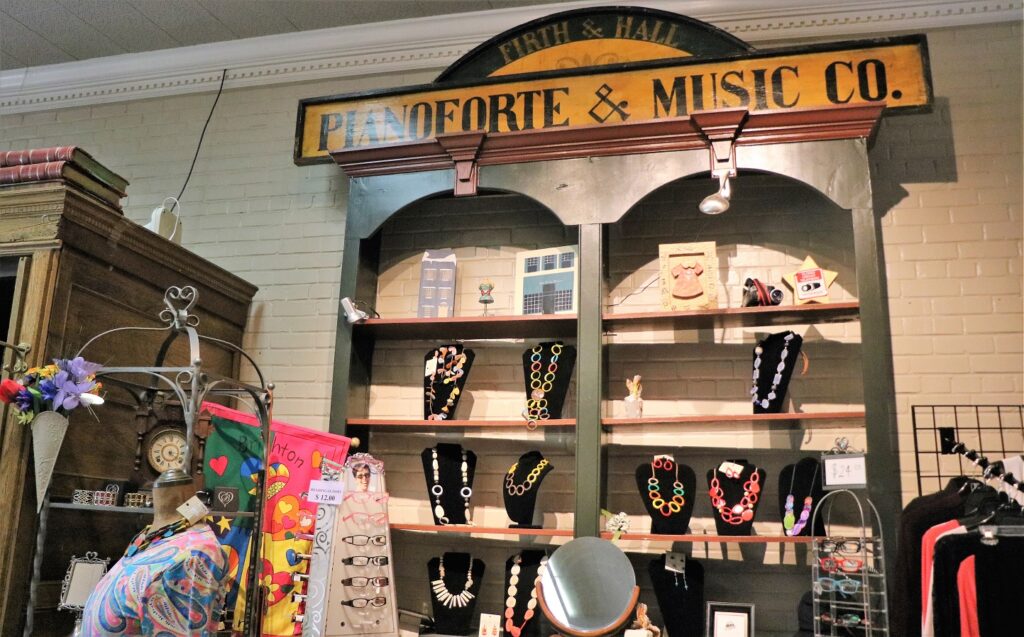 Stories About Earlier Days
Jo Newell and her son originally planned to offer men's and women's apparel, said Zee, but they never got around to adding a men's line of clothing, so the store has always carried only women's apparel. But, the sisters explain, men have for years shopped for their wives and daughters at Russell's Limited.
In fact, the service is so good that one long-time customer who once found himself confined to the hospital at Christmas called and said he needed a gift for his wife and daughter. Zee and her husband, Alex Burnette — also known as "Buff" — took several items to the hospital so the customer could pick out the perfect gifts for "his girls." Once the choices were made, Zee and Buff took the gifts back to the store, got them wrapped, and then delivered them.
Jan's gift-wrapping skills are a bonus for Russell's shoppers.
"The men say, when I stop wrapping, they will quit coming in," Jan said with a laugh.
When It First Opened…
When the store first opened in 1957, the mother-son duo of owners didn't have a lot of money, Zee recently explained, so they had to find and make their own store fixtures. Customers today are still fascinated by these makeshift yet beautiful items, Zee explained.
The used wagon wheels Jo and Russell Newell Jr. converted into clothing racks, with the help of a blacksmith, remain in the store decades later, along with several other antique fixtures and features such as stained-glass windows from a Virginia auction, and a jewelry case that once held foodstuffs in an old country store. The checkout counter is framed by an old walnut fireplace mantel. "Most of the items in this unique and interesting mix were bought at antique or estate sales," Zee said.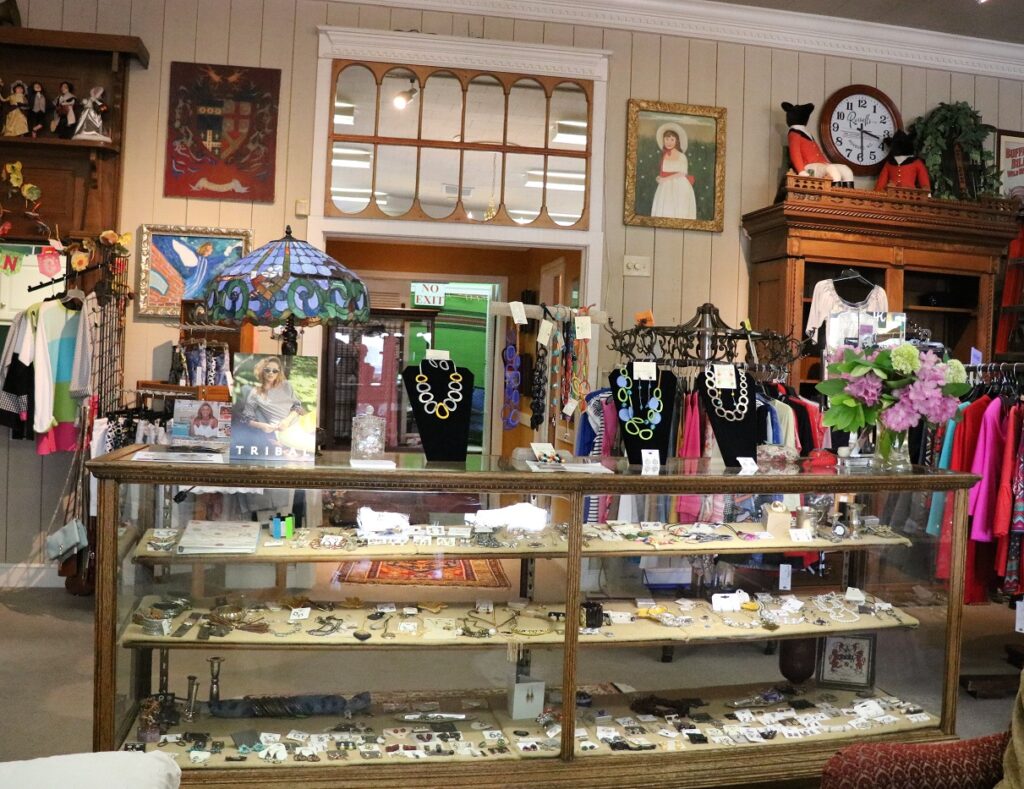 Family Photographs Through The Years
On the walls outside the dressing rooms hang family photographs taken throughout the many years the store has been a Roxboro mainstay. The dressing area also boasts a chair that came from a Myrtle Beach, South Carolina restaurant. Zee Burnette obviously relishes telling the story of how she came to own the chair.
With a characteristic warm smile, she recently happily explained that her husband bought the chair for her while they were on their honeymoon. Before their meal, Zee admired the chair. After the newlyweds finished eating, the bride went to the car while her groom was supposedly paying the bill. When Alex got to the car, though, his new wife saw that he had bought her the chair to bring back to the store.
Zee and Jan both admit that owning a business is like being married to the store. Zee said, "When sweet Buff married me, he married the store, too." And he has faithfully added his own touches to the establishment over the years by making and refinishing and repurposing several of the unique pieces that make Russell's so much more than just an ordinary retail establishment.
Some Unique Touches
Those touches include a set of handmade grapevine reindeer. Alex crafted one for his wife, one for his sister-in-law, and one for their mother after he and Zee spotted an expensive set at a merchandise trade show. Buff decided, his wife said, that he could make the deer much more cheaply than they could buy the ones at the show. And visitors to the store can easily see that the quality of his work could not be surpassed.
Alex Burnette also procured and helped refinish fixtures, dating back to 1909, that were once in Foushee's Men's Store, which was located just down Main Street. A friend who is a welder helped the Burnettes refit the dark wooden bays, dropping the fixtures in them so that Zee and Jan could reach up and pull out the racks of clothing contained within.
While demonstrating how the fixtures can be easily pulled from the bays, Zee recently said they fascinate customers, who often think the bays were custom-made for Russell's. Explaining that the bays were moved into the store before the sisters discovered that the fixtures were too high for them to reach, Zee now says, with a laugh, that when her husband found out modifications were needed, he declared that he was not going to carry the heavy furniture back out of the store for refitting.
"It was do or die," she said, chuckling.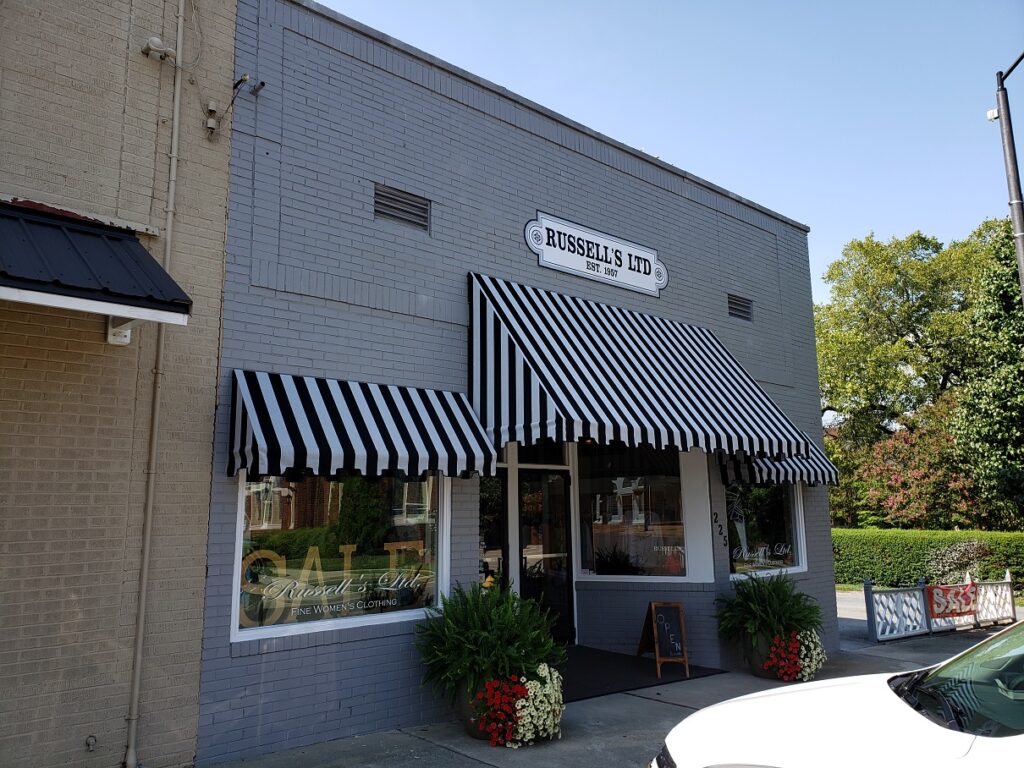 A Positive Attitude
The sisters who now run the store said their mother operated or worked there until she was 90. Jan and Zee are not sure they will match their mother's record of service, but say they enjoy every day.
The building across from Long Memorial United Methodist Church was originally constructed for Jo Newell, Zee recently explained. What is now Russell's was only half its current size when Jo and Russell Newell Jr. first opened it. Russell's operated on one side, and the Newells rented out the other side of the building for additional income. Today, Zee and Jan are proud of the history associated with the store, and also that their children and grandchildren are carrying on the traditions by helping out.
A positive attitude and excellent customer service are the key components to the store's longevity, Zee Burnette says. "We try our best to send people out looking good. We love it when they come back, and tell us they got compliments, and felt good about themselves."
During a recent interview with a writer who said she is not a good shopper, the Russell's Limited owners said, "Many people aren't good shoppers. That's where we come in," to help each person pick out the perfect outfit and accessories. The store carries just three of each item it offers, so that customers have their own personalized look, the sisters explained.
Drawing From Out Of Town
There is a cozy sitting area in the middle of the store where customers and friends often relax and chat while shopping, or just visiting. In addition to Person County shoppers, the store also draws many customers from out of town, who sign the guest book. Jan offers a thought for the day to all customers because, she says, "You never know when you're going to make someone's day."
Over the years, customers have become friends, according to the Russell's Limited owners. "We've been blessed," said Jan.
Both women say having a positive attitude runs in the family, and they like to pass that on to customers.
"We're unique," said Zee, "and we want to stay that way."
Russell's Ltd. operating hours are Tuesday through Friday, from 10 a.m. until 5 p.m. and Saturday from 10 a.m. until 2 p.m. The store is located at 225 N. Main Street in Roxboro. The telephone number is 336-599-1561.
 Photos by Mackenzie Clayton, RCS Rising Junior. 
Phyliss Boatwright is a journalist who for years reported Person County news in The Courier-Times. She has published two books and several short stories. Her book review show, Turn the Page, can be heard on WKRX, 96.7. For the past seven years, she has taught journalism and served as public information officer at Roxboro Community School. She can be reached via email at phylissboatwright@gmail.com.