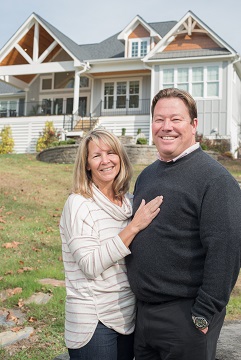 Story by Eva Miles. Photos by Jamie Harris.
Peter and Karen Rourk had been searching for six months before finding their perfect home away from home on Hyco Lake in Person County.  Their waterfront property, nestled on a hill among the trees, is a charming weekend retreat.  The Rourks lead busy and fulfilling lives, with Peter serving as a Partner with Monarch Private Capital and Karen working as a Senior IT Director with Duke Health.  Married for twenty years, they have a 19-year-old son, Davis, who attends college at the University of North Carolina at Chapel Hill.  They knew they wanted a house near the water and initially looked at beach homes, before turning to Hyco to see what the community had to offer.  Once they decided Hyco Lake was an attractive option, they decided to reach out to a realtor.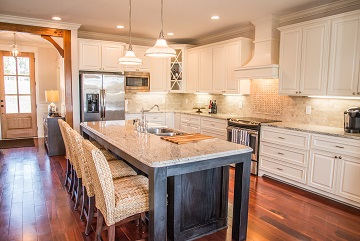 The Rourks were looking for a weekend house with specific features.  These qualities, such as an open floor plan and a spacious lot, were key features their realtor, Terri Reynolds, helped them find in their home.  A native of Ohio, she assisted the Rourks with their purchase.  Terri is not new to the business- she has been working as a realtor since 1997 and transitioned to a broker in 2003.  She brings her 20 years of experience to West and Woodall Town, Lake, and Country Properties, a company formed in 2005 by realtor Kirk West.  West and Woodall serves Hyco and Mayo Lakes, Roxboro, and the Triangle.
The Rourks found the real estate office's convenient location on the main road to the lake.  They met Terri there over a holiday and they hit it off immediately.  While they planned on looking at four homes, Terri quickly realized the couple wanted a newer home and directed them to their Hyco Lake retreat- which they fell in love with immediately.  The Rourks assert that Terri's responsive nature truly set her apart from other realtors.  An avid listener, she ensures that she hears what each potential buyer is wanting to find in a home and makes suggestions to broaden their search.  Terri declares she "just loves the Rourks" and as a Hyco waterfront owner herself, is thrilled to have them nearby on the lake.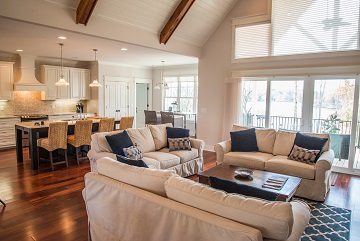 The Rourk's new house affords them an excellent view of Hyco Lake and they have just enough space from neighbors to relax on weekends.  Their wooden porch, with white columns and a sleek black railing, gives them a bird's eye view of their property.  Their 2-slip dock, gentle slope and easy meandering walk to the lake are some key highlights of their home.  Peter and Karen state their "favorite part of the lake is the view and quiet surroundings from our home".  While they enjoy the occasional lazy weekend, the Rourks enjoy boating, tubing, skiing, fishing, swimming, and taking in the calming scenery from their porch or dock.  Lake life is great for making new friends, and Peter and Karen drive their boat to Dockers for dinner with locals and other lake owners.  Their son, Davis, invites his friends out for water skiing and tubing, and extended family enjoys visiting as well.  In addition, they have three dogs who join them on their adventures: Leon, a German Shepherd, and Ruby and Rosie, both Rat Terriers.  These canine members of the family relish in the home's amenities as well.  They head out for boat rides on the lake with Peter and Karen and then enjoy coming home and relaxing in front of the fireplace.  The Rourks, with help from Terri's real estate expertise, have found a weekend sanctuary and an ideal home for crafting lifelong memories.