Outdoor Living Decisions
Let's face it, anyone who has owned a deck for any amount of time has been frustrated with the deterioration and maintenance of their once proud structure. Pressure treated deck boards start off OK, but the elements take their toll without continuous care. The frustration usually ends with broken wood or a painful splinter in a bare foot.
That frustration has been the driver in expanding the options we can offer our customers. Composite boards and PVC made by companies like Trex and Azek have grown in popularity since their introduction, but they have not been flawless. Exotic hardwoods such as Ipe (also called Brazilian walnut) and Tigerwood are also popular today due to their incredible durability, but with that durability comes a hefty price tag that is rising every year.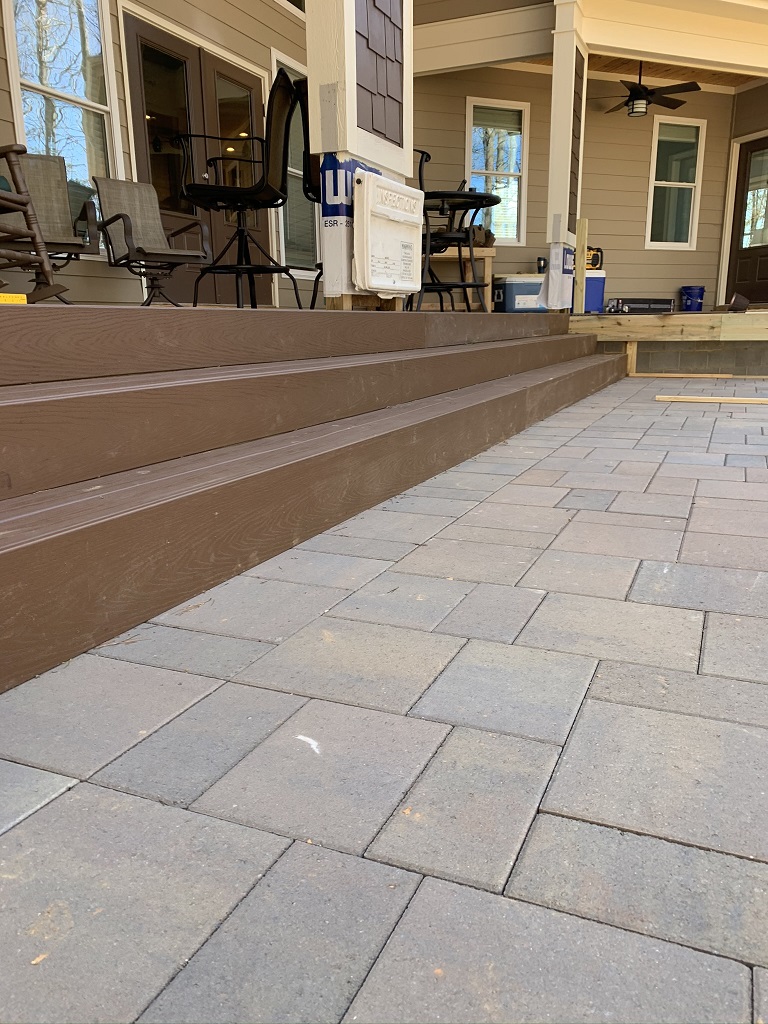 It seems logical to utilize durable surfaces — such as natural stone, porcelain tile, and pavers — on decks but their incorporation has always proven difficult. Construction of raised solid surfaces usually requires a lot of engineering and creativity.
Bart Stuchell recognized this problem, and in 2007 launched the Stonedek System. His goal was simple: create a product that would allow customers to use high-quality natural stone, porcelain, and stone pavers on their outside deck to create all sorts of hardscape masterpieces. More than that, this new product would make the decking installation and maintenance downright easy without all the pitfalls of traditional wooden decking.
The Stonedek System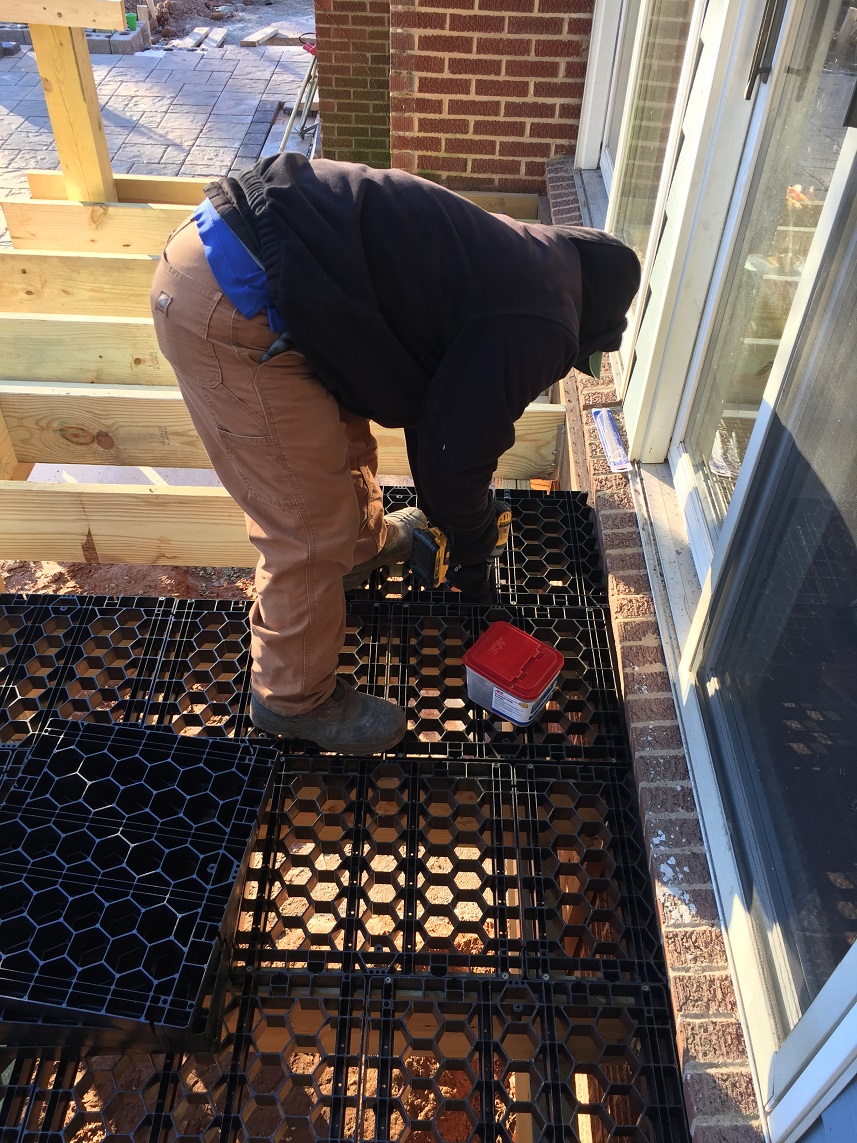 The Stonedek system is revolutionary due to its simplicity. The core is the patented SilcaGrate. This subflooring grate is made from recycled plastics and resembles a honeycomb. It is designed to be screwed down to a traditional deck frame or it can be retrofitted to an existing deck structure. The aesthetics of the finished project are only as good as the foundation upon which it rests, and the basics of deck construction still apply when using the system. The system is engineered for strength and durability to create an attractive and low-maintenance deck.
The Stonedek system works perfectly in new construction, and it also offers some great money-saving options for those looking to rehab an old, tired-looking deck. New construction is easy, and just requires planning and engineering to ensure adequate sizing of beams and joists. Rehabbing an old deck requires some inspection. With the engineering design tables provided by Stonedeks, we can often find a solution to salvage the existing deck framing. In today's market, where the price of lumber has more than doubled, this provides a great solution to save money in both labor and materials.
Providing the Solution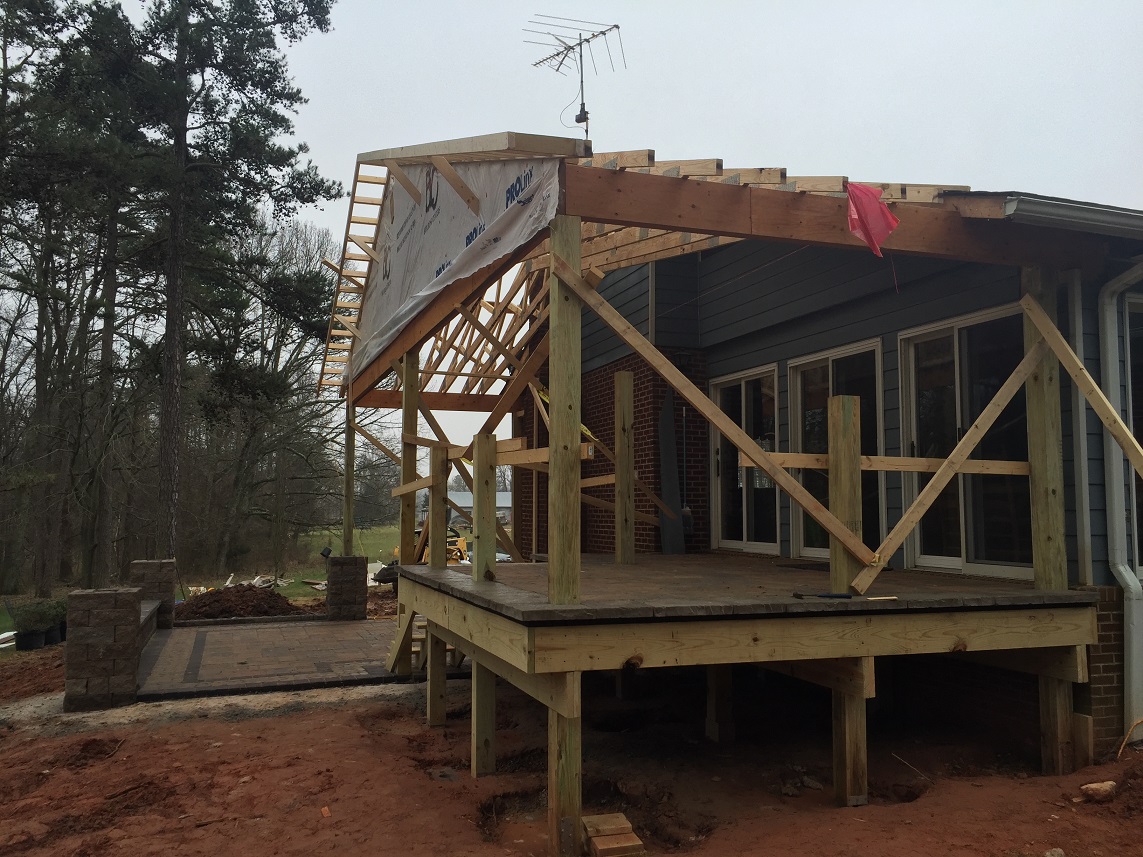 One of the key responsibilities of any contractor and/or designer is to provide solutions to overcome unique challenges and provide a better, cost-effective option to our clients.
The first job in which we incorporated the Stonedek system allowed us to span an area with a raised patio and avoid the existing septic system. By framing out the patio, we were able to deliver a gorgeous paver patio and maintain access to the septic system. That solution alone made me an advocate for Stonedek, and upon further analysis of the job, I realized the speed of the system also yielded significant savings.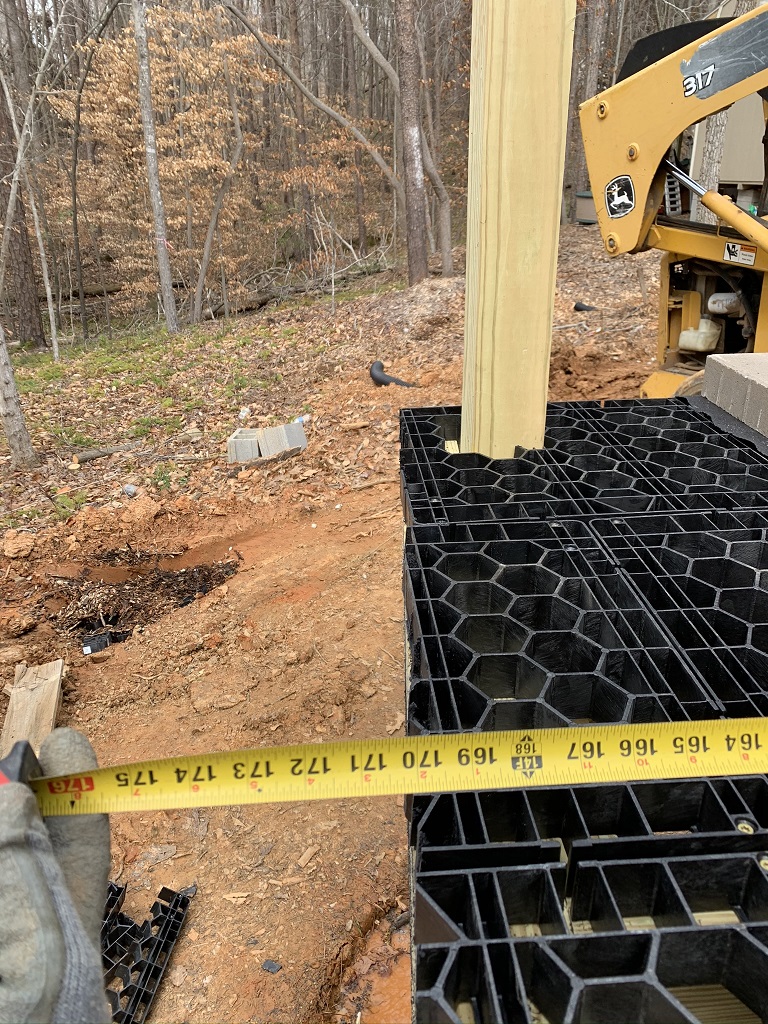 Traditionally, to build a raised patio six feet above grade, we would have had to build a retaining wall and backfill the entire area with clean stone. Truckloads of stone are not cheap, and moving it all takes time. Additionally, placing that much backfill against a house is not a sound practice. Even though the foundation was block, the block was designed for above-grade. Extra pressure could have led to foundation failure later and could have also created a moisture issue inside the house. We avoided all these extra construction costs and potential problems.
Another good use of Stonedek was cooling off a western-facing deck that was simply unbearable in the summer evening heat. What good is a deck or patio you can't use? This customer had previously installed Trex decking, and it is no exaggeration to say it was hot enough to cook an egg!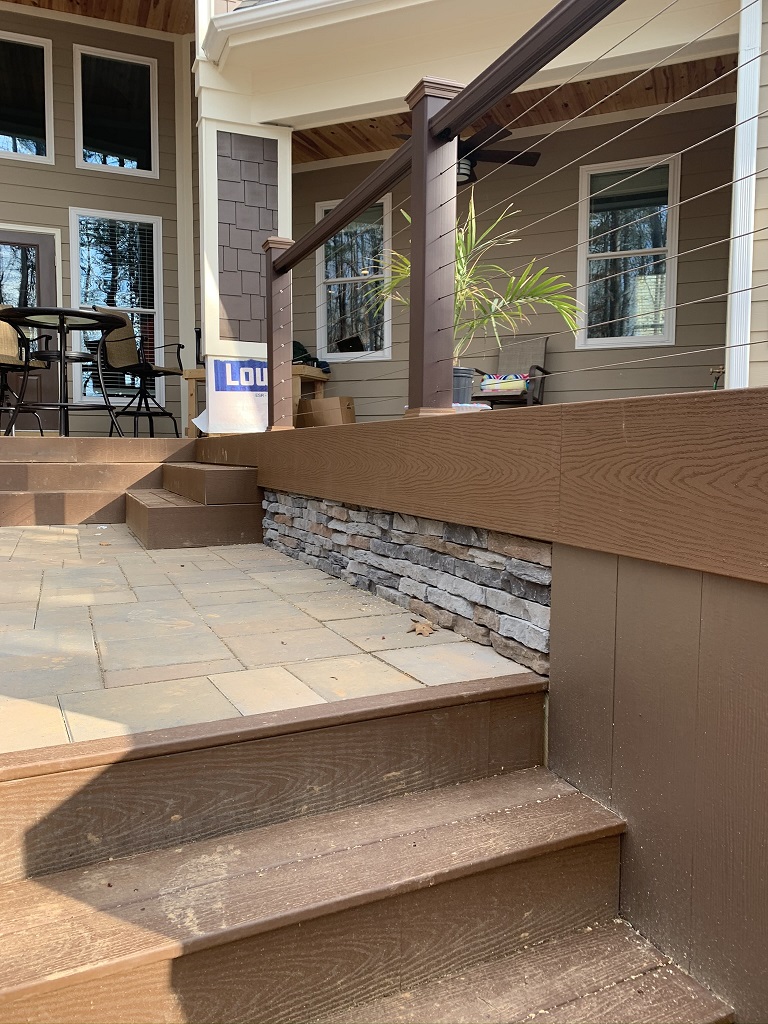 One of the downfalls of composite decking is the heat load. On an 80-degree day, the surface of a composite or pressure-treated deck in direct sunlight can easily achieve 150 degrees. Our solution was Travertine, which never really exceeds ambient temperatures and is often cooler. Travertine is typically 20 to 30 percent cooler than concrete or pavers as well. By simply offering a different finish, this homeowner's back deck was now usable even in the dog days of summer.
Bonus features to an open area under a raised patio are added storage and accessibility. I know added storage options are always nice around my home. Also, with our landscape lighting systems, once a traditional raised patio or hardscape is installed, accessibility becomes an issue. With the open area below, we can easily return later to add a low voltage lighting system or audio system.
Finishing as Unique as You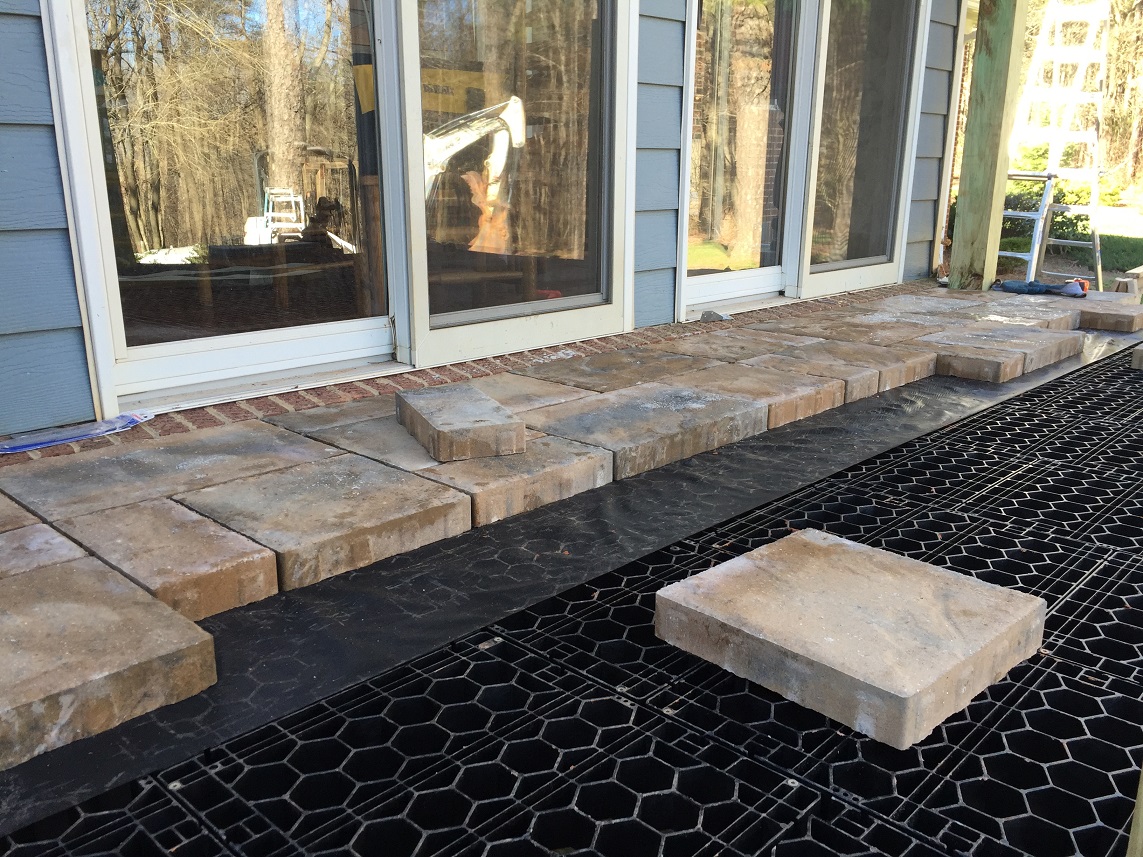 The labor and material savings have been a significant consideration in our designs and adoption of the Stonedek system. Being able to offer the client a multi-level outdoor room creates a great opportunity to designate space and create a flow. Additionally, those multi-level tiers are aesthetically pleasing to the eye and can set your home apart, creating something unique.
Combining materials is a great way to take that project of yours to the next level. Using varying textures, colors, and materials gives us that opportunity. Maybe an inlay or border using a composite or exotic hardwood amidst the field of pavers or natural stone creates that perfect space. Using stone treads and composite/wood kick plates on steps also is a unique look that is certain to wow your guests.
Expanding Your Home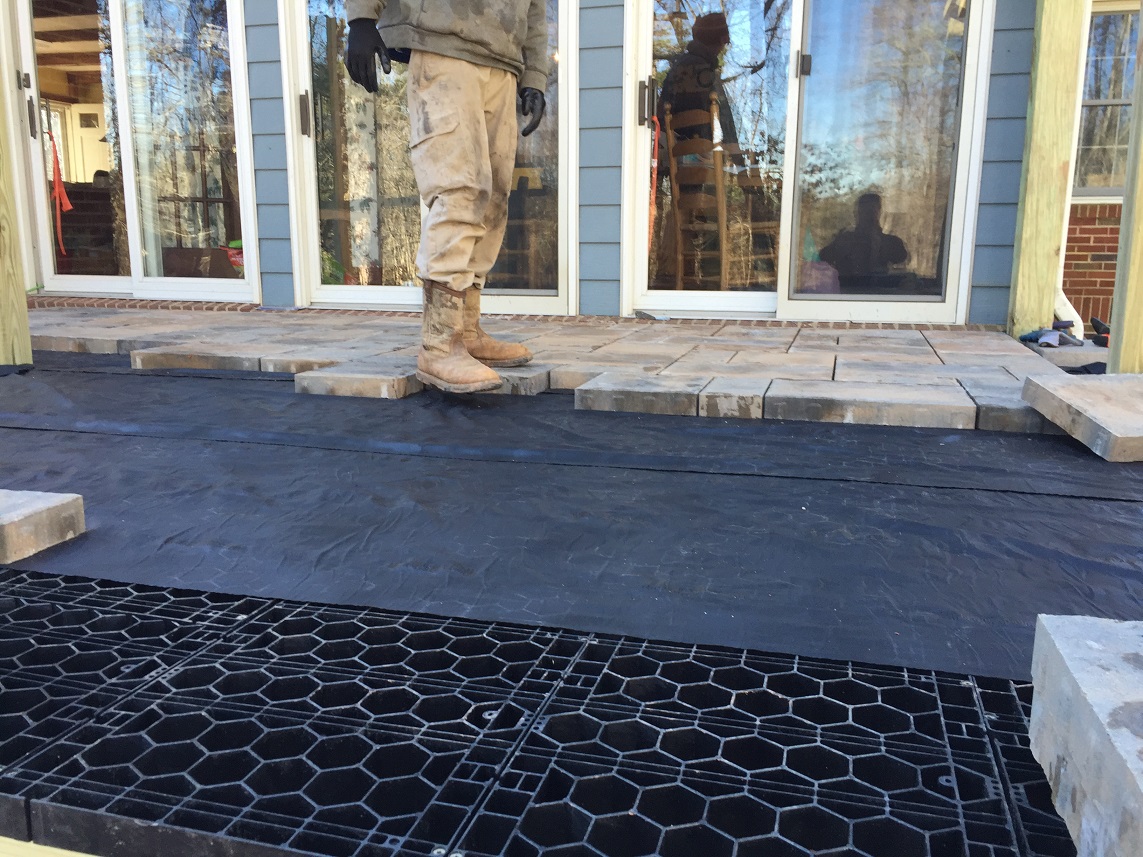 We recognize the outdoors as an extension of our homes, and that space can become your favorite room. The revolution in outdoor living is not new, but it has evolved rapidly over the last decade. The front porch was a staple feature of homes of yesterday, but today the back yard has become a refuge for peace from a crazy world. Providing our clients with solutions to build great backyards where they can build memories remains our mission. Stonedek Systems helps us achieve that goal.
The question that often decides where we end in the design and construction is the budget. Stonedek system offers us the ability to finish your deck with a high-quality finish at a comparable price to traditional composite woods and PVC materials. The ease of installation, endless finish options, and durability makes paving your deck in natural stone a great option.
Since our first job using Stonedek, I have been pleased with the results we have been able to achieve. In the coming year we already have two jobs for which the Stonedek system will provide the solution to build a better outdoor room for our clients. I'm excited to get those projects underway. Whether you have a new deck to be built, an old, tired deck in need of a renovation, or a complex backyard build, Stonedek system may provide you with the solution you need.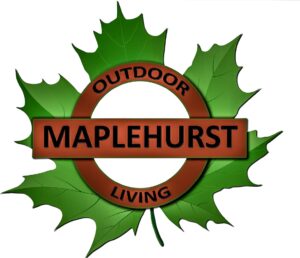 (434) 579-5625
www.MaplehurstOutdoorLiving.com
[email protected]


Joe Wilkerson is the owner of Maplehurst Outdoor Living. His passion is building your dream outdoor living area. He is dedicated to building fine outdoor living projects in Southern Virginia and Northern North Carolina, so you can Unplug & Relax.