Story and Photos by Joe Wilkerson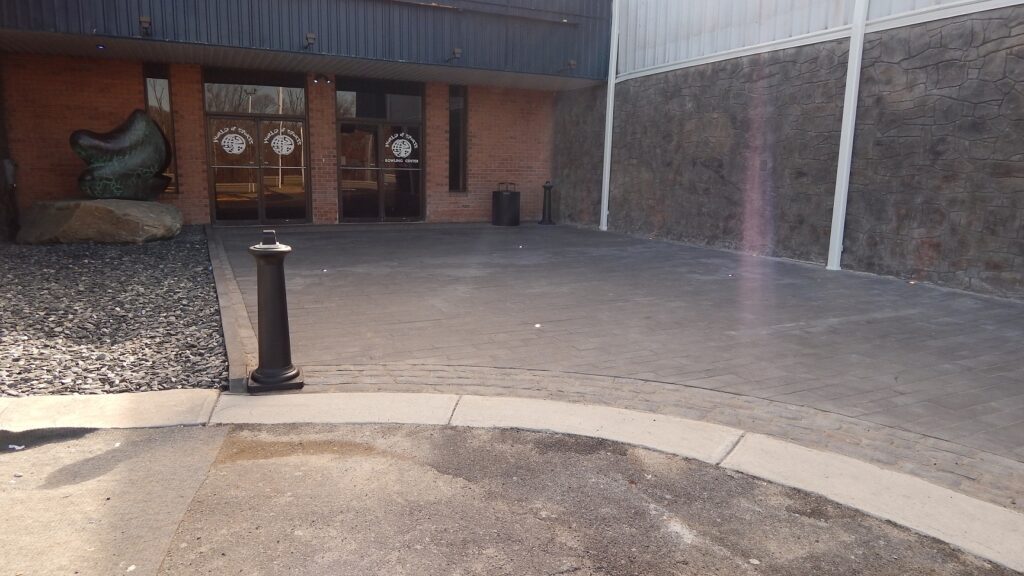 The World of Sports has been a local attraction in South Boston for over 40 years. Opening in the late 1970's, The World of Sports has undergone many changes, but the core mission has always remained the same. The World of Sports provides entertainment for the entire family.


It was originally intended as a fitness center, with a gym, indoor tennis and racquetball courts. As the times changed, so has The World of Sports, adding cinemas, bowling, skating, and a restaurant during the 80's and 90's.
The World of Sports has continued to adapt and change under the leadership of current owner Jay Burnett. Since purchasing the World of Sports in October 1997, Jay has worked hard to keep the entertainment value for families current. In the early 2000's, it was apparent that the model needed updating and Jay began reorganizing The World of Sports by remodeling and adding new attractions.
The gym and skating rink were transformed into JB's Bar and Grill and Shockwave Speedway. A state-of-the-art laser tag and arcade were also added. The combination now provides entertainment for the entire family and serves as an evening destination for many.
Jay tells me that their motto is, "Every guest, every experience, every day." The World of Sports "strives to be the premier family entertainment experience in the region and the destination of choice."
With so much time occupied today behind a screen and social interaction being limited to likes and shares on social media, it is refreshing to see people talking, laughing, shaking hands, and creating memories. Whether bowling a strike, chasing each other around the laser tag arena, or enjoying a cold craft beer and wings, you are sure to find space to build a memory and friendships.
Front Entrance Build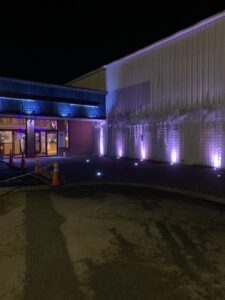 With suggestions from an architect to modernize the front of his building with lighting, stone veneer, and a paver entrance, Jay approached us at Maplehurst Outdoor Living to help him accomplish his goals. I knew that together we could really transform the look and flow.
Jay stated that his goal was to increase the curb appeal by creating a classier look. Through our discussions, I was able to get a feel for his vision of the renovation. I knew that a stone veneer to replace part of the metal siding would be a very difficult job with traditional methods. However, with the right engineering we could transform this metal siding into a beautiful stone veneer using Car-vz, a special carving cement.
Renovating the worn concrete surface of the entrance is also where we excel. With the limitless choices in textures and colors, simply presenting the right product mix was all that was needed to begin transforming the old, tired concrete into a modern, inviting, and durable entrance.
Carving a Masterpiece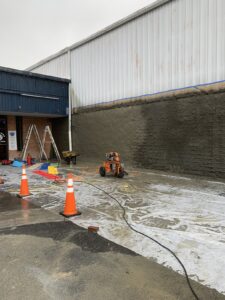 Traditional methods to veneer the siding with stone would have required us to remove the metal siding, build a wall in lieu of the panels, panel the wall with a backerboard, apply a wire mesh, scratch coat, veneer with stone, and finally grout the joints. As you can probably assume that is a time-consuming and material-intense proposition.
Much like the prefabricated stone used to veneer homes, the Car-vz we use is also a fabricated stone veneer; only made onsite. The beauty of this method is the versatility. We can essentially make any texture, shape or color you need, not limited to the flagstone veneer we did here. It also allows us to work in and blend into existing veneers that may no longer be available, or that need matching due to color changes with age. The final product is a flagstone veneer that is amazingly similar to natural stone at a fraction of the cost and time.
On this build, we installed a metal mesh and reinforcing wire over the existing metal paneling. It was connected to the metal structure as well as many connection points on the metal paneling. A cement and fiber reinforced coat give the added strength to the system. Finally, we spray a layer of our special carving mix over the backing and get to work carving.
Carving concrete is surprisingly therapeutic. Similar to doodling on a notepad as you zone out in a meeting, the world seems to just melt away in the mesmerizing lines. Each of those carving marks, like a picture mosaic, where thousands of tiny images create a stunning photo, come together to create the rocks you see as you stand back and admire your masterpiece. The creative expression that comes out is very rewarding.
Each rock takes on its own uniqueness; like in nature, no two rocks are the same. What makes it perfect? Because you say it is! You release your mind from the mistakes; you are the only one who knows it was a mistake! If you really think about it, there are a lot of life lessons that can be adapted to life from carving rocks.
That is truly the beauty of creating and life, all these tiny "imperfections" come together to create your own masterpiece. The only limiting factor is in our own minds.
Paving the Way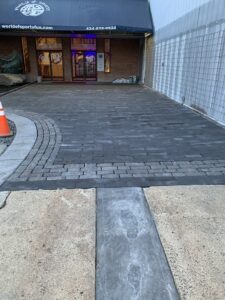 The second part of the project was rehabbing the old, cracked tired concrete that led into the main entrance of the World of Sports. With thousands of square feet to cover, we knew pavers would be the best way to upgrade the look.
The choices can be overwhelming at first, but if you know which direction you want to go with your look we can easily narrow down our options to a select few textures and colors. Jay selected the Melville Plank series by Belgard. The simple, yet sophisticated look will endure the fleeting design trends of the years. Combined with the lighting and stone veneer, the entrance will be a staple look for decades to come.
While laying out the design, we struggled with how to handle the large boulder and sculpture that has been a fixture for many memories and photos since 1981. It was first designed and constructed by the late Bob Cage, a local renowned artist with many abstract sculptures in the area. While still sturdy and attractive, it limited the flow of the walkway, and it is also somewhat of a liability as it is incredibly inviting to climb up and take a seat.
As a kid, I remember climbing on this copper clad sculpture many times. I've seen numerous pictures and old Polaroids of people sitting atop this classic artwork. I'm still not totally sure what it is supposed to look like, but once you see it, it will be permanently cemented in your memory.
I was working the design around it when my wife, with the clarity of an outside voice pointed out that I could just move it. That sounded like a great idea, but considering it weighs about 12,000 lbs., we were not going to just pick it up and slide it over there. Luckily, local business owner and neighbor Ivan Mast of Mast Enterprises offered us assistance with his large loader, and in about 20 minutes, the rock had a new home and the entrance had a totally new look.
What I was not expecting however were the comments on my Facebook and Instagram pages, direct messages, and in person questions about what we were doing with that rock! Everything from I love the new home to "you can't move that," I heard it all. The overwhelming consensus was that this rock had to stay. Luckily for us we had planned for a permanent home in the corner and under shelter, protecting the sculpture from the elements and allowing it to serve as continued inspiration for conversation and memories.
With the boulder in a safe new home, we were able to focus our attention on the pavers. As the new, sleek finished, charcoal colored pavers went in, the look and feel as you walked into the building reflected the commitment Jay and his staff have to fulfilling a quality experience for their guests.
Light It Up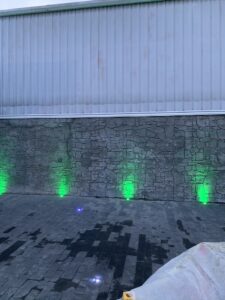 Another goal that we discussed during the design phase was how quality landscape lighting can provide the finished look to a landscape and building. The added security and ambiance of the lighting provides that added element to the project – that IT factor.
Up-lighting the walls provided the glow at night that just invites you inside. It also adds a level of security that otherwise was lacking as you can now better recognize your surroundings and people as you enter.
We also used downlighting to accent the rock sculpture in its new home, as well as downlighting the doors as you enter. The focal points create a different experience at night and adds another dimension to the design.
Finally, we embedded special in ground lights to help guide patrons across the patio and into the front doors. These lights cast light out on four sides, and lightly illuminate the ground. They provided added assurance that you are following the right path, and help people see what lies ahead.
We also chose to include color changing LED bulbs in the fixtures. This added the final element of detail to finish this project off with some flair. The transitioning colors can be used to set the mood for a good time, celebrate awareness or certain causes, or just light up the area. The bulbs are simple to operate, and can really offer up a new experience to any project.
Continuing to Build Memories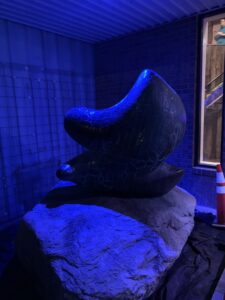 Going forward, Jay and his staff at the World of Sports are committed to providing great family entertainment with a wide mix of things to do. I've always enjoyed our conversations, and as we discussed this project over a cold beer in JB's, Jay and I talked about our missions and visions for our companies. At the end of the day, we are both in the business of building memories for our customers.
"I want people to remember the memories they have made with family and friends here," Jay says. "We will continue to focus on the guest experience and creating moments with our guest that will endure time."
There is power in moments. There is a deep reason why memories stick, and many of them involve spontaneous fun, a joke, or special times spent with friends and family. Time is the greatest commodity in which we all share. We are each allocated the same amount everyday regardless of situations. This is why it is so special when we share our time with one another – you only get so much of it.
Although the means by which we create, Jay and I are both excited about the opportunity to help our customers create special bonding memories with family and friends. Whether it is an evening of fun eating, bowling, racing, and catching a movie, or enjoying a quiet evening on your back patio with friends and family – this is time well spent.
I am Joe Wilkerson, owner of Maplehurst Outdoor Living, previously named Southside Hardscape & Landscape Co. My passion is building your dream outdoor living area, and we recently changed our name to better reflect our purpose and mission. We are dedicated to building fine outdoor living projects in Southern Virginia and Northern North Carolina, so you can Unplug & Relax.
www.MaplehurstOutdoorLiving.com | (434) 579-5625 | [email protected]