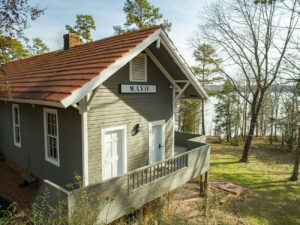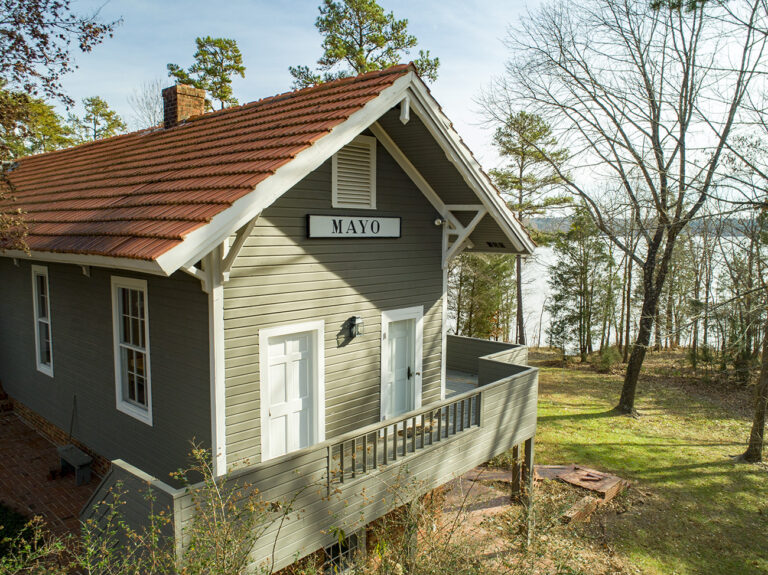 Story by Tommy Winstead
Photos by Taylor Alvis with Aerial Unlimited LLC
Located on the main channel of Hyco Lake occupying the 2-acre point lot of South Point Trail sits the original Mayo, Virginia Train Station. Upon entering the home, you recognize the obvious construction features of the train depot. Imagining the anxious hope and adventure each traveler experienced waiting for the next train to a faraway destination or the euphoric feeling of coming home to family and friends is easy.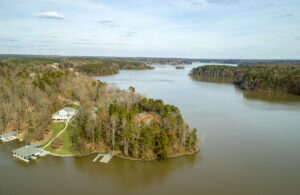 This building was transported 34 miles across the state line and renovated into a year- round lake home around 1982 for Neal and Nancy Humphries. It had a special meaning for Nancy who moved there from Durham. It is the station her great-grandfather built in 1890. Nancy who was steeped in History was determined not to let the abandoned building continue to deteriorate. She and her brother, Tom Pass of Roxboro conspired in 1979 to find a way to have it moved.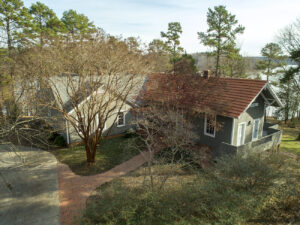 The station structure was from Nancy's mother's side and the land at Hyco Lake was from her father's. She thought it would be nice to have something from each family. Neal Humphries, a Dan River Mills employee whom she would marry in September 1981, then stepped in to help her brother with the details. First, they bought the station from Mrs. Humphries' uncle, John Crowder of Mayo. Then they had to get permission for the move and find the people who could move it intact and rebuild it from the inside out.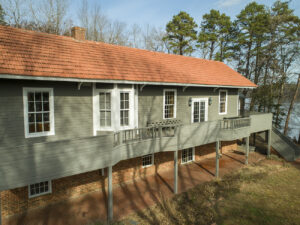 The first mover they contacted thought it was an impossible task. "There were times when I wished we had never attempted to move it," he said. "It was so big, with the 6,500 pieces of tile on the roof added to the weight of the structure, a lot of bridges might not have accommodated it."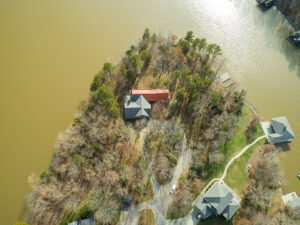 Finally, a mover was found. "It moved (by truck) just creeping over five days, some of that during the night. "All the overhead (power and telephone) lines either had to be raised or lowered, and there were four utility companies involved. Then you are required to post bond (to insure against any damages) and have police escorts to help you map out the way and approve it."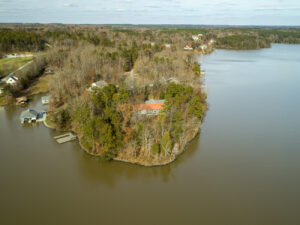 But the move, including a trek down the twisting gravel road leading to the point of Person County land where it now overlooks 220 degrees of the lake, was only half the battle. With the help of an architect and contractor, the building was slowly transformed. The old bay window ticket office became a breakfast room with the triple beaded pine paneling sanded and re-sanded back to its original gleam. A large, open living-dining room overlooks the old baggage platform (now a sun deck) and Hyco Lake beyond. An addition of a foyer, 3 large bedrooms, 3 bathrooms, fireplace, sunroom, basement with a vault walk up attic and extra kitchen in the lower level completed this permanent residence.
The original inside wall separating the white and black waiting rooms has been knocked out for the kitchen. The exterior was left as close to original to keep it as authentic as possible. The original station signs still proclaim MAYO from both sides of the house. The exterior color even sports the Train Station gray with white trim.
Mrs. Nancy Mangum (Humphries) passed away in 2018 leaving a legacy of her love for history with charitable giving to many museums, civic organizations, Boy Scouts, Concord United Methodist Church and many more!
For more information about this home or for a showing please contact Tommy Winstead at 336-592-1406 or tommywinstead@yahoo.com, website www.pointerrealty.com. Tommy Winstead is a full time licensed Real Estate agent on Hyco Lake since 1986 and owns property on and lives adjacent to the Lake.
Acknowledgement to Elizabeth Mangum Christian and Pat Pass for historical information as well as an article from September 15, 1983 in the Roxboro Courier Times.