HALIFAX, VA- It is no secret that Halifax County has an abundance of incredible farms, produce, and natural resources. Chef Steve Schopen at Molasses Grill in downtown Halifax has made it his mission to be an advocate for these resources.
With a menu that changes weekly and an eye for the bounty of the county, Chef Steve takes the time to highlight the best of what Halifax has to offer. From the wine list all the way to the dessert menu, diners can find some of the best local offerings in the area!
We Always Think Drinks
To start our dining experience, we always think drinks. Yes indeed, something refreshing to whet our whistles and a second something to complement our meal. At the deep mahogany bar, Molasses Grill diners can choose from the wide selection of six beers on tap that focus on Virginia breweries. If beer isn't a first choice (Chef Steve may find this quite disappointing, as he is an avid IPA fan himself) there is an excellent wine list of reds, whites, rosés, and sparklings to choose from.
The red clay of Halifax County is ideal for growing grapes, and several winemakers in our area have taken advantage of the climate and soil to produce some wonderful wines. While there are several Virginia wines served at Molasses Grill, the staff are big fans of Hunting Creek Winery based in Clover.
Marked as a "Staff Favorite," their red blends Decadence and Indulgence are best sellers. Those who would like to enjoy wines from Hunting Creek Vineyards outside of the operating hours of Molasses Grill can take a trip out to their newly built tasting room – a great place to relax in the beautiful scenery of Halifax.
For those who are willing to get a little more creative with their drink choices, the cocktail list is the way to go. Creatively crafted and well-balanced drinks are abundant – some giving a nod to favorite classics, while others are sure to excite with innovative ingredients and seasonally appropriate flavors.
The name laced throughout the cocktail list is Springfield Distillery. The bartenders regularly incorporate the River Road distillery's whiskey into drinks, giving patrons the chance to find new ways to enjoy all the flavors that Springfield has to offer. From peach to brown sugar cinnamon, these great flavors of whiskey are incorporated into the dinner and dessert menu on a regular basis.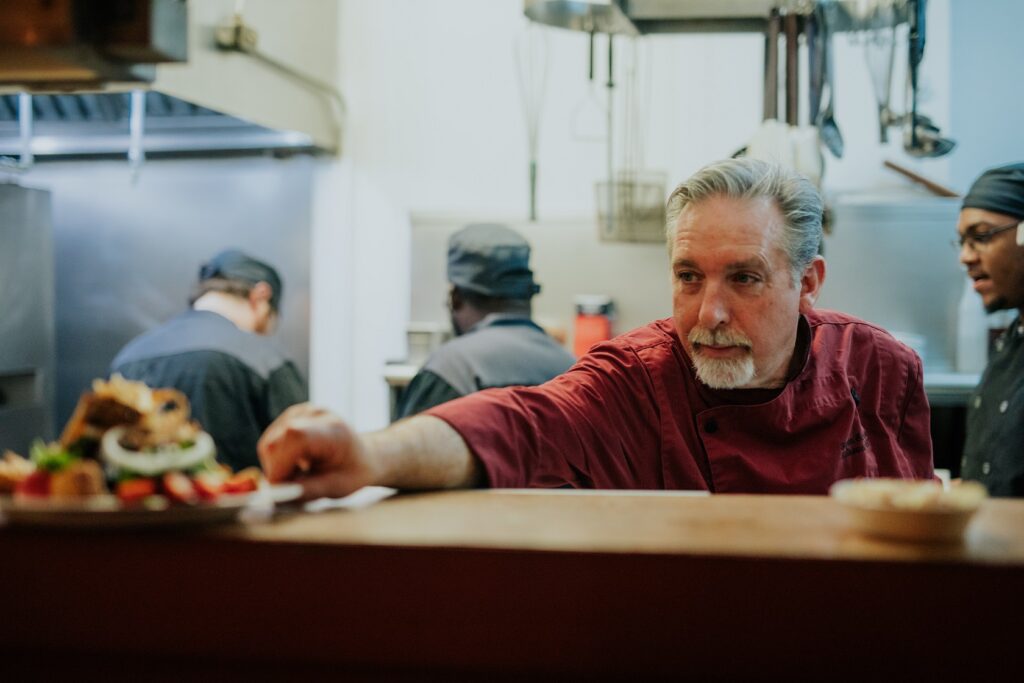 Let's Talk About The Menu
Speaking of the menu, local purveyors are in and out of the restaurant throughout the week, bringing fruits, vegetables, meats, and more for Chef Steve to turn into the beautiful dishes he serves each week. A 'bottom-up' approach is taken to incorporate local ingredients.
Eggs from Hidden Heaven Farms in Vernon Hill are used in hollandaise sauce, ice creams, pie crusts, crème brulees, and even the egg wash that tops the Sweet Potato Encrusted Salmon. Herbs that add aroma to dishes and dress the plates are grown right outside the restaurant for a fresh-cut flavor. Chef Steve notes that even the seemingly small ingredients matter when making something that wows.
Accompaniments to dishes such as the mushrooms that come from Old Chester Farms in Clover and vegetables from Tucker Farms in Vernon Hill are what really make the dishes shine.
"When you're able to focus on what is being grown seasonally and locally in your area, the flavors are just better. No one really wants to eat a tomato that is out of season and flown in from across the globe. And that is why our Heirloom Tomato Salad is only available for a small window each year. It's well worth the wait," the chef said.
I was able to try that salad this past summer, and from the local sweet corn to the freshly clipped basil, I'm not so patiently waiting to order it again next year!
Other dishes that highlight locally-sourced products are Virginia oysters, North Carolina seafood, and a weekly rotating chef's burger. The seven-ounce burger uses ground beef from Misty Meadows Farm in Turbeville, Va. Having a great working relationship with their local purveyors allows Misty Meadows to communicate needs and plan for processing and production in order to supply Halifax County and the surrounding areas with great beef burgers all year round. Hudson Heritage Farms in Elmo, Va. is another great friend and supplier to Molasses Grill. Their pork, beef, and lamb have made appearances to compliment and star in menu items.
Chef Steve's passion for locally sourced products goes beyond the items that are brought in by farmers and producers. Each year he makes a trek in his kayak up the Banister River to collect Pawpaws. Pawpaws are a widely unknown native fruit to Virginia. In addition to the fun of the paddle up the river with co-workers and pals, it allows the chef to bring awareness and enjoyment of the little-known fruit to his customers.
In the early weeks of fall, diners will see pawpaws dotting the menu in sauces paired with pork and chicken dishes; as a jam accompaniment to cheese plates; in ice cream available by the scoop or pint, or in desserts pairing beautifully with tart berries.
To say the "love of local" trend stays only on the menus at Molasses Grill would be untrue. The floral arrangements that greet diners at the door and that are placed around the building are done in-house with flowers provided by Hundley's Greenhouse in Norlina, N.C. Along with purchased stems, florals are also procured from the gardens of the owners and picked wild in the spring when blooms are at their best.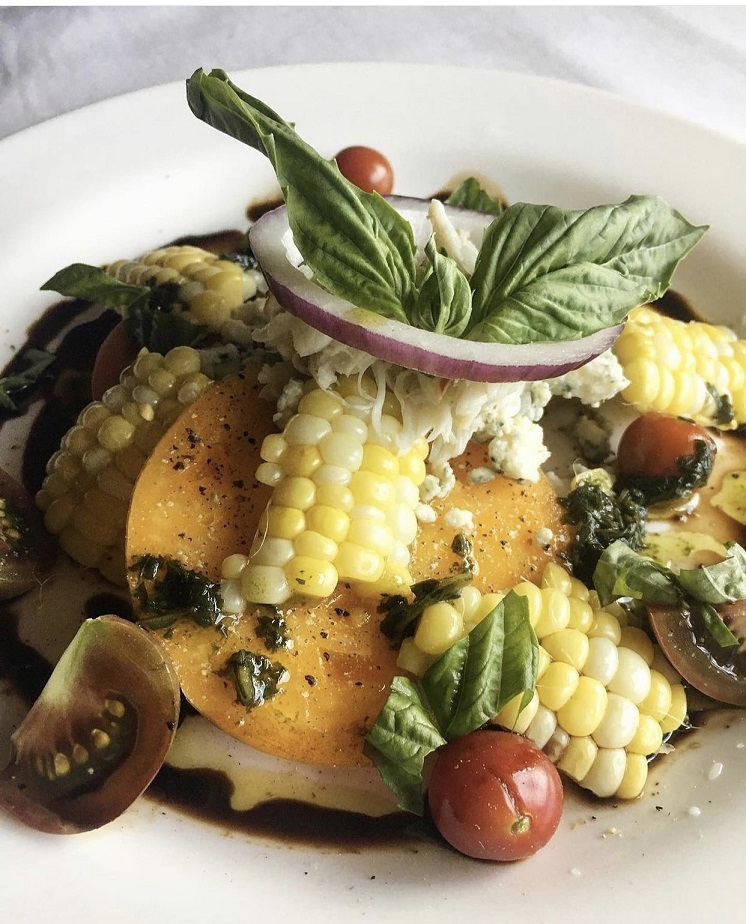 It is truly a delight to have such a wide variety of seasonal flavors and products presented in new and exciting ways each week in downtown Halifax. As we head into the winter months, the amount of these local gems tends to diminish. But don't fret – Chef Steve and his team are spending the colder months dreaming up ways to show off next year's bounty. They will continue to source whatever produce is available until the spring harvest starts rolling in. Chef Steve's team makes regular trips to Reese Farms, the Halifax Farmers Market, and South Boston Farmers Market and hope that customers will do the same.
To get a taste of one of the creative cocktails, delicious wines, ever-changing appetizers and entrees – please visit Molasses Grill in Downtown Halifax. It is open Thursday – Sunday starting at 5 p.m. Reservations are strongly suggested. The menu is posted every Wednesday on Facebook and Instagram – and with new menu items every week, it will surely keep diners coming back for more!

63 South Main Street
Halifax, VA
(434) 476-6265
https://www.molassesgrill.com/