SOUTH BOSTON, VA- "Go out and play" is what I heard growing up, what I have said many times to my kids, and is still a familiar phrase from moms and dads across the land. Maybe even more so this past year. In the age and culture of "screens," it is a significant practice to simply go outside and recreate. I hesitate to even mention Covid, but some folks believe that Vitamin D, gained by exposure to sunshine, could be a potential deterrent to the virus. Possibly painless medicine to whatever could ail you. Now that you are hopefully convinced that you and your kids should "go out and play," let's discuss the final venue in Hyco Lake Magazine's series on disc golf (https://hycolakemagazine.com/disc-golf-takes-flight-in-the-hyco-lake-region/).
Just taking a drive in the Hyco Lake Region is a pleasant enough excursion, but when you have several well-kept park destinations with disc golf layout, it is even more satisfying. Paul C. Edmunds Park is located just northeast of South Boston, Va., off Highway 360. It is open from sunrise to sunset, and is great for a daily outing for the entire family. An iconic silo is located on the high bluff that overlooks the park's pavilions, ponds, and playground. It is a remnant of the dairy operation from the Edmunds' farm.
There is also a botanical garden center that is worth visiting during seasons when flowering plants are in bloom. The grounds are typical of the region with rolling hills, stands of trees, open areas, and streams that traverse the low points. You could enjoy a walk through the park, but why not inject a little bit of competition and improved physical flexibility with a game of disc golf? The 18-hole course is woven throughout the parklands and could be an adventure.
Hole #1 starts about 100 feet from the silo and borders the main pond. There are several open field holes, like #1, where you can air out your drive and cover a lot of distance. The standard tee area is typically a concrete pad, while the longer and shorter tee areas have a compacted gravel base bordered by a wood frame. There are basic maps on each hole for the layouts which are helpful since it is difficult to see some of the baskets from the tee boxes. The course plays 6,402 feet from the white tees and 7,349 feet from the blues. Both are par 65. Four of the first five holes have water in play. You can let it all go on the drive, but a gust of wind or an errant throw could put you in trouble. You wouldn't want to substantially increase the humidity on your disc so early in the round, if you get my meaning.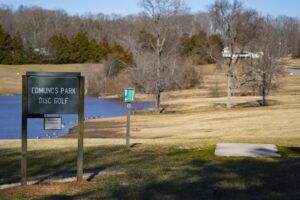 Part of the beauty of the course is the scenery. There are areas where you are deep in the woods, but there are many open areas with ponds and creeks to enjoy. You may be seeing more wooded areas if your game is like mine, since I am usually hunting for an errant disc. Either way, there is plenty to look at and appreciate, even if you are stymied on your next shot. The park also boasts a favorable birding habitat, so you might see some different species while you are looking for the ever-elusive multicolored "discus golfus."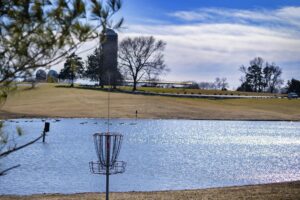 All disc golf, and for that matter, ball golf, courses have a "risk / reward" equation. Simply put, if you take a greater risk and succeed, you will get a greater reward — like being closer to the basket and having an easier putt. Obviously, the inverse is also true: if your risk fails, the penalty is greater. The intriguing part of the Paul C. Edmunds course is that it is an exciting challenge to gauge the risk on the drive and second shot. That's primarily due to what surrounds many of the baskets.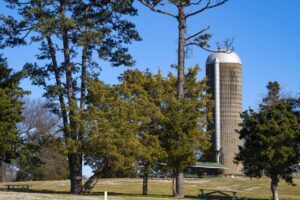 While walking the course the other day, I noticed that the basket on one of the lakeside holes appeared a lot closer to the lake than it really was. Therefore, the tendency was to shorten the shot to protect against a soggy disc or maybe even a lost disc. Many will probably leave it well short, out of caution. That is not necessarily wrong, but thus enters the "risk/reward" factor, which makes the game fun and competitive. It may be good to bring along a rangefinder, if you can afford one, to shoot the basket and know the exact distance. It can also be a challenge to separate the basket from the background lake or stand of trees. And on one hole, there is a lone tree about 50 feet from the hole that seems to get wider and taller just after you have made your throw. Funny about those trees. Contrary to popular opinion, they are not 90 percent air. I think they're all solid concrete, based on how I seem to hit them.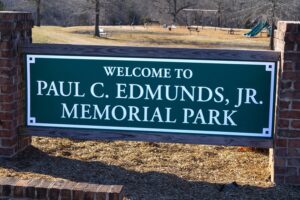 It is a very playable course, however, and worth a trip. There is plenty of room to navigate with a pull cart, but you will get the best workout with a backpack filled with your discs. It is mildly hilly with a few holes that go up and down, then down and up, but not too steep. Most of the holes wind around the main picnic area, lakes, and a central play area with a great playscape for the younger ones. There are also maintained restrooms onsite that certainly add more positive marks for an already well-appointed regional park.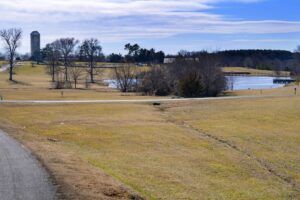 As I wrap up this series on disc golf, I hope that the short descriptions of the Hyco Lake region courses will encourage you to take a chance at an outdoor sport that continues to grow in popularity. It's great exercise, and even a novice can enjoy a game. Like everything, proficiency requires some practice and skill, but fun doesn't. There is a modest investment in equipment and plenty of online videos to help hone your skills. If you check out the previous articles on disc golf at Hyco Lake Magazine online, (https://hycolakemagazine.com/category/entertainment/entertainment-disc-golf/) you can get a primer on equipment, rules, the types of throws, and short reviews of the other courses. I have had some memorable moments on these courses, from getting lost on the "Rock-ness Monster" at Piedmont Community College in Roxboro to weighing the risk/reward options of going over the water and challenging "The Kraken" at Hyco Lake, it has been a fun experience.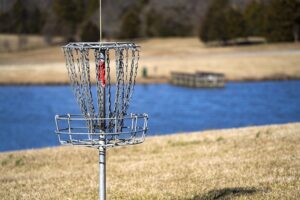 It was also great to meet some of the area pros at a tournament held at Southern Hills ball golf and disc golf course in Danville. I also met some designers, got a taste of the comradery among the players, and learned some area history of the sport. The next time you want to get some fresh air and see some new things, maybe even a sighting of "Sasquatch," visit the Mayo course.
You could also consider stretching your muscles and enjoying the wind in the pines at the Ballou Park course in Danville, or the glistening water and fresh breezes at Paul C. Edmunds park up South Boston way. All you have to do is to simply do what your parents told you and "go out and play" some disc golf.