Story and photos by Paul Liggitt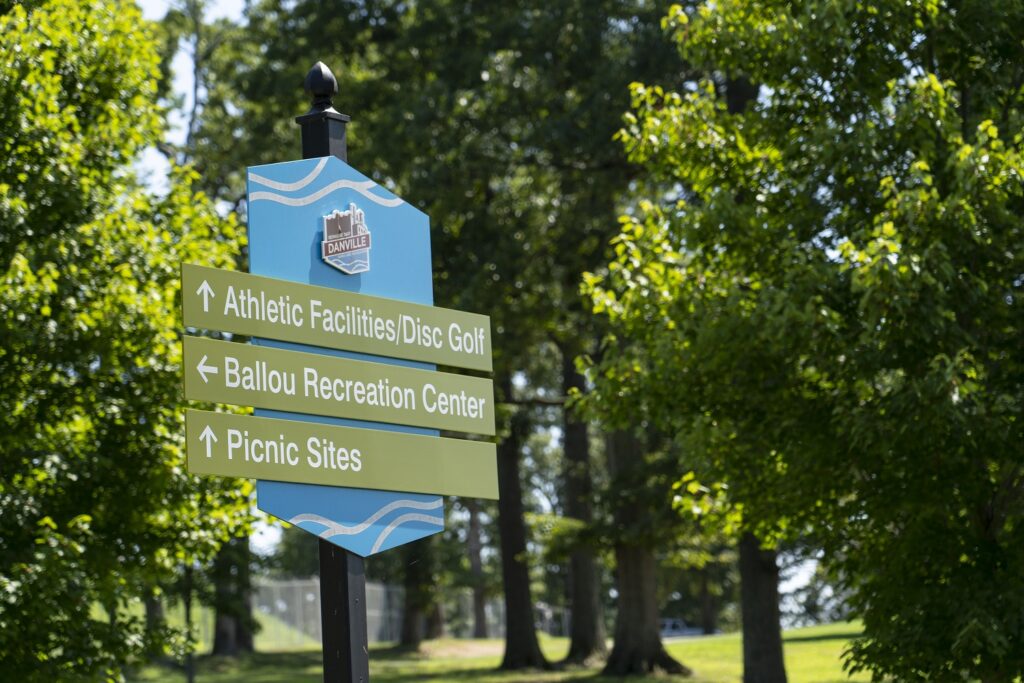 The weather has turned and is finally comfortable and maybe even a bit chilly so you can leave the sweltering heat of the summer, and in this case the North Carolina Fall, behind and venture outside for some activities. It is time for cooking out over a grill, biking, hiking, walking, and more. The "more" I am referring to is Disc Golf because after all this is a disc golf article. Consider heading out to Balou park in Danville, VA to enjoy all of those events, including a round of disc golf.
Balou Park is a city park but that is a bit of a misnomer. When you enter the park you feel like you have been transported to the country. It is built on a bluff on the South side of the Dan River and specifically located at 760 W. Main St. In Danviile, VA. There are 107 acres packed with places to enjoy with the family. What makes the park great for Disc Golf is that you and or your family can enjoy a round and be set up for a picnic along the course at the same time. Naturally there are some ups and downs on the course since it slopes down towards the River. Six holes decend, five holes ascend, and four holes go both up and down. Some might think, "UGH" but if you are going outside for some exercise suck it up and enjoy the terrain! I often chuckle at myself because I will diligently search for a parking spot as close to the fitness club entrance as possible, yet I will pay to walk twenty minutes on the treadmill. Go figure.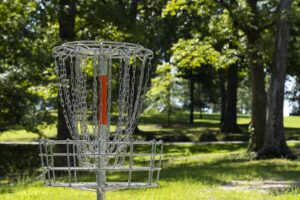 The Balou Park course was developed in 2006 and is one of the first disc golf courses created in the area. It is not a heavily wooded layout like the one you will find at The Rockness Monster, however there are some woods and trees as obstacles. There is plenty of open space to throw your discs, and better yet find them if they go astray, especially for beginners. You will still need to be able to shape your shot left or right but like ball golf, that is the game. There is some water on the course but mostly in the form of small creeks or drainage areas. There are no lakes or ponds to consider so all in all it is pretty manageable. It is nicely taken care of by Danville Parks and Rec and it is free. However, you will have to call (434) 799-5215 to reserve a covered picnic shelter for larger groups, single sites, or time on the tennis court. If your family wants to multi-task while exercising, there is plenty to do. They even have a massive playscape for the little ones. However, you will need to keep one eye out for incomming discs, especially if I am on the course.
Before playing, keep in mind to stretch out. It becomes more important when the weather cools down, at least that is what Dr. Google says. Wear comfortable shoes for walking or jogging and maybe take some water in a belt pack. Danville hospital is on the south side of the river as well but I only want to visit the hospital when I am seeing a friend, not as the result of dehydration during Disc Golf. There is a good course map near the first hole tee platform and each hole is marked. There is also a practice basket near the start of the course to impress your competition and demonstrate your Disc Golf prowess before it officially goes on the score sheet. I am also told that Balou Park can be a little breezy in the autumn so it might be good to have a few layers.
Pack a lunch, pack up the kids, pack up the discs, and head out to Balou Park on the next temperate day. The beauty of where we live is that there are still lots of days, even in the winter months, that we can enjoy the outdoors. So, make a memory, get some exercise and don't take yourself too seriously when you start hurling those discs. You can take special comfort in the thought that even if you don't do as well as you would like on the course, there will still be a deviled egg waiting with your name on it and your kids will have a mom or dad story to tell. Have fun and pass on any recommendations about the course to whomever you see. Enjoy!
760 W Main St
Danville, VA 24541
(434) 799-5215
www.dgcoursereview.com/course.php?id=985&mode=hi.



Over the next several issues you will be able to get Paul's take on each of the disc golf courses in the Hyco Lake Region (Person County, NC | Halifax County, VA | Caswell County, NC | Danville, VA). As well, he will be taking more of these spectacular photos! Paul Liggitt Photography, (336) 322-1167, www.plphoto.com